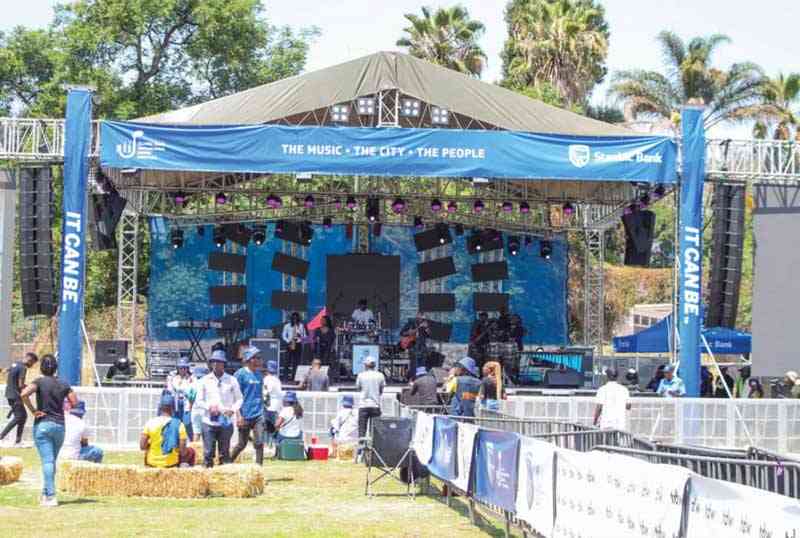 THE Stanbic Jacaranda Festival will close this evening after three days of showcasing various music genres including sungura, Afro-pop, dancehall, mbira, Amapiano and Afro-jazz.
After a two-year hiatus as a result of the Covid-19 outbreak, the music fiesta rose to its billing, thanks to a strong line-up that was made up of local and foreign performers.
It was a potpourri of genres that saw thousands of music lovers throng Old Hararians Sports Club since last Friday evening.
With the Jacaranda trees complimenting the fill, the music festival kicked off with DJ King opening the event with some great tunes followed by Fusion 5 Mangwiro, Chucknosis MOnster DJ, Shabach the band and Anita Jaxson, Morda, Enzol Ishal and DJ Zinhle.
Yesterday the gates opened at 11 and it was eventful afternoon that had jumping castles to cater for the young ones, a lot of food and beverages stands. Indeed it was giving out the family day kind of vibe.
The afternoon performance was opened by Gwevedzi at midday although many people had not arrived while some exhibitors were still setting up the stands.
Mwenje Mathole and Band Mosi, The Black Spirits, Tannie Swiss and Wowrae Percussion did not disappoint during their moments on stage.
As the day unfolded merrymakers could be seen walking in the sports club and it promised to be a summer panorama, thanks to the attendees who wore colourful clothes that gave that summer vibe.
Standard Style spoke to some of the merrymakers who expressed joy over the return of the Stanbic Jacaranda Festival.
"It's just a good afternoon outing, something we have missed for a long time," said Tanaka Jokonya.
"We are also happy with the strong music line-up of musicians where every genre is represented."
However, Emmie Chiyindiko said there was need for the organisers to set up shades.
"They need to hire out chairs since it's a long day and we are in summer maybe a tent too," she said.
"But everything else is good we are having a good time.
"I came in early so that I get to be in the front and have a good time since I'm also celebrating my birthday."
At the time of going to print upcoming mbira musician Mary Anibal, Solution GC, Feli Nandi and Ryan Synth were about to perform.
The night was wrapped with performances from Bongo Maffin, Jah Prayzah, Zakes Bantwini and African Storm.
Today the festival opens its gates at 11am with early performances coming from Chiwedar, Mbeu, Prudence Katomeni Mbofana, Victor Kunonga, Vusa Mkhaya and Nasibo.
Gospel diva Janet Manyowa will lead the evening performances followed by the Travellers Band, Intotal and Kunhle Ayo, Zonke as well as Djembe Monks .
DJ Fresh will wrap up the three music jamboree, doing what he knows best on turn-tables.
Related Topics