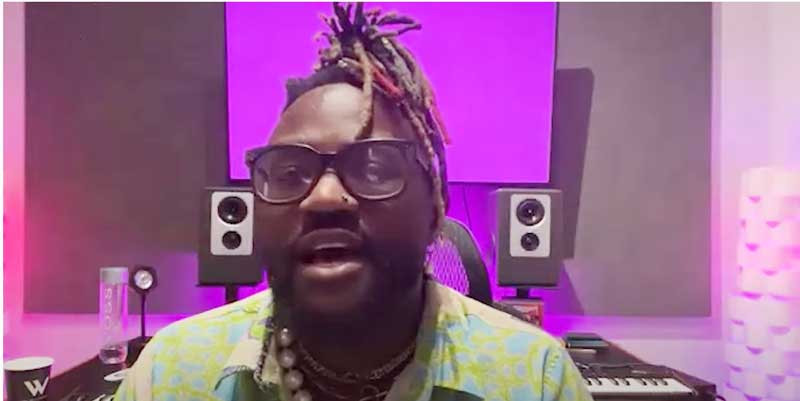 Zimbabwe-born song writer and producer Dr Chaii has spoken of his joy after realising his dream to produce a hit song for Jamaican mega dancehall star Sean Paul.
Dr Chaii, a Los Angeles-based Grammy Awards nominee, told Alpha Media Holdings chairman Trevor Ncube on the platform In Conversation with Trevor, a year after he told his brother during a Sean Paul concert in Harare that he wanted to do a song for him, he was already working with the artist.
He spoke at length about how he made it from Zimbabwe and continues living his dream in America.
TN: Dr Chaii welcome to welcome to In Conversation With Trevor.
DC: Thank you for having me, I am very happy to be here.
TN: Tell me how long have you been away from Zimbabwe?
DC: Too long! Everyday feels like a day too long, but I left in...I think I finished my high school in 2009 at St George's College.
Then I went over to university in England for three to four years, but I would be coming home you know like you do for the summers and for the holidays and that sort of thing.
Then I made the move to LA in 2014. So yeah it's been some time now.
TN: I'm very excited to be talking to you.
I mean you are making waves and making us very proud in LA as far as music is concerned.
So first of all, you have been nominated twice for Grammy Awards, producer and writer?
That must be amazing? Congratulations, that must be amazing.
So talk to me about the first Grammy nomination. What was that for?
DC: The first Grammy nomination was for a song called Hey Ma that I produced with fellow Zimbabwean Mashy Bantu, and it was a song for The Fast and Furious soundtrack with J Balvin, Camila Cabell and Pitbull.
It was a song that we had originally made, actually it was inspired by an Afrobeat song and we thought, you know, it would be cool now that Afro has started to come in to do something with some marimba and some v-runs and something like that.
So as music tends to go the people that liked the song that we wrote were these massive artists in the Latin community, so the song went from being this Afro idea to sort of evolving and going through the creative process and becoming a reggaeton song and you know when we made it we just thought okay we're making a song that we love and it's a song that we're excited about, but we had no idea that it would end up getting nominated for a Latin Grammy or you know going on becoming a radio song or that sort of thing.
So that one is a really special one, because it kind of really showed me that even your smallest of ideas or even those small dreams or the small kind of moments can really turn into something magical you know if it's wooded the right way.
TN: Tell me, what is it about that song do you think made it so popular with so many people?
As you were making it, and when you look back now what is it about that song?
What did you put in there that made everybody love it? That special sauce?
DC: Hahahaha. A special sauce? The truth is I think I'm really big on the message of joy and having a good time and enjoyment and I think that a lot of music either you know there have its purposes.
Maybe you feel sad, maybe you're going through a breakup or maybe it's mellow.
That one we managed to successfully capture the essence of joy in the beat, it's upbeat, it has Afro-influences, it has Latin influences, and I think it was one of the few songs at the time that managed to just be a song about a really good time and also feel that way.
You know a lot of the lyrics didn't have, there's no profanity in the lyrics, it was just you know about dancing and there's a part in the song that goes hey mama, hey mama and so when we wrote it we wrote it kind of you know, what we do back home with the chanting or something, but when the Latin people heard it they thought this is ours too because we also say, hey mama.
It ended up becoming by mistake something that a lot of people managed to relate to.
Africans said this is ours, and Latin people said this is ours and it just took on a life of its own.
TN: Tell me about when you heard the news that it had been nominated for a Grammy what was your response like?
DC: Trevor it's one of those things where I think as a child you have all these dreams of you know.
That's one of the things that goes on your vision board if you desire to be a musician or producer you say one day I really love to be nominated for a Grammy and I think you work so hard and you do all these things and you never make something with the intention of being nominated.
So when it eventually does happen it's such an emotional moment because it's also one of those things you can call home to mummy and daddy and say we got nominated!
TN: Hahahahaha.
DC: You know when you're making music you know it's such an elusive intangible thing that you don't always get those moments to call home and say I know this is happening like this, or this is going on.
It is very intangible, so when you get nominated for a Grammy it's so emotional because it feels like an award not just for you, but it's for the parents that supported you, especially my parents have always been incredibly supportive and so it feels like a massive milestone.
It is emotional and you're excited but it does give you a sense of you know you're here to achieve something greater and you have an opportunity and a special opportunity to push culture forward and to be a representative and so it's something that's exciting but it's also something that I don't take very lightly.
So it was a very emotional experience for me and very blessed to be able to have that.
TN: I am blessed to be talking to you. I mean a young man who's done a song that has featured, that has been that is excited people.
I mean am I blessed or what? We are so proud of you.
Then the second Grammy nomination? Talk to me about that Dr Chaii?
DC: The second one was for a song called Familia.
This one was for the Spider-Man soundtrack, and I also did this one with Bantu who I grew up with back home too.
This one is interesting because, again it was a song that ended up having a massive Latin artist on it, and I just said I don't know what it is about Africans and Latinos, maybe we get along maybe, we like the same things, we just can't escape these guys.
That one is a really special one because it was for the Spider-Man movie, but the Spider-Man movie that it ended up in was the new animation Spider-Man and it was the first black Latino Spider-Man.
So culturally speaking it was a really special one to be a part of because it was the first time a lot of people of culture were able to have a superhero portrayed in their image, and the song was used in like a scene where the kid is growing up and he has his dream and this and that, and so that one is very special because even for us growing up, at least to my age we didn't really see a Spider-Man that looked like us or a superhero that looked like us so to even be a part of that narrative or even be in that conversation, or help in your little way to push something like that forward, was really special so that one was a really great moment.
TN: Well done, very proud of you.
DC: Thank you.
TN: Some of your credits Dr Chaii include Jason Derulo, I mean I love Jason Derulo. Trumpets.
DC: You do?
TN: My favourite from Chris Brown is Back to Sleep.
My favourite from Pitbull is Pitbull and Neyo. Then Sean Paul, Nicki Minaj, Maroon 5.
I love Maroon 5, particularly Moves Like Jagger. Talk to me about all those guys and what it means like to be working with them Dr Chaii?
DC: It is one of those things that it doesn't really get old.
I think everyday you wake up and you pinch yourself and you say wow, is this really happening?
TN: Let me remind you, you are a young man from Zimbabwe and you're working with that you're working with these guys, Nicki Minaj, Sean Paul…
Come on man talk to me about this stuff?
DC: I love that you said let's just go back again!
TN: I think you're not getting something here hahahaha.
DC: I love that! It is shocking every time, and it is one of those things that never get old.
So every time something happens it is just like you wake up and it feels like the first time and every time because these are a lot of artists that I grew up listening to and grew up looking up to.
I remember my first song I ever produced for an artist was a song called No Lie for Sean Paul and Dua Lipa.
Funny story, just a few months prior to that I had gone to a Sean Paul concert with my brother actually, and it was the concert when Sean Paul came to Zimbabwe.
I can't remember, which stadium he went to and I just remember it was Sean Paul and Akon.
And me and my brother went and my parents were saying you guys it is going to be late so do not be late and it was a whole thing.
I just remember saying to my brother we have to go to watch Sean Paul and eventually we made it, we bought our tickets we went there and we were just sitting there.
We had the best time just as you can imagine Zimbabweans with their dancehall.
I remember just watching him and then I was talking to my brother saying wow, you know one day it would be great to work with these people and he looked at me and he said you know one day you will work with these people.
You know, you look at each other and you're just dreaming, you're fantasising about things, and maybe less than a year later I managed to produce this song for Sean Paul.
I remember when I heard the news just breaking down in tears because I just remembered that moment and I remember how special that one was to me and so you know every single song is special for different reasons in its own ways and every morning you wake up and you don't take it for granted to have these opportunities.
So it has been incredible.
TN: So how did you actually get the Sean Paul deal? Describe to us how these things happen?
DC: So you know with music it is interesting because every single situation happens differently, but for that one it was a beat that I had made.
So a beat is where it would be everything without to anyone who doesn't really know how it works.
Imagine the song without the vocals or the singing, so it's just the beat and so I had been working on beats, it was early in my time in LA and you just be putting together beats.
So what you do is you'd send them around speculatively to people and you just hope something sticks, maybe something happens and nine times out of 10 maybe you don't get an email back, but you just know you're trying to operate in faith as much as you can just cold emailing people.
I remember something funny happened when I was just on the couch working and it was the Twitter days and this producer that I really looked up to and I still do called Sunstar just tweeted his email address and I happened to see within maybe 10-15 seconds of him tweeting and I said let me just send this guy some music.
So I sent him some beats and 10 minutes later he responded "I love these, these are brilliant!" I said this is wonderful and he said just keep sending me things.
Related Topics