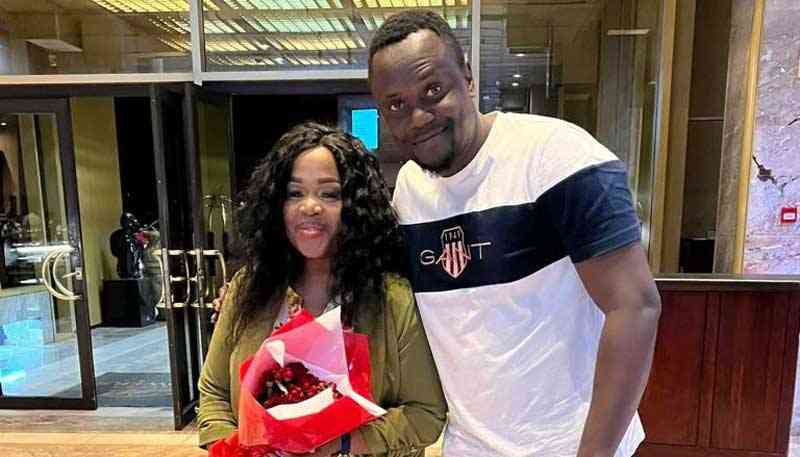 South African award-winning gospel musician and TV presenter Winnie Mashaba has hailed the reception she got while shooting the video of her collaboration song titled A Friend with local gospel musician Tatenda Mahachi in Zimbabwe recently.
The South African music diva jetted into the country on Monday and was welcomed by Mahachi at the airport before the two drove to Mutorashanga and some parts of the capital the following day for shooting.
Mashaba described her visit to Zimbabwe as "out of this world" and lauded her host Mahachi for the "warm" reception.
"Thank you Zimbabwe," she said before departing for South Africa on Wednesday.
"I had a very nice day in Zimbabwe and the hospitality was perfect.
"I am going back home, may the Lord protect you.
"Until we meet again!"
The Ke Nale Modisa singer also hailed Johannesburg fashion shop UD Fashion House for dressing her during her visit to Zimbabwe.
"Thank you UD Fashion House for always making sure I look presentable," Mashaba posted on her Facebook page.
"I had time of my life in my other African country.
"Well treated, hospitality on another level.
"Thanks to my host Tatenda Mahachi for everything my brother.
"Hope to see you soon.
"God bless you."
Mahachi said he was happy to collaborate with Mashaba, one of the most celebrated gospel musicians in southern Africa.
"Dr Mashaba is a general in the Kingdom of God," Mahachi said.
"I was happy to work with her on the project and I am looking forward to the product which we are going to release this coming week."
This is not the first time that Mahachi has collaborated with a South African musician; in 2015 the award-winning musician formed a formidable partnership with the late Sifiso Ncwane following their collaboration of the song Ndinoda Jesu/Ngiyamuthanda UJesu, off his fourth album titled Declarations.
Related Topics