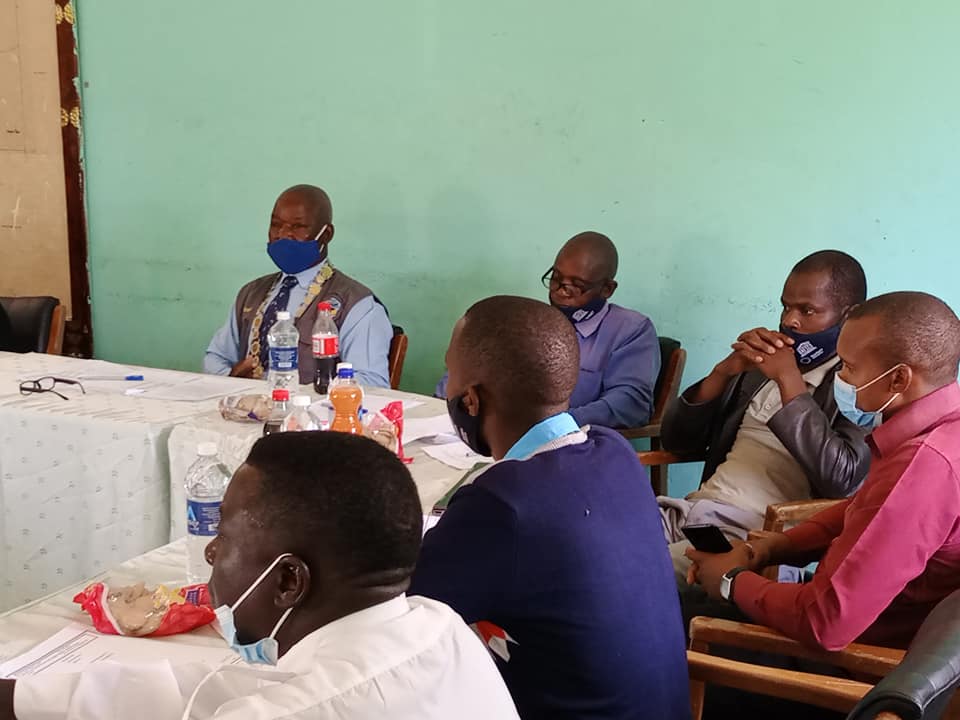 BY MOSES MUGUGUNYEKI
Sarah Zhou* does not miss developmental programmes, including community meetings in her villagein Muzura, ward 3 in Guruve, Mashonaland Central province.
Despite all her efforts and ambitions, Zhou, just like most women particularly in rural communities, are playing second fiddle to men when it comes to participation in politics and leadership.
Her district is one such community that gives absolute priority to men when it comes to leadership and governance.
"I am one woman who is so passionate about development, but I have never been elected a leader of any programme," said Zhou, who got married at the age of 16.
"I did not proceed with my education after my parents failed to pay school fees and a year later, I got married.
"We live in a patriarchal society where men dominate in every aspect of life."
Buoyed by the government's desire to promote gender equality and women's empowerment at the grassroots, Monica Zuze* of Siyalima village in ward 1 has been instrumental in gender sensitisation programmes in her community.
"It's a tall order getting into the communities to preach this gender equality gospel. I am seeing a handful of women in our communities now pushing to be part of the leadership," Zuze said.
"We have these policies and laws that form the milieu for women's participation in politics and public administration in Zimbabwe, but we have been facing resistance here in Guruve."
She, however, said there was now light at the end of the tunnel thanks to Zimbabwe being a signatory to many regional and international instruments on women's rights, including the Beijing Declaration and Platform for Action, Protocol to the African Charter on Human and People's Rights on the Rights of Women in Africa as well as the Convention on the Elimination of All Forms of Discrimination Against Women.
The country is also a signatory to the Sadc Protocol on Gender and Development, which came to an end in 2015.
"We are not there yet when it comes to women's participation in politics. We still play second fiddle to men in all aspects of leadership," Zuze said.
According to a Gender Links analysis of the July 2018 general elections in Zimbabwe titled Gender in the 2018 Zimbabwe Local Government Elections, the representation of women in local government declined from 16% to 14% in the election.
Only 1 156 women (17% of the total) contested for local government seats.
In Guruve Rural District Council, there is only one female councillor out of the 23 councillors voted for in the 2018 election and the scenario is the same across the management of the local authority which consists of one female and five males.
"Chances of having female councillors elected to top positions in Guruve Rural District Council are very slim because the council is male-dominated," said the local authority's social services officer, who is also the gender focal person, Kumbirai Mereki.
"When it comes to voting one female cannot vote against 22 or 23 male councillors.
"There is need for increase in the number of female councillors and staff members to support each other to top positions.
"On another note, females generally look down upon themselves, they lack confidence and knowledge."
Mereki said the local authority was doing gender sensitisation programmes to raise awareness and encourage more women to participate in politics and leadership.
"Guruve Rural District Council has been working in partnership with the Zimbabwe Lawyers Association, Women Action Group, IYWD and Gender Links to impart knowledge to local women so that they become conversant with laws in Zimbabwe, their rights and participating in public programmes," she said.
"However, we discovered that here in Guruve, most men do not allow their wives to participate in politics as they associate women in politics with sex workers.
"So, as a result women fear to be associated with such people."
She said some women do not participate in politics because of lack of knowledge, exposure, vulnerability and religion.
"Some churches do not allow women to take up leadership positions and to participate in politics," she said.
Mereki said the only female councillor Ranganai Nzvimbo is the chairperson of the Social Services Committee as well as the Human Resources Development Committee vice-chairperson.
Women's Affairs, Community, Small and Medium Enterprises Development minister Sithembiso Nyoni while addressing a 2020 Gender Links-organised Zimbabwe Local Government Summit reiterated that gender mainstreaming was the only strategy to achieve gender equality.
She also lamented the low representation of women in decision-making as councillors, stating that there was a need for such inequalities to be addressed.
The minister stated that her ministry was ready to work with Gender Links and other organisations as the work cuts across the mandate of the Ministry of Women's Affairs, Community, Small and Medium Enterprises Development.
She encouraged women's rights groups and organisations to continue mainstreaming gender.
However, non-governmental organisations said if the Private Voluntary Organisations (PVO) is passed into law it will smother women's participation in politics.
The Bill seeks to restrict the operations of NGOs and according to the Women Academy for Leadership and Political Excellence (Walpe), the law has devastating socio-economic and political implications on citizens particularly the women constituency.
"This Bill is a setback to the achievements of democracy, socio-economic development and the realisation of constitutionally guaranteed provisions such as sections 17, 56 and 80 that call for gender equality," Walpe said in a statement released recently.
"Our efforts towards the advancement of gender equality and improvement of women representation in leadership and decision making will be put to waste if the PVO Bill in its current form comes into effect.
"Walpe is deeply concerned with the repercussions the Bill will have on the women constituency that we represent and calls on all interested stakeholders, including the government to reconsider the Bill for the sake of democracy, empowerment, equality and inclusion."
Social commentator Dorothy Chirwa-Tumbo said despite having laws and policies that promote gender equality, women's participation in politics lags behind in Zimbabwe.
"Areas like Guruve and many other rural communities are highly patriarchal and men dominate in all facets of life," Chirwa-Tumbo said.
"We have, of late, seen NGOs spearheading gender sensitization programmes in these areas in an effort to transform rural communities to be more sensitive to women's economic and social rights as well as gender equality.
"However, with these renewed efforts to muzzle NGOs operating in rural areas through the promulgation of the PVO laws, I am seeing the gains achieved in this cause being reversed."
Both Zuze and Zhou said they were looking forward to contest in the forthcoming local government elections in their respective wards.
*Not real name
Related Topics