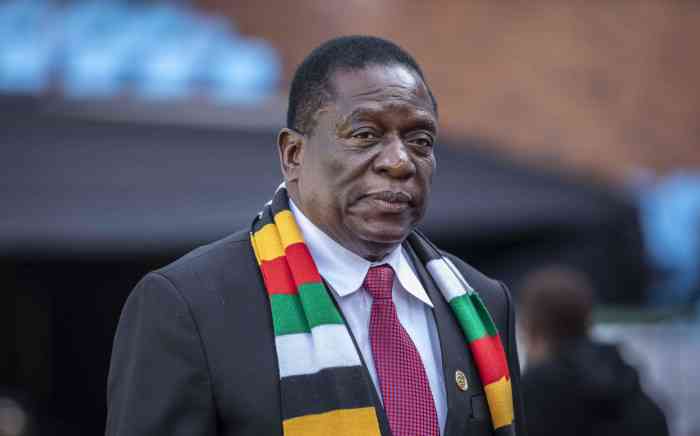 The Al Jazeera investigative unit last week served the second episode of a four-part documentary, Gold Mafia, that makes interesting— albeit unsurprising — watching.
The exposés have spawned all sorts of reactions from all sorts of corners. One of the biggest reactions, though predictable, is the no-show by President Emmerson Mnangagwa himself, about who very damning allegations are being made in the documentary.
The presidential spokesperson, George Charamba, threw down the gauntlet, though, threatening the local media with all manner of retribution for merely running what Al Jazeera has run.
His threat to take legal action against the journalists was never going to make sense, anyway. Yes, it's true that one becomes game for the law for repeating defamatory stuff. The assumption by those that have been hurt by the documentary so far is that it contains defamatory stuff.
But what these guys in officialdom are omitting to say out loudly is what the defamatory material in the documentary is, and who is saying bad things about the president and what, what.
Not that it matters. Charamba was not tweeting officially. He was, therefore, making personal statements, even though the line between officialdom and personal-dom is just wafer thin.
Since he was not talking officially, it means that the presidency has not yet talked.
Back to this defamation issue. If you are going to sue a journalist for writing on or repeating what Al Jazeera is exposing in its Gold Mafia documentary, you need to properly tell us what the defamation consists in. If you ask me, President Mnangagwa's super envoy, Uebert Angel, is clearly defaming his boss.
He tells what he is persuaded is a bunch of Chinese criminals wanting to launder money but are, in reality, undercover journalists a whole mound of muddy things about the president. Like, without being pulled, he alleges the president is involved in shady land deals at Angel's behest.
He insinuates that the president is ever ready to put his stamp on dirty money things and tells us that the position of ambassador at large was created purely for him. That means there is something sinister in the decision to create the position.
So, if you are going to sue a Zimbabwean journalist for repeating Al Jazeera stuff, you must start with the very people who did the primary defamation.
People like Mnangagwa's hazy sidekick, Uebert Angel. But can anyone on the elite side of things here afford that at this moment?
In this documentary, Mnangagwa becomes the biggest loser because every allegation about dirty gold and money laundering ultimately winds at his doorstep, in his capacity as the president of Zimbabwe and by virtue of the decisions he has overtly and allegedly made in the whole mess-up.
In the jamboree of reactions to the documentary, people have largely neglected asking one big question. How has the Al Jazeera documentary, so far, affected President Mnangagwa? There are offshoots to this. Has the documentary affected him, anyway? Or will it ever do so?
The answer is yes and no.
This is not to suggest that Al Jazeera's independence was compromised. But if you listen carefully, there are hushed words and phrases about the timing of the documentary.
We are going into elections. President Mnangagwa is Zanu PF's presidential candidate. He will be running again after the 2018 elections, but in the context of rumoured intense factionalism within the ruling party. It has been repeatedly suggested that there is a strong mass within Zanu PF that wanted him to make way for his deputy, Constantino Chiwenga, who marshalled the heavily military take-over from the late Robert Mugabe.
So, there is a possibility that the Al Jazeera documentary was aided by people who don't exactly like Mnangagwa and are hell bent on tarnishing him so as to weaken his position. Any well-meaning journalist will tell you that there is nothing wrong in getting information from your subject's rival, for as long as you do your work properly.
It would always be unbelievable that Al Jazeera undercover journalists can have the capacity to plant hidden cameras at the Robert Gabriel Mugabe International Airport for such lengthy periods on their own without detection.
That would say very bad things about the state of security at Zimbabwe's biggest airport. So, the biggest chance is that the reporters were aided by some people who could also ultimately be sympathetic to the VP.
Here is another hint. You notice that the VP, at least so far, is completely absent from the whole scandal. Instead, the anchor ties the ship firmly off President Mnangagwa's and his alleged circle of gangsters' shore.
If it is true that there is an anti-Mnangagwa element that could have worked from behind the scenes to help the undercover investigatives, it's then possible that this invisible and deep force was too ready to facilitate the sharing of information so as to discredit Mnangagwa ahead of the elections. In the eyes of both the party membership and the general electorate.
But such a strategy would not work if the ultimate goal is to undermine the president's chances of winning the presidential poll.
Why? Because it's based on this faulty assumption that reputation is sufficient to determine the success or failure of a candidate in Zimbabwean elections. As it stands, the outcome of an election in Zimbabwe hardly has to do with reputation and image. There are other factors like electoral manipulation that we have heard about ad nauseum to date.
So, even if the documentary adds a layer to the president's battered image, there is nothing to convince you that he would lose the coming election on the basis that he has hobnobbed with or helped the gold mafia.
Remember the Susan Mutami Twitter allegations of sexual abuse by Mnangagwa ahead of the Zanu PF congress last year? What came out of them? Mnangagwa went ahead and got the endorsement to lead the party and, by implication, run as its presidential candidate in this year's elections.
That said, there is still a big chance that the new revelations via the documentary will further weaken Mnangagwa internally. We are bound to have more people getting disgusted by the believable allegation that Mnangagwa facilitated gold smuggling and money laundering and allowed the mafia network to operate with impunity.
What this would then do in turn is to either force some party loyalists to not vote Mnangagwa or to vote for an opposition candidate. If this happens, it will have a telling effect on Mnangagwa's overall ballot tally.
In 2018, the official figures show that Mnangagwa's win against Chamisa was not sufficiently convincing for an incumbent, even though he got the 50% plus one result as required by the law to form a government. And that was in the absence of a damning Al Jazeera investigation or Mutami revelations.
And if Zanu PF loyalists are going to be disgusted, the rest of the electorate will get a more revived sense of revulsion against Mnangagwa. All things being equal, more people are going to vote against Mnangagwa—as contrasted with for the opposition candidate(s).
But then, things are hardly equal in Zimbabwean politics. Not matter how many votes Mnangagwa would lose due to the Gold Mafia investigation, ballot tallies may be decided on other fronts.
A very likely scenario is that the Al Jazeera exposés will disrupt the gold mafia network in Zimbabwe. Locally and internationally, there is bound to be more scrutiny around people like Angel, Simon Rudland and Ewan Macmillan who all appear in the documentary as part of the mafia. Pressure might even bear on Mnangagwa to drop Angel as a special envoy. And for the likes of Macmillan and Rudland, it won't be business as usual pretending to be buying and selling gold on behalf of the sanctioned Zimbabwe government.
What would be the implication of this on Mnangagwa? If, indeed, it is true that the president has been working with this network of international criminals and the web collapses or is disrupted, then the benefits that would have been accruing to the president will be affected.
Let's, for argument's sake, say Rudland and Macmillan were sponsoring Mnangagwa's political campaigns. That would mean less money to fund the president's bid to retain his current office. With less resources, the presidential campaign would be naturally affected.
But the most direct effect of the documentary is likely to be on the international stage. The documentary has dealt a long-term harm on Mnangagwa. This will possibly weaken his engagement with foreign powers, including the Sadc bloc. Mnangagwa, his party and Sadc, for instance, have been hollering about how sanctions are affecting the national economy, instead of corruption.
It highly likely that there will be a perception that also says corruption is too endemic in Zimbabwe as it also involves the highest office, so we can't always be whimpering about sanctions.
Sadc has been supporting Zimbabwe's bid to have the sanctions removed but the revelations by Al Jazeera can easily weaken that howl. There is bound to be a call from both within Sadc and other circles to also acknowledge the role that corruption is playing in undercutting the Zimbabwean economy.
And the EU and the USA will surely have more people close to Mnangagwa to add on their lists of individuals and companies under international restrictions.
*Tawanda Majoni writes in his personal capacity and can be contacted on [email protected]
Related Topics