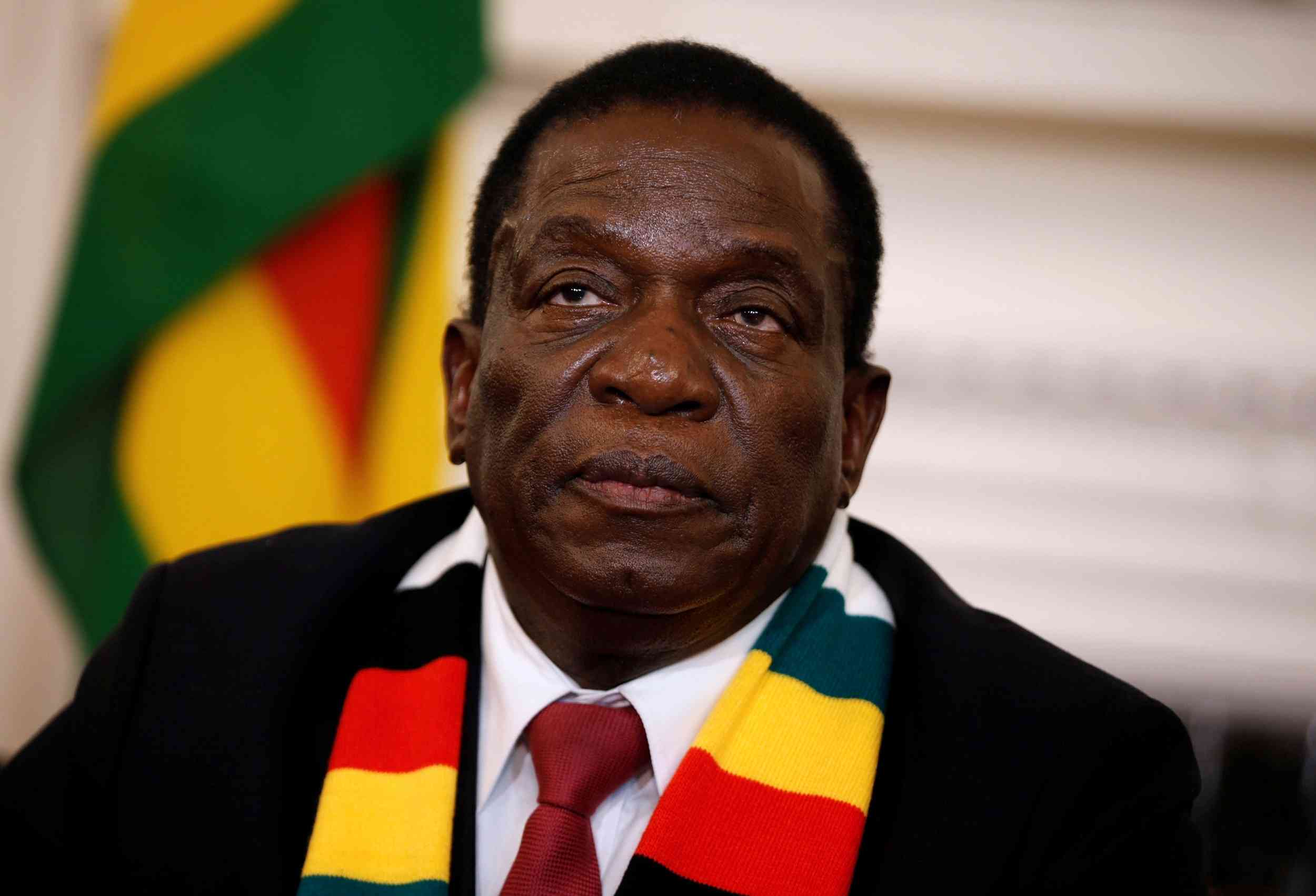 Let's get down to some serious festive business, to see how the board of trustees in this, our company — Zimbabwe (Pvt) Ltd — does in terms of corruption.
That's what we will be doing all the way beyond Boxing Day.
For the main reason that corruption has become such a trender here, and we need to know how that's the case.
I don't know much about the fish rotting from the head, but the head certainly becomes part of the rot.
In this first episode of the season, the CEO, President Emmerson Mnangagwa himself, is the hero—or villain, depending on where you are seated in the auditorium.
If you are going to judge him by his public statements, Mnangagwa looks like that bloke who is jockeying for the position of chief researcher at Transparency International when his political career finally ends.
He perfectly knows the extent of the rot in Zimbabwe.
Do you remember the days before the coup, when, as vice president, he was talking so harshly against the rampant police blocks on our highways, down to the alleys?
Most of us agreed with him.
We didn't like this thing that Augustine Chihuri, the now exiled former police chief, had turned the roads into a mazy retail mall.
He was giving the cops daily targets to milk motorists and passengers alike.
Zimbabwe became probably the only country in the history of civilisation where you saw more POS machines on the roads than moving cars.
The cops were extorting us dry.
Then, during the coup days, Mnangagwa was talking corruption in his dreams, in the office, at rallies and whenever he was taking a swig from the famous "I'm the Boss" mug.
You must give it to him.
He has been in government from day one after the 1980 "majority" elections.
He knows what his colleagues have been doing.
And he knows what he has been doing too. He's, therefore, a high authority when it comes to corruption.
After all, he was the first chief spy in post-colonial Zimbabwe and has held lots of senior positions in government for more than four decades.
When they pushed Robert Mugabe over in 2017, Mnangagwa was talking nice things.
He promised to make the fight against corruption a top priority.
That's because he knew how corruption was eating Zimbabwe and the economy out. And there is no doubt he still knows that.
So, in his 100-day action plan and after, as a caretaker president post-coup, he announced some policy positions, strategies and actions that were meant to curb the rot.
He came up with a long list of people and entities that had externalised millions of dollars during Mugabe's time.
He gave them a deadline to return the money, failure of which relevant offices would initiate prosecution or some such interventions.
He set up the Special Anti-Corruption Unit (Sacu) to work from his office.
He also introduced special anti-corruption courts.
New commissioners at the Zimbabwe Anti-Corruption Commission (Zacc) were selected and took up office.
Several top-ranking government officials, who were linked to corruption lost their jobs and were even arrested.
These include ex-Health minister, Obadiah Moyo who had been caught up in a Covid-19 procurement scandal, former Labour minister, Prisca Mupfumira, and former Home Affairs minister, Ignatius Chombo.
All this sounds very good on paper. The reality is bigly sad, though.
I will give you white crows if ever there was anything meaningful that came out of the long list of the money smugglers that the Mnangagwa administration penned back then.
Grace Mugabe, for instance, was among those that appeared on the list. Has she returned the money?
Who has, and how much?
So, you notice it was all optics right from the start.
Mnangagwa knew — and knows — what language people wanted/want to hear and he gave/gives us just that.
Again, it was never clear why he set up the Sacu when we already had a constitutional commission, Zacc.
Besides being apparently unconstitutional, Sacu has nothing to do that Zacc can't do.
It looks, therefore, that Sacu was set up as a selfish political tool to serve the interests of the president.
In a place where corruption is so rife like ours, it's gainful for a shrewd politician to have an entity that can be used to fight enemies.
Zacc can't be trusted because it is factionalised and some of its commissioners and/or members of the secretariat can easily be used to undermine the president to the benefit of his internal rivals.
To cut it short, Sacu is, for the public, a useless money and time waster whose sole purpose is to prop up the president.
If you see sense in that, then this is some kind of corruption in itself because the president would have abused his office for personal gain.
The arrest of senior government officials has become such a big yawn.
The naughty ones call it catch and release.
You see, the one thing about Mnangagwa is that he behaves like a typical street hustler.
He's foxy in that he has this way of trying to charm you with things that he knows would charm you.
Pity that his record of success in that regard has been poor so far.
Besides former minister Samuel Undenge and former minister Petronella Kagonye who were prosecuted and convicted, what other success story is there for the current administration?
None. What's happening with Chombo, Mupfumira and Moyo, among others?
Don't get fooled.
It's the politics, stupid! In Zimbabwe, a high-ranking person gets arrested, prosecuted, acquitted or convicted on the basis of the political value they hold or don't hold.
It's not about the judicial system. That one is already compromised and captured.
They will tell you that we don't interfere with the judiciary because there is rule of law here.
That's the argument they will use to try and wiggle out of the fact that high profile cases are fizzling out.
They will say the delays are due to technicalities associated with the cases on the roll.
A good argument, but only on paper.
The truth is that there is so much political interference in what the courts are doing, and Mnangagwa is the CEO.
The head of the rotting whale.
Put his office aside and get closer to him as the person.
There is a big perception out there that the president is not and has not been the cleanest person in town.
High profile historical anecdotes have not helped to extricate the president from that perception.
In late 2002, at the height of the war in the DRC, a United Nations panel of experts compiled a lengthy and detailed report on the plunder of natural resources in that country.
It said, among other things, that there was a political-military elitist network that was skinning the war-ravaged DRC.
In its own words, the panel described the then Speaker of Parliament, Emmerson Dambudzo Mnangagwa, as the "key strategist for the Zimbabwe branch of the elite network".
There is only one Emmerson Mnangagwa who was Speaker of Parliament in Zimbabwe during that time and that one is now the president of Zimbabwe.
A year later, in 2003, Mnangagwa was caught up in another scandalous storm.
That was during the trial of Mark Matthew Burden, a rich dude who was being accused of milling gold from artisanal miners without a licence.
One key claim that came out of his trial was that Mnangagwa had received a whopping $8 million from Burden as some kind of bribe.
That detail has stuck out in the public domain.
This has never been proven — so it could also be untrue — but the president has been accused by his critics of being the godfather of illegal gold trade in Kwekwe.
And talking about gold, you will know that a gold mill has been running at his Precabe farm in Kwekwe.
The naughty ones have gone to the extent of saying the mill can easily be used for gold laundering purposes.
It's not yet clear if the mill is his, but, strictly, he must know about it because it is, or was on his farm.
Fast forward to recent times and now.
You have had people who have been going about doing all sorts of dirty things like grabbing gold mines and illegal gold mining in some parts of the country, saying they have the blessings of the president.
You may want to call this name-dropping, and it's one thing that has been happening for a long time, even during Mugabe's time.
The problem, though, is that the president has never taken decisive action against the "culprits".
Some of the people who have been doing bad things are evidently close to the First Family.
If you couple that up with the fact that no action has been taken against the so-called name-dropper, with some of them actually rising up the ladder in the ruling Zanu PF that the president leads, you get tempted to believe that the president is highly likely to be part of the syndicates or, at least, is a passive accomplice.
Then that group is of mostly young hangers-on who have been accused of one form of crime or another.
Their mere proximity to the president soils his image and he seems lost on what to do with them.
So, overall, if you were asked, you may not give the president more than two out of 10 on the corruption index.
Tawanda Majoni writes in his personal capacity and can be contacted on [email protected]
Related Topics