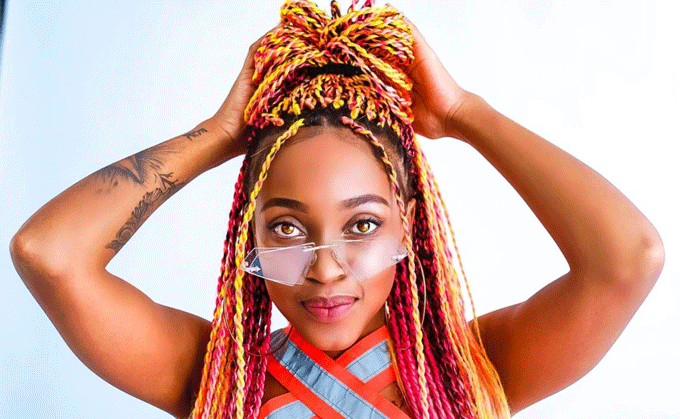 Faith Khensani Mashaba, a South African hip hop, rhythm and blues artist known publicly as Faith K, has released her first music offering of the year titled Bounce.
Set to heighten her potential and resonate with a larger fan base, the piece of music is the first taste and introduction to Nangena — her upcoming record album slated to be officially dropped before long.
Making music for young fanciful females who live their lives in black-and-white, Faith K, who is from Centurion, has a couple of studio albums, a string of singles as well as umpteen features under her belt — giving audiences a glance into her prowess.
Being one of the few Tsonga female artists booming in the music industry at the moment, she acknowledges that she has always known that she wanted to entertain beforehand.
The young and versatile artist ascribes the growth of her pursuit to her leap of faith which led to a life changing convergence with her soon to become mentor — legendary South African hip-hop head — DJ Dimplez, who discovered and plugged her with loads of interviews in her early career.
Grateful to have people in her nook that grasp her visual modality, hip hop artist Reason, rapper and television personality Nadia Nakai, as well as multi-awarding winning musical artist pH Raw X, are among an exciting list of big names in the hip hop circles which Faith K has already collaborated with. Described as a creative that never stops learning, the point-blank performing artist has also been making music with notable singer-songwriters such as rhythm and blues vocalist Thabsie — whom she featured on her single titled Moyeni.
Tossing her irrefutable talent far from the woods, last year Faith K learned that she is regarded as one of South Africa's fairest females in the rap scene when she garnered a nod for Best Female at the South African Hip Hop Awards (SAHHA) for her work on her 2021 EP (extended play) called K'Loud — a howling eight-track body of work. Pronounced "cloud" and produced over a 12 month period in Johannesburg, the latter musical composition which was her sophomore release, comprised eight crunchy jams which each represented an important piece of Faith K and who she is. Faith K's off-the-wall articles of clothing took centre stage as she transformed from one voguish look to another.
Having aligned each song with a fashion look that speaks to the content and aesthetic of the musical composition, Champ — a hat-tip to the South African legendary soccer player Jomo Sono which featured both English and Tsonga rhymes — was the perfect heater for what was to follow. While the latter exclamatory motivational song comprised of Faith K's unexpected spanking Tsonga flows, She (Suicide) — a follow up single off K'Loud — was a highly strung piece of music which saw the double-quick emerging genuine artist that continuously work on her artistry, show off her raps on an amusing beat. Now in the next chapter of her musical career, Faith K is glad to have built momentum by introducing the first slice of her brand new self — sharing her music and looks with the world. Sooner than later, her latest release Bounce is expected to sprout out and shine.
Being an anthem specifically dedicated to time wasters, 'Bounce' was produced with effortless execution by the talented hit makers duo PLXYGRND — Glo Thebeatz and Kyle Keyz. Bringing her "A" game on the potential chart topping banger which could catapult on the charts and ride on a crest of wave, Faith K smoothly and quite unbothered tells the "clown" (person who wastes time) to get lost. The sound, which has lyrics that are attention-getting enough for audiences to sing along, consists of a lighter-than-air pop with a rhythm and blues swing to it.
"My brand-new single 'Bounce' felt like the right song to lead into my new album because I feel like it is relatable. The new energy for the year 2022 is to stay focused on growth, so there's no time for playing games," Faith K said.
By dropping 'Bounce' — a precursor to her much anticipated extroverted auditory communication project 'Nangena' — Faith K's career is set to vary for the finer and bring forth satisfaction. Having set her beliefs and principles on point, the rising hip hop rhythm and blues artist came up with portentous strategies for pursuing her goals. Even at the peak of her career, she will continue weaving her trip unearthing her roots through bouncy Tsonga lyrics with steadfast punch lines.
Grant Moyo is a prolific writer, innovative media personality, entrepreneur and a creative artist who is passionate about using his creative mind for the betterment of society. Follow him on Twitter: @TotemGrant
Related Topics