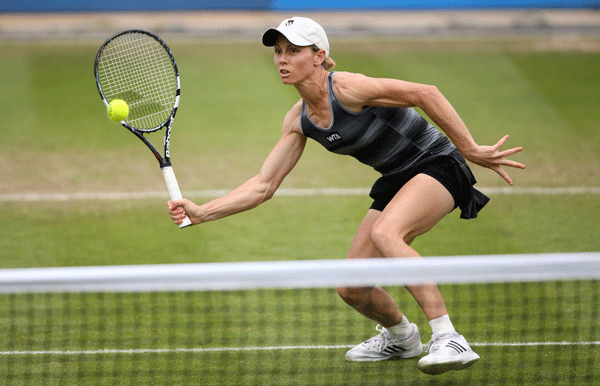 BY DANIEL NHAKANISO
ZIMBABWE tennis legend Cara Black has described her nomination into the International Tennis Hall of Fame's 2022 ballot for Hall of Fame induction as an amazing honour.
The 42-year-old Black, former world number one ranked women's doubles is among a  quartet of Grand Slam title winners who were revealed as new nominees on the International Tennis Hall of Fame ballot for the class of 2022 on Thursday.
Black, who hails from a tennis family where her late father Don and older brothers, Wayne and Byron Black, were all professional tennis players themselves, is joined by Ana Ivanovic, Flavia Pennetta and Carlos Moya.
They are joined by the duo of Juan Carlos Ferrero and Lisa Raymond, who were among the nominees last year.
Reacting to her nomination, Cara, who is now based in Australia, described the recognition as an amazing honour and something she did not expect.
"Being considered for the International Tennis Hall of Fame is not something you ever think about when you are competing. But to look back now and to know that what I accomplished in my career is now being acknowledged in this way, it's just an amazing honour," she said.
One of the most famous names in Zimbabwean tennis for several decades, Cara was a world number one doubles player and predominantly a doubles specialist throughout her WTA career, winning 60 titles.
She held the number one ranking for 163 weeks and spent 569 weeks inside the world top-10.
She was a five-time major doubles champion winning three Grand Slam titles at Wimbledon, as well as trophies at the Australian Open and the US Open.
Black also won five mixed doubles major titles and is one of three women in tennis history (Open Era, since 1968) to have achieved a career Grand Slam in mixed doubles.
She partnered with her brother Wayne for two of her mixed doubles major titles.
In a press statement, the International Tennis Hall of Fame president Stan Smith said: "The six nominees named to the International Tennis Hall of Fame's 2022 ballot have all achieved remarkable results on tennis' biggest stages – Grand Slam titles, topping the world rankings, Davis Cup and Billie Jean King Cup victories. Their successes are highlights of tennis history, and it's a pleasure to recognize their accomplishments with the honour of International Tennis Hall of Fame nomination."
The quartet of Black, Ivanovi, Pennetta, and Moyá are all new nominees to the ballot, while Ferrero and Raymond are returning nominees in their second year on the ballot.
The International Tennis Hall of Fame policy states that a nominee remains on the ballot for up to three consecutive years unless voted in.
Fan voting opened on Friday on vote.tennisfame.com, providing the opportunity for Zimbabwean tennis fans around the world show their support for the Black who served the country with distinction throughout her career.
The top three finishers will receive bonus percentage points for their total count.
Balloting by tennis journalists, historians and members of the Hall of Fame will occur in the coming months.
The class of 2022 inductees will be announced early next year. The Hall of Fame ceremony is scheduled to take place at the International Tennis Hall of Fame in Newport, Rhode Island on July 16.
If Black is inducted into International Tennis Hall of Fame, she would become the fifth Zimbabwean sports person to be recognised by an international sporting body.
Former world number one golfer Nick Price was the first Zimbabwean athlete to get global recognition when he was inducted into the World Golf Hall of Fame in 2003 while brothers Richard and Kennedy Tsimba, two of Zimbabwe's finest sportsmen were into the World Rugby Hall of Fame in 2012.
Four months ago Andy Flower, widely considered to be Zimbabwe's best cricketer of all time became the country's first cricket player to be inducted into the International Cricket Council (ICC) Hall of Fame.
Related Topics