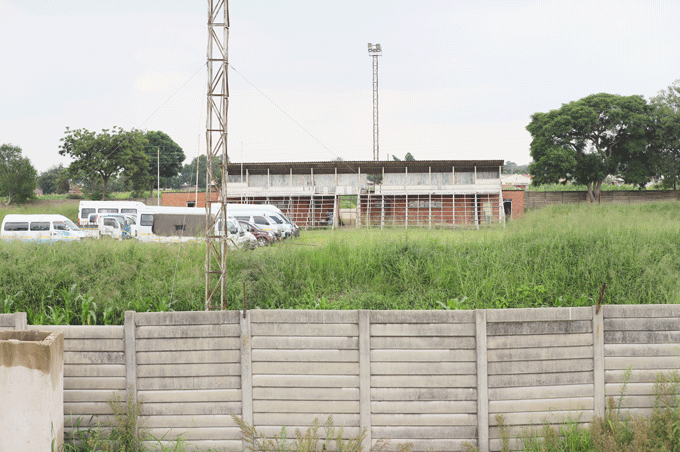 BY MUNYARADZI MADZOKERE
Chitungwiza Municipality has confirmed that Chibuku Stadium is currently being used as a temporary holding bay for vehicles impounded in the ongoing blitz against traffic offenders as there appears to be no plans in sight to revamp the sporting facility.
Chibuku is one of the several council-owned recreational facilities that have been left to rot in recent years.
The now tatty and poorly maintained stadium used to host Division One games.
Yadah FC club owner, Walter Magaya, had promised a facelift for the stadium that would leave it as a reasonable football ground, but his ambitions hit a brick wall after Chitungwiza officials said they were only prepared to offer him a three-year lease and require the club to pay a monthly rent to the council.
A few years after turning down the deal, which would have resulted in the stadium getting a facelift, the Chitungwiza council  has decided to turn the stadium, which is situated in one of the football hubs in the country, into a car park.
"To say the stadium has been turned into a car park is incorrect, but the correct position is that the facility is temporarily being used to hold vehicles for traffic offenders since it is a joint operation between ZRP and us," said the local authority's spokesperson Lovemore Meya.
"The use of the stadium was as a result of an overflow of vehicles that were taken to our head office and Seke North district offices."
Historically, Chibuku Stadium has played a key role in providing a platform for some of the best talent to emerge from Chitungwiza.
However, the facility has been in a bad state since the turn of the century.
Meya revealed that the Chitungwiza council was hunting for investors to help facelift Chibuku Stadium.
"From the word go, the plan has been to resuscitate the stadium for the benefit of the abundant football talent in the community," he said.
"At the moment we are scouting for investors who are interested in partnering with us to achieve this."
The continued decay of Chibuku Stadium comes at a time when other local stadia such as Rufaro and Gwanzura, both owned by City of Harare, have turned into white elephants.
The country's biggest facility the National Sports Stadium was banned from hosting international matches by the Confederation of African Football.
Related Topics