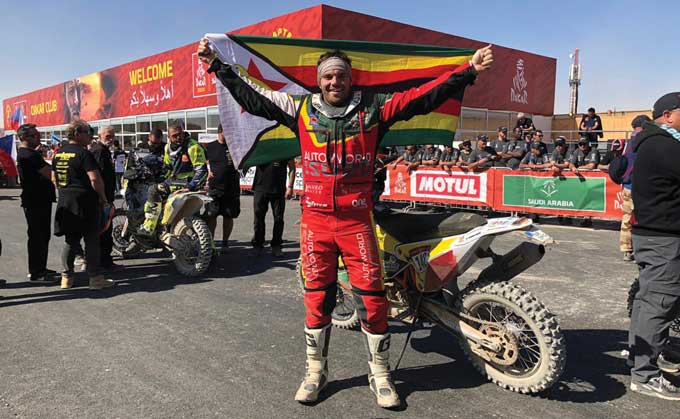 BY MUNYARADZI MADZOKERE
THREE riders, who have raced at the iconic international competition, the Dakar Rally, are set to take part at the Victoria Falls Enduro as the annual event celebrates 10 years of fundraising for conservation from April 28–30 in the resort town.
Zimbabwean Graeme Sharp, who flew the country's flag at Dakar Rally in 2020, headlines the trio of racers who have competed at the elite international event and are headed for the Victoria Falls annual off-road bike racing competition.
Two other athletes from Botswana namely Ross Branch and James Alexander will also take part at the Victoria Falls Enduro.
"We are happy to announce that we have 3 Dakar Rally riders joining us this Enduro.
"Ross Branch, Graeme Sharp – My Dakar Safari, James Alexander Dakar 2021," the organisers of the event announced on their Facebook page on Thursday.
South Africa-born Branch has represented Botswana at the Dakar Rally since 2019, and was best rookie in his debut appearance at the event after he finished overall 13th.
The 35-year-old is also a six-time Motocross African champion, three-time South-African cross-country champion and also boasts seven victories at the Botswana 1000 Desert Race.
On the other hand Alexander made noise at the Dakar Rally last year when he made his debut at 50 and earned himself the moniker 'Kalahari Madala' as he finished 63rd overall.
The Victoria Falls Enduro, which dates back to 2013 was established to raise funds towards conservation efforts.
"As the anticipation grows for the 10th Victoria Falls Enduro, we would like to share what is truly at the heart of this epic, adrenalin packed weekend.
"It was clear from the start that the one thing the founding members could all agree on, other than their shared love of adventure, was the need to be actively involved in the preservation of wildlife, the environment, local communities and domestic animals in Zimbabwe. This gave birth to the Victoria Falls Enduro Fundraiser.
"Shortly after the resounding success of the first Victoria Falls Enduro in September 2013, the Zambezi Off Road Club was established to unite like-minded riders with a passion for conservation.
"The Victoria Falls Enduro is an annual motorbike challenge where people from across southern Africa meet in Victoria Falls to ride some of the most rugged dirt road tracks in Africa. The event takes place over two days and all the proceeds from the event are donated to well deserving NGO's operating around Victoria Falls town," organisers said about the event on their website.
Four organisations that have benefitted from the Victoria Falls Enduro fundraiser include Victoria Falls Anti-Poaching Unit, Bhejane Trust is working with Zim Parks in an effort to pump water to wildlife watering holes, Veterinarians for Animal Welfare Zimbabwe and Victoria Falls Wildlife Trust.
Related Topics