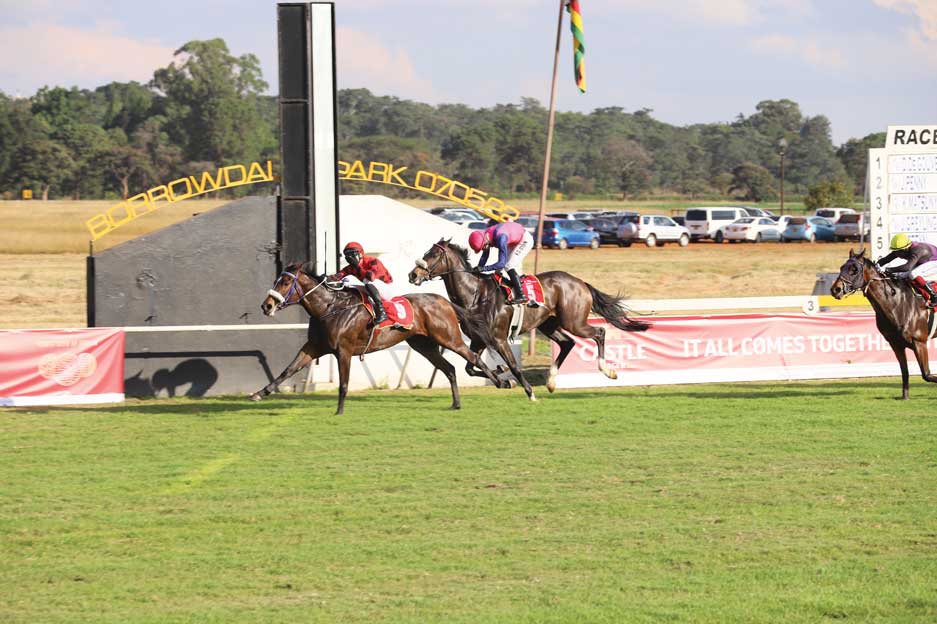 BY MICHAEL KARIATI
FOUR-YEAR-OLD True Beauty showcased her beauty in front of the crowd by winning the 63rd edition of the 1 800 metre Castle Tankard at Borrowdale Park racecourse yesterday.
The filly by Skill Skizzle was a clear winner ahead of Only Him, Holy Land and Wantage and in the process gave her connections the US$25 000 winner's prize.
Not only did the connections, the owners, the trainer and jockey get US$25 000 to share but the punters too who are smiling all the way to the cashiers counter.
By taking the Castle Tankard the Thomas Mason trained True Beauty improved her record to six wins and 10 placings in 18 starts and will also fancy her chances in the forthcoming OK Grand Challenge.
Jockey Dennis Schwartz was elated for winning the only Grade One horse race in Zimbabwe.
"I am happy I have managed to win beating Lily Blue. I am looking forward to the OK Grand Challenge and to win again," said Schwartz.
Only Him, the overwhelming favourite before the race took US$12 000 for coming second while there was US$7 500 for the taking for Holy Land who came third.
Wantage from the Bridget Stidolph yard who was ridden by Teague Gould also got his reward of US$5 000 for coming fourth.
Yet all was not bed of roses for True Beauty who came out of gate nine as the lead changed hands from Lily Blue to Three To Tango and finally to Armstrong.
At the home stretch, Armstrong appeared to be in control of the race before Schwarz asked for a response and true as her beauty, True Beauty responded galloping her rivals off their hooves.
The disappointment of the race was the heavily favored Lilly Blue who at 4/1 was expected among the top three finishers but that was not to be.
Also down and out of the race was Finchatton, one of the pre-race favourites and 2021 OK Grand Challenge winner, who was not among the Tankard podium finishers.
The race had to be whittled down to 12 runners from 13 following the scratching of Bugatti Blue from the Debra Swanson stable who was supposed to be ridden by Norman Takawira.
With the Castle Tankard done, all the connections will now turn their attention to the 1 800 metre OK Grand Challenge to be run on June 4 with a stake money of US$40 000.
Related Topics