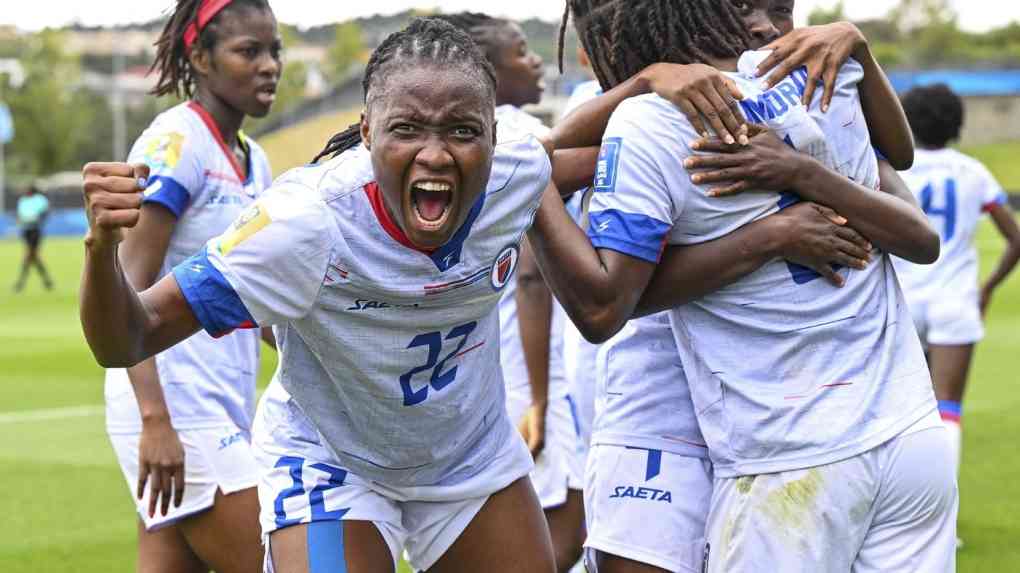 Haiti and Portugal qualified for the FIFA Women's World Cup finals for the first time after winning playoff matches Wednesday in New Zealand.
Carole Costa scored a 94th-minute clincher in Portugal's 2-1 win over the Cameroon "Lionesses" who have reached the round of 16 at the last two World Cups.
Haiti beat Chile 2-1 earlier Wednesday in an historic match it hopes will bring joy and "a breath of fresh air" to a strife-torn homeland.
Melchie Dumornay scored twice to ensure 55th-ranked Haiti will return to the southern hemisphere in July to play in Group D of the Women's World Cup alongside England, China and Denmark.
Haiti and Portugal have taken two of the last three places at the World Cup which will be decided at the this 10-team inter-continental playoff in New Zealand. Paraguay will play Panama Thursday for the last place in the 32-team tournament which will be co-hosted by Australia and New Zealand in July and August.
Haiti's Dumornay recently was signed by seven-time Champions League winners Lyon and showed why with two pieces of slick finishing. She won the race to a through ball from Roselord Borgella in first-half stoppage time to give Haiti a 1-0 lead at the break.
Dumornay then seemed to make the game safe in the eighth of 11 minutes added on by the referee after Chile captain Christiane Endler had saved Nerilia Mondesir's attempt from the penalty spot.
But Maria Jose Rojas scored in the 11th minute of stoppage time to keep Chile's hopes alive and make the final moments nerve-wracking for Haiti's Les Grenadiers, who held on to claim an historic victory.
Players shed tears of joy when the final whistle blew, reflecting on success attained in the most difficult of circumstances.
Haiti's Les Grenadiers had to win two matches in New Zealand to qualify for their first World Cup. They beat Senegal 4-0 in their opening match and then beat 38th-ranked Chile for their first ever win over a South American opponent.
Prior to the tournament midfielder Danielle Etienne told ESPN "there's a lot of unhappiness in the country and football is the joy."
"Being able to qualify to the World Cup would be major," she said at the time. "We want that for the country as a whole, to have a breath of fresh air and kind of step aside from anything going on."
While Portugal's win was sealed late it came at the end of a dominant performance. Portugal had 20 shots on goal, most of which were comfortably saved by Cameroon's 16-year-old goalkeeper Cathy Biya who was promoted after Ange Bawou was sent off against Thailand.
Diana Gomes gave Portugal the lead after 22 minutes and the match seemed to be heading to extra time when Ajara Nchout Njoya equalized for Cameroon in the 89th minute.
But an Estelle Johnson hand ball was spotted after a VAR check and Costa scored from the penalty spot.
Related Topics