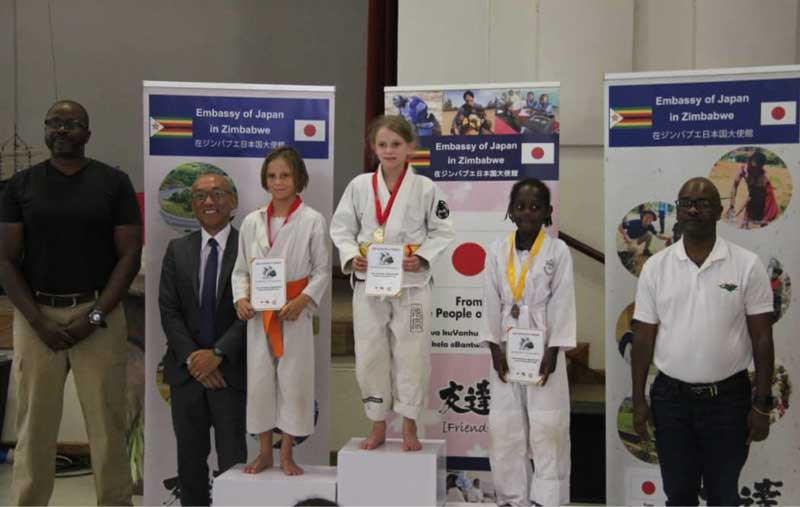 THE Japanese Ambassador Judo Tournament kicked off at Hartman House School in Harare yesterday with some exciting matchups in the juniors' category as the annual competition returned in style after a three-year hiatus due to the Covid-19 pandemic.
Now in its fifth year, the tournament attracted over 100 judoka's between the ages of five and 11 on a colourful first day.
The level of competition was amazing with all races represented and with parents cheering on their children.
President Emmerson Mnangagwa's grandchildren, Joshua, Luciano and David scored big, winning gold in their respective category.
The sponsor of the tournament, the Japanese ambassador to Zimbabwe, Satoshi Tanaka was impressed with the level of competition.
"It was so exciting to see that Judo is still popular amongst Zimbabweans. It was good to see kids fighting so hard," Tanaka said.
"We are looking at spreading the Japanese culture through Judo, it is our pleasure to sponsor this tournament.
"Judo is good for the mental and physical aspect but more importantly for the soul."
"I hope Zimbabwe will qualify for the Paris Olympics in two years' time," said Ambassador Tanaka.
Judo Association of Zimbabwe president Smart Deke was happy with the tournament as it is part of their development initiative.
"This is where everything begins and we want to spread judo by catching them young," he said.
"These are our future Olympians and tomorrow (today) we are going to have the cadets, juniors and seniors as we prepare for region 5 games to be hosted by Malawi in December.
"We are also preparing for the All Africa games next year being hosted by Ghana.
"We want the sport of Judo to grow and we are glad it's now part of the physical education in schools." said Deke
The games continue today in the senior category where Zimbabwe judokas will battle for honours against their Zambian counterparts.
Related Topics