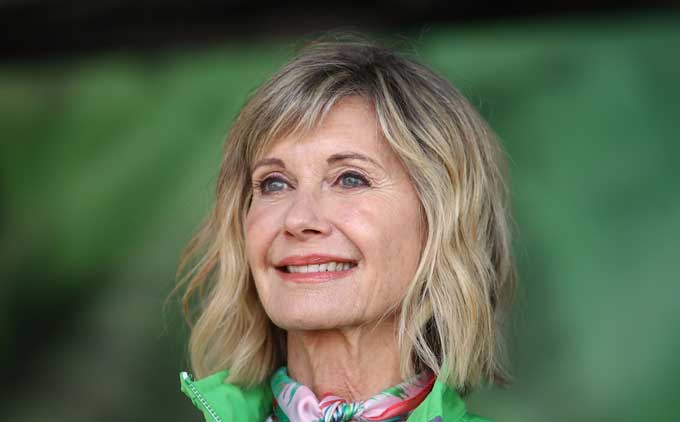 BY YVETTE ALT MILLER The singing sensation hailed from a distinguished Jewish family.
Olivia Newton-John is being mourned across the globe as a charismatic singer and the star of the 1978 hit movie Grease.  Starting out in a teen band that she created when she was still a schoolgirl in Melbourne, Newton-John wowed audiences the world over in a career that spanned decades.
Yet the girl next door image that Newton-John cultivated in her long performing career hid the fact that she was a highly idealistic woman who hailed from a distinguished, intellectual family.
Newton-John was the granddaughter of one of the 20th century's greatest scientists, the German Jewish physicist Max Born who worked with Albert Einstein and won the Nobel Prize (along with Walter Bothe) in 1954. Her family tree included professors and at least one rabbi.
Max Born and Newton-John's Jewish Heritage
Max Born was born in 1882 in the Polish city of Breslau, into a highly cultured, academic Jewish home. His professor father hired tutors to teach Max privately, and Max soon distinguished himself in math and physics, gaining a PhD at the University of Gottingen in Germany in 1908.
His friends and colleagues read like a list of some of the greatest scientific minds of the modern age. Max Born was good friends with Albert Einstein and is credited with developing modern quantum mechanics along with Erwin Schrodinger and Werner Heisenberg.
Max married a brilliant mathematical student named Hedwig Ehrenberg, who had some Jewish heritage. Though she wasn't Jewish herself, Hedwig was a descendent of Rabbi Philipp Ehrenberg, a German jurist and spiritual leader. Max and Hedwig had three children — two girls and a boy — though their marriage was a troubled one and they later divorced. Their daughter Irene was Olivia Newton-John's mother.
The family originally lived in Gottingen, where Max completed his PhD and received a job as professor. He taught there until April 1933, two months after Hitler became leader of Germany. That month, all Jewish academics in Germany were summarily fired from their jobs. Max Born accepted a temporary lectureship at the University of Cambridge, a position that saved his life and the life of his family. While he taught, Hedwig became active in trying to find jobs for the Jewish refugees who were streaming into Britain throughout the 1930s.
Olivia Newton-John was born in Cambridge
Olivia Newton-John's mother Irene married Brinley Newton-John, a quick-witted intellect who worked as a codebreaker during World War II, helping Britain's MI5 break the Enigma Code in Bletchley Park. After the war, he became a linguist and professor of German. Their daughter Olivia was born in Cambridge in 1948. When Brinley accepted a job teaching German at the University of Melbourne in 1954, their family relocated to there. Olivia left behind her Jewish grandfather and built a new life in Australia.
Spokesperson for idealistic causes
As Olivia Newton-John became a superstar, she used her fame to speak out on environmental issues. After she was diagnosed with breast cancer in 1987, she worked tirelessly to support cancer charities. In 2012, she endowed the Olivia Newton-John Cancer and Wellness Center in Melbourne to help other cancer patients.
Olivia Newton-John's idealism has much in common with her grandfather Max Born, who also used his renown to speak out about the crucial importance of working towards global peace.
Max Born is credited with saying that "Those who say the study of science make a man an atheist, must be rather silly people."  In his later life, Max Born wrote a great deal, urging people to work to make the world a better place.  His talented granddaughter Olivia similarly used her platform to help make the world a little sweeter as well. — Online
Related Topics