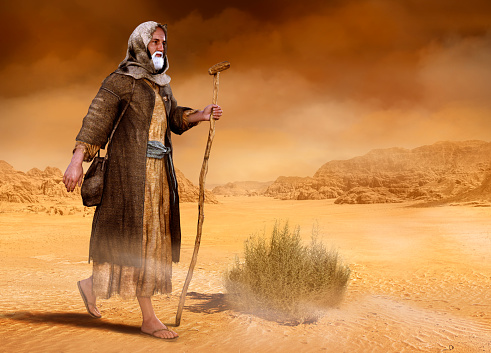 BY HUMPHREY MTANDWA In Genesis 15:13, the Lord told Abram that his descendants would be servants in a strange land for 400 years. This was a set timeline and towards the fulfilment of this plan, God put together the pieces needed for that plan.
Moses had gone through training for almost 40 years under Pharaoh and he was only left with a few more years before the Lord assigned him to deliver his people.
Moses, however, offset God's plan when he killed an Egyptian who was abusing a Jewish man. Although that was part of his purpose, he was 10 years early. Moses was being raised to a deliverer of his people and like many individuals he had a responsibility not only to discover this purpose but to execute it God's way. But he had not dealt with anger issues that later hindered him from even entering the promised land.
In Exodus, we learn that the children of Israel came out of Egypt after exactly 430 years. Because of Moses' mistake, Israel's destiny was delayed by 30 years.
In God's original timeline, Moses should have continued in the palace for 10 more years until God's set time. Why was there a 30-year discrepancy between what the Lord told Abram and what it says in Exodus? It was because of Moses' mistake when he killed the Egyptian and tried to free the Israelites in the 390th year of their captivity. He was 10 years premature in trying to fulfil God's will for his life.
Because Moses was not yet mature, he failed to execute God's plan well. Israel's prophetic timeline shifted because their leader acted prematurely. Children who were supposed to be born free were born in bondage because of one man's error. Timelines are sensitive and a small error can shift God's plan.
Israel spent an extra 40 years in the wilderness because of unbelief. Jesus should have returned a long time ago but because of so many factors there have been shifts in that prophetic timeline.
Imagine if unbelief delayed Israel with 40 years or Moses' mistake delayed them with 30 years. Imagine how the simple errors in your life could have shifted or delayed God's plan for your life.
God does not break his word but at times man's errors derail his plan. The question on your mind should be: what should I do to align myself to God's plan for my life?
The Bible shows us in the book of Romans how we are to renew our minds so that we can know what is God's good, acceptable or perfect plan for our lives (Romans 12:2). All you need is God's word and total dependency on His Spirit to navigate to God's plan for your life. Moses had to spend 40 years in the wilderness being trained to become the deliverer God had created him to be. All you need is to be equipped in order to be able to jump back in God's timeline for your destiny or even maintain yourself in it.
Daniel speeded up God's timeline for Israel when he prayed and fasted desiring for the fulfillment of God's word over his nation. Although Israel was supposed to spend 70 years in captivity, the time was shortened. In Moses' story, although Israel was delayed, the word still came to pass. God's word carries in it the tools you need to fully manifest his plan for your life.
God bless you.
Humphrey Mtandwa is an Apostolic teacher of the word of God and founder of Believers Voice of Triumph Ministries. He has authored many books, including The Enoch Generation, Truthfulness, Night Parables and Theophany. If you want to connect with him or have any questions, get in touch on www.apostlehumphrey.com
Related Topics