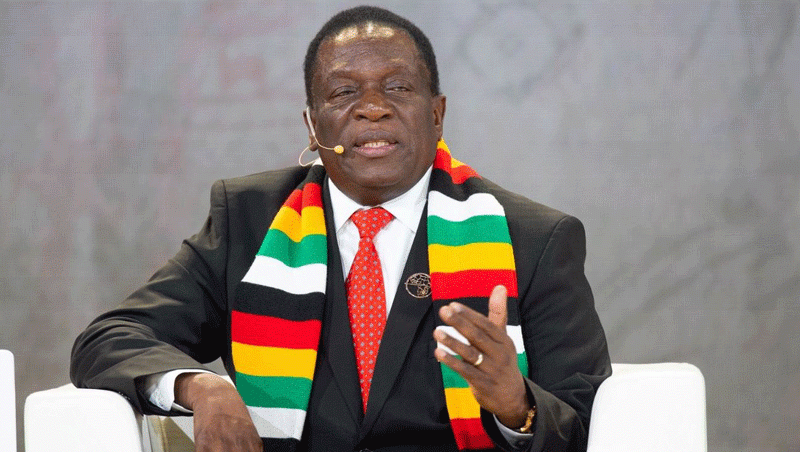 DISCLOSURES of mismanagement of public funds by government departments contained in Auditor General (AG) Mildred Chiri's latest report cast light on a state that has degenerated into an emasculated anti-corruption system and kleptocracy.
A kleptocracy is a government whose corrupt leaders use political influence to expropriate public resources at the expense of citizens. It is also known as a corruptocracy.
Chiri's report released a fortnight ago lifts the veil on how the state could have been prejudiced of millions of United States dollars due to the failure by government departments, agencies and institutions to submit receipts for payments.
The AG's report, consistent with findings of her previous reports dating back to the tenure of long-time ruler Robert Mugabe marked by unprecedented economic decline, also exposed a weak state, which is poorly equipped to curtail rampant graft.
In what could be a tip of the iceberg, as the report shows, in the case of the Zimbabwe Revenue Authority (Zimra), the entity failed to receipt deposits amounting to a staggering US$3,2 million.
The report also highlights that entities ignore Chiri's recommendations, primarily failing to submit financial statements for audits.
As the report further indicates, at least 53 public entities had not yet submitted financial statements for the audit while four others have accounts in arrears stretching over three years.
The public financial malfeasance cuts deeper.
Ironically, the Zimbabwe Anti-Corruption Commission (Zacc) which is consistently railing about its unflinching commitment to combat graft was also red flagged by Chiri for failing to present supporting financial statements to explain its expenditure, which largely has remained a mystery.
This is not the first time Zacc has been caught offside. In 2020, the anti-graft body was also singled out by Chiri, for failure to present its financial records for scrutiny.
Under the worrying circumstances, it is inconceivable for Zacc to investigate possible misappropriation of public funds by top government officials presiding over entities which have failed to submit their financial statements as required by law.
Shockingly, most of the entities which have failed to adhere to the AG's regulations, as stipulated by the law, are insolvent and have been bleeding the fiscus by consistently relying on government bailouts.
In light of that, Chiri, in her report presented to Parliament observed that: "I was therefore unable to perform alternative procedures to obtain assurance as to the accuracy and completeness of these balances."
Economist Tawanda Purazeni contends that failure by the anti-graft body compromised its competence to tackle corruption.
"The fact that Zacc is failing to account for over a million dollars is a clear indication that the commission is compromised. The commission is not independent and corruption engulfs it.
"It is not surprising since the appointment of the commissioners is based on political affiliation. As it stands, those in power appear to condone and promote the corrupt," Purazeni said.
In the wake of Chiri's disclosures, anti-corruption agencies have remained mum, and have not moved into action to investigate the possible abuse of funds at government departments.
This has seriously dented President Emmerson Mnangagwa's commitment to fight sleaze, which he pledged to do with vigour in 2017 when he rose to power through a military coup.
Zimbabwe was slapped with sanctions by the US in 2003 largely for among other reasons, failing to tackle corruption, largely fuelled by Politically Exposed Persons (Peps).
In essence, Zimbabwe could potentially have lost millions of dollars in tax payers' money after the government failed to present supporting documents to explain how payments were processed with various supplies.
Chiri's damning report shows that a number of entities were failing to reconcile monetary figures captured in financial statements and those reflecting in corresponding records, with variances standing at US$3,2 billion.
For example, the Paymaster-General's account expenditure had a variance of ZW$2,7 billion, while the exchequer account had a ZW$429 million variance.
Chiri's audit report comes at a time when the Treasury has indicated that cartels leveraging on their strong political connections were creaming off the government by exploiting the country's weak public procurement system.
Treasury has since blacklisted undeserving supplying firms while reviewing existing contracts.
Tshwane University public affairs associate professor Ricky Mukonza noted that Chiri's report paints those charged with managing public resources as either "highly incompetent, corrupt or both".
"What the report says to the public is that those charged with safeguarding public funds are highly incompetent, corrupt or both. This is because the figure of funds which cannot be accounted for is astonishingly high.
"What this further does is that it erodes the little confidence that the people still have for the current government. Institutions charged with powers to deal with these issues should firmly deal with those responsible for these malfeasances," Mukonza said.
Chiri's report, which apart from exposing rampant financial irregularities at public institutions, also comes with recommendations on how sound accounting reforms can be wrung in presents a golden opportunity for Mnangagwa's administration.
The President's political commitment to heed Chiri's advice may have a bearing on whether he is re-elected next year when Zimbabwe goes to the polls.
Related Topics