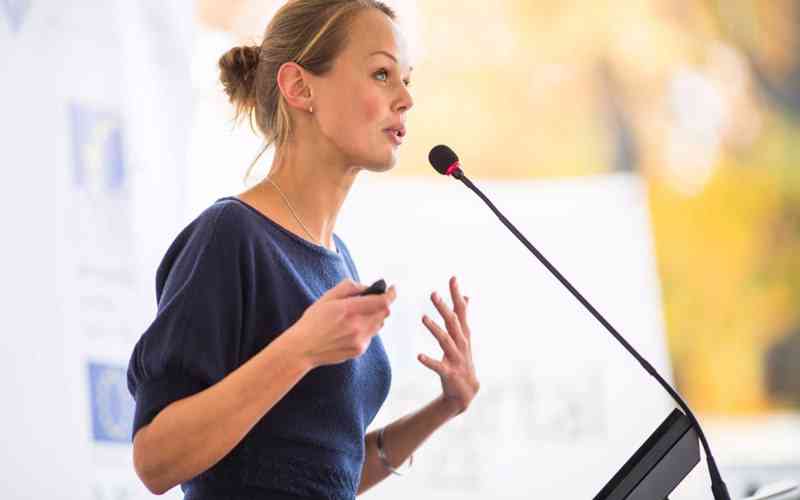 When you are on stage you are alone; that is a frightening thought. Being on stage takes more than being on stage. You have to master your personal power, improve on your skills and keep learning. Great speakers are paid huge sums of money. One speaker I interviewed a few years back revealed that he can pocket up to US$5 000 per hour and their secret was in adding more value to themselves.
Master your posture
Your posture means a lot. It's either you are saying, "I am afraid" or "I am here! It's me and I rock!" So learn postures that exude self-confidence. Always pose like it! Leaning against anything or supporting yourself on the podium spoils the broth.
Eye contact
Your eyes speak before you say anything. Your eyes could be inquisitive, intuitive, appealing, compelling, cunning, and so forth. Great eye contact makes you look confident. A direct look gives you control over the room and keeps everyone interested and involved. Pay equal attention to everyone in the room.
Have a positive attitude
Attitude is one intangible thing which just like perfume, permeates into the atmosphere, and without any effort on your part it is soon caught. Learn to have a positive attitude. If you have a negative or cocky attitude, it will be mirrored back to you. This is the quickest way to lose your listeners.
Let your brand stand out
You are a brand whether you make a conscious effort or not. It is about the unique trademark that you stand for as a presenter. Let your brand have gravitas! Learn and continuously improve your brand.
Conquer your fears
Fear is one inevitable setback; so you must learn to master and manage it. Make sure that before uttering a word, you have enough oxygen in your lungs. Prior to speaking, the heart usually beats at breakneck speed. Your throat develops phlegm and you form sweat on your brow, and in your palms. Even top speakers go through that, but they have mastered how to conquer this setback.
The first cut is the deepest
Rod Stewart has a song, "First cut is the deepest." This song is true. Coin the best way to attract and win the audience to yourself. When you fail to impress your audience instantly, you then inevitably struggle to connect with them.
Eat well and keep your mouth clean
What you eat before your talk determines your vocal projection and how your mouth smells. Some foods cause your mouth to be dry. Avoid them, even when they have been offered by your sweetest lovebird. The organ you use to speak can be so smelly if you do not make an effort to clean it and eat right. Bad breath is a distraction. Brush your teeth and tongue properly and thoroughly. Before speaking, avoid eating foods that cause a smelly mouth. Have a mint in your pocket always.
Drink enough water
Water is one essential component in your body and in your career as a speaker. You use water to clear and wet your throat. As you speak, the body is likely to sweat and lose water. Thus, make it a point that you drink enough water not just before you speak, but all the time. Don't forget your eight glasses or more per day. When you are about to speak, make sure that, either you drink water at room temperature, or tap water, but certainly not water from the refrigerator.
Keep your body fit
Keep your body fit by exercising regularly. If you do not keep your body healthy, very soon you will struggle with your speaking. I have seen some speakers huff and puff on stage because they have put on so much weight. Instead of speaking and pausing artistically, they pant and heave sighs.
Have a good body odour
Make sure you have a good bath before you stand in front of people. You are the centre of attraction and most people would love to greet you after your speech. This is what I experience all the time. Wear an expensive good smelling perfume. The perfume should be in moderation and not too strong.
Engage a coach
As a speaker, have a great coach or mentor who will guide and counsel you. That person is there to constantly check on the very small things that matter, such as pronunciation and enunciation of words, your speed, rhythm, rhyme, tone, grammar rules, expression, eye contact, your vocal power, pitch, pose, your gestures and so forth.
Jonah Nyoni is an author, speaker, and leadership trainer. He can be contacted on Twitter @jonahnyoni. WhatsApp: +263 772 581 918
Related Topics