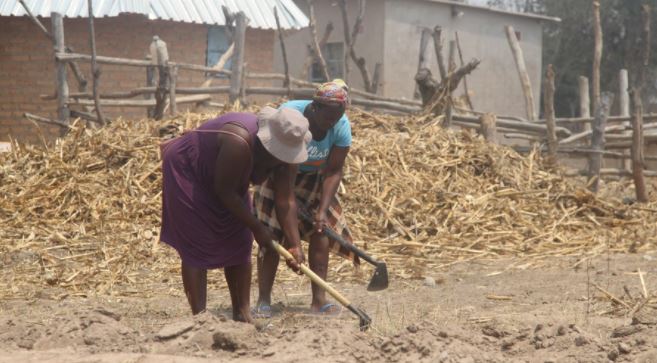 THE granaries remain empty, no deliveries coming in and the food assessments done so far point to a large maize deficit.
Many families, both in urban and rural areas, face starvation or food insecurity. The situation is made worse by the local currency losing value against the greenback in an economy fast dollarising.
President Emmerson Mnangagwa and his Cabinet are in panic, a panic induced by the looming general elections in the face of a hungry and destitute electorate.
They are throwing wind to caution, and all they care about is their political survival.
In the process, they have issued decrees that would make one cringe if it the story was not so sad.
The situation is made worse by the spiralling inflation, which economics professor Steve Hanke calls the highest in the world.
This is further compounded by slave wages that the majority of workers are receiving, far below the datum poverty line that now stubbornly stands at $120 000 a month for a family of six.
The panic is real considering the new decree that farmers cannot move grain or sell to private players. For a good measure, the police and the military have been roped in to ensure farmers comply with the order.
It ceases to be a joke when the security sector is called in to enforce a fatwa. However, the farmers seem determined to hold on to their grain by not selling it to the Grain Marketing Board for a paltry $70 000 a tonne, an amount that is equivalent to farmers subsidising the State instead of the other way round.
Government has moved from the lie of saying the country is food secure to accepting that it needs to import the staple cereal. The World Food Programme puts the number of food insecure at 5,5 million in 2022.
Last week, Grain Millers Association of Zimbabwe announced that it was importing 400 000 tonnes of maize from neighbouring Zambia.
And this week, on Thursday, government engaged the Russian government for food supplies.
Interestingly, Russia under Vladimir Putin seems not ready to play ball.
The Russian top official, Speaker of the Federation Council of the Federal Assembly Valentina Ivanovna Matvienko, during her meeting with President Mnangagwa at State House, told Mnangagwa: "Russia is ready to work with Zimbabwe to prevent the development of food problems and establish new logistics to satisfy the local demand for grain and food.
"I understand your concerns. The food situation in the world is not easy. Russia now has more than enough opportunities to make a decisive contribution to avoiding shortages, rising prices and maintaining world food security.
"We consider Zimbabwe a friendly State. And I think that if we receive an appropriate request, we will be ready to work on finding a way out and prevent the development of food problems here. I am sure that with a high degree of interest, this will be possible."
I would not want to delve into what "an appropriate request" is. It seems a lot of paperwork should be done. Zimbabwe should make feasible payment plans for maize. This is a daunting task for a country drowning in debt, US$17 billion at last count. Probably, Mnangagwa will have to batter some more minerals in exchange for maize.
There was some spectacular volte-face by Mnangagwa this week. Late last week, the President bestowed the honour of a State-assisted funeral to the late retired Major-General Godfrey Chanakira.
However, after some murmuring in the corridors of power, Mnangagwa recanted his decision and declared Chanakira a national hero.
The decision points to some behind-the-scenes power struggles or lack of thorough thinking before a public statement is issued or both.
Chanakira was a decorated soldier. He was the permanent secretary in the office of Vice-President and former Zimbabwe Defence Forces (ZDF) Commander Retired General Constantino Chiwenga.
Why was Chanakira initially given a State-assisted funeral when lesser mortals are interred at the "venerated" hill, the National Heroes Acre? What forced a change of mind on his status?
Reading between the lines, one can see what happened.
ZDF commander General Phillip Valerio Sibanda, in a speech at Charles Gumbo Barracks, the headquarter of 1 Commando, during a military parade for the late Chanakira, said: "It remains a challenge to us all to defend the values that they stood for. We must always remember that to be who we are today, it is because somebody shed their sweat or blood as the late Chanakira and many others did. Let us never lose sight of this important fact, no matter kuti tinenge tadziigwa sei."
Without being an expert in interpreting language, I was forced to think hard why the last part of the statement was said in vernacular language and for that matter, in that particular dialect.
Was the message targeted at a particular institution or leader who understands that dialect?
The military guys have always been good at giving nuanced statements. I still remember the 2002 "straight jacket" statement issued then by General Vitalis Zvinavashe flanked by other generals.
It could be that Zimbabwe is heading for politically-exciting and dangerous times. The cocktail of challenges the country is facing means a lot.
And to close this article, one cannot help but quote the great British author William Shakespeare, "Uneasy is the head that wears the crown."