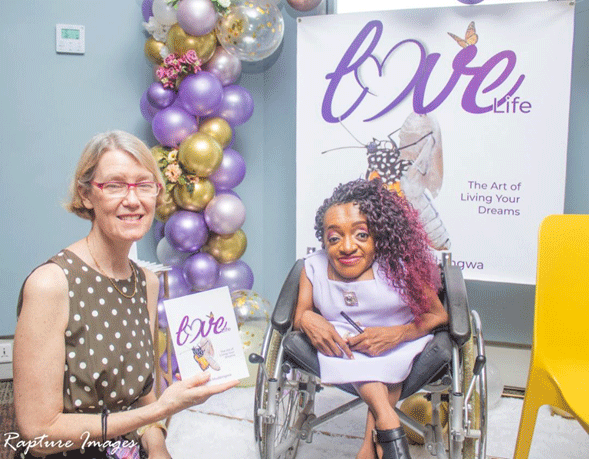 with Fungayi Sox
Having been told by her doctor that she could only live up to five months if she was lucky, influential disability and women's rights champion Florence Mudzingwa defied the odds and broke barriers when she launched her book titled Love Life: The Art of Living Your Dreams at a colourful event at Three Anchor House last week.
Mudzingwa is a fearless, strong and bold woman born with a disability. She typifies and epitomises the old English adage that "disability does not mean inability". She holds a bachelor of Science Honours Degree in Counselling on top of her qualifications in marketing and adminstration.
Affectionately known as "Coach Flow", Mudzingwa is also a certified life coach specialising in personal development and emotional intelligence.
She is the founder of Hope Resurrect Trust, an organisation that seeks to empower the girl child with disabilities to be independent and contribute to their own development.
Her book Love Life the Art of Living Your Dreams, is a captivating semi-autobiographical and inspirational narrative in which she uses her life experiences, employing courage, commitment and determination to motivate and inspire those in adverse circumstances to dare their limitations and translate dreams into reality. The book walks the reader from her childhood to adulthood, sharing the life hurdles she had to jump over to be where she is today.
The beautifully designed book cover for Love Life:The Art of Living Your Dreams shows a butterfly coming out of its cacoon. In the world of Literature, this illustrates the power of the author to reach her potential and portrays the unleashing of her potential to reach her destiny regardless of her circumstances.
The fact that the butterfly is half inside showing that there could be something restraining it, could be an allegorical representation of Mudzingwa's disability, but the other half which is on the outside is a metaphorical depiction of the removal of barriers by self-will and determination which is vividly expressed throughout the book.
Her mother broke down in tears as she narrated how Florence had been given five  months to live upon her conception 40 years ago.
"When I look at her life, it is a miracle because the paediatrician who looked at her birth said these children don't live up to five months. Celebrating her accolades 40 years later is a miracle. I really thank God for she is an inspiration," she narrated.
In chapter one Mudzingwa recounted:
"Born weighing 1.4 kgs, I can only imagine the emotions that ran through my mother's mind as she tenderly held me in her arms and having to process the news that your child would probably live up to five. It must have hit hard on her because it is every mother's desire to nurture her child, celebrating every stage and milestone of their life"(pp.1)
In her speech at the launch, Mudzingwa expressed gratitude to everyone who had supported her in her book journey and described the book as "her covid baby" since it was written at a time when most people were stressed mentally owing to the impact of lockdowns triggered by the Covid pandemic which had led to massive increase in depression and suicide cases.
She added that the book was written as an encouragement not just for the disabled but "for anyone who might be feeling low or less confident so that they inculcate a positive mindset".
Guest of honour at the launch, Australian ambassador to Zimbabwe Bronte Moules described Mudzingwa as a "good communicator" as demonstrated through her articulate writing and added that "the values that Florence personifies and promotes, including around inclusion, equality and tolerance, were also values which underpin our work at the Australian Embassy".
Ambassador Moules added: "I am privileged and inspired to count Florence as a friend of the embassy and of mine".
The first two copies of the book were purchased at highest bids of US$200 in Zimbabwe and US$210 from the Diasporan community respectively.
As she wrote her book, Mudzingwa articulately crafted it with clarity of purpose coupled with conformity and humility and daring the world of possibilities.
For me Mudzingwa's debut book Love Life the Art of Living Your Dream is a clarion call that dares anyone to explore the power of their mind.
It is a book that emphasises how the human spirit is one born of ability, perseverance and courage that no disability can take away because every person is born for a reason.
It is a book that dares anyone who reads it to determine the price one is personally willing to pay to achieve their own goals and lays out the formula of persistence, consistence and insistence.
It a power toolkit to build emotional intelligence and to exercise gratitude as the oil that nourishes the soul.
lThe Writer Fungayi Antony Sox is a communications consultant specialising in writing, book editing, education, personal development, digital media and publishing. He can be contacted on +263 776 030 949 or follow him on Twitter @AntonySox or connect with him on LinkedIn on Fungayi Antony Sox.
Related Topics