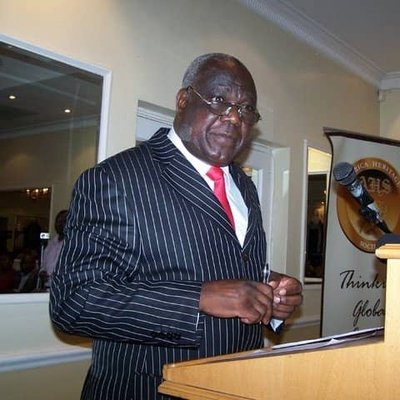 BY OWN CORRESPONDENT Giles Mutsekwa, who died last month, was praised by admirers as a tough campaigner for democracy who successfully helped fight Zanu PF's bid to declare Zimbabwe a one-party state.
His aficionados constantly cited as an example his instrumentality in the formation of the Zimbabwe Unity Movement (Zum), an opposition party that was led by liberation war luminary, Edgar Tekere, which stopped the Zanu PF one-party project.
At the time, then President Robert Mugabe had declared himself as an "apostle" of one party politics.
Mutsekwa was further applauded for his refusal to be deployed in Matabeleland at a time he had just been promoted to the rank of full colonel to lead a battalion in Nyanga that was going to be deployed in Matabeleland during the Gukurahundi campaign.
Being a peace advocate, Mutsekwa refused and opted to resign instead.
Mugabe and the then late former General Solomon Mujuru, who was at the time army commander, refused his resignation and insisted on him taking up the promotion.
Mutsekwa stuck to his guns and was allowed to resign with the rank of Major instead of Colonel.
Meanwhile, before his retirement, Mutsekwa participated in the military campaign in Mozambique between 1982-86 where he played a pivotal role in neutralising Renamo bandits that were terrorising villages in Mozambique and parts of Zimbabwe.
Zimbabwe's intervention resulted in a peace accord between the Mozambican government and the bandits.
But despite his exceptional role in fighting for democracy and the protection of peace in Zimbabwe and Mozambique, Mutsekwa's critics accused him of joining the Rhodesian army during the liberation struggle.
His critics unfortunately did not recognise the fact that many young blacks were deceitfully lured into joining the Rhodesian Army through the use of powerful propaganda and manipulation.
Mutsekwa, as a young man without discerning minds around him, was one of the many young blacks tricked through deceit, to join the Rhodesian Army.
The deceitful ploy was aimed at recruiting as many young black men into the Rhodesian army as possible.
A lot of propaganda and remuneration were used as a ploy to lure young black men into the Rhodesian army to fight the liberation forces, a move which was not just manipulative but also damaging to the reputation and careers of undiscerning young black men.
So Mutsekwa sadly fell for it and joined the Rhodesian Army in 1968. He went through a gruesome six-month training course, of which only him and five other recruits out of 50 qualified.
Some died during the training.
Mutsekwa was then assigned to the administration and logistics division because of his educational background.
He then went for further training at Sandhurst military academy in the UK, and got promoted to the rank of captain in 1978, then major in 1983 after he had joined the new integrated military.
Mutsekwa was one of the officers involved in the demobilisation and integration of the military involving the Rhodesians, Zanla and Zipra forces, helping to form the new army in a new dispensation.
A decorated soldier, Mutsekwa was awarded the prestigious Cross Bronze Medal for his service to the nation as a soldier and won many military campaign medals.
After he left the army following his refusal to be deployed in Matabeleland during the Gukurahundi era and with dictatorship under Mugabe being entrenched, Mutsekwa and other pro-democracy advocates joined ZUM which was led by Tekere.
Tekere, then Zanu PF secretary general, had been expelled from Zanu PF for opposing the one party project.
After the demise of ZUM, Mutsekwa joined the Democratic Party as a founder member and national chairman.
Mutsekwa later joined trade unionist Morgan Tsvangirai in championing the formation of the MDC, a formidable opposition party which attracted a huge following among Zimbabweans.
Mutsekwa served as secretary for security and intelligence of the MDC and was one of Tsvangirai's most trusted confidants. He also served as MP for Mutare North from 2000 to 2008.
After serving as co-minister of Home Affairs in 2009, he was in 2010 re-assigned and became minister of National Housing in the Government of National Unity.
Even though he died in the MDC-T party led by Douglas Mwonzora, whom he worked with in ZUM,  Mutsekwa had managed to show his versatility.
He was a very mature politician who believed and worked tirelessly in trying to create a tolerant multi-party democracy, that was based on maturity, dialogue  and respect of the law.
Mutsekwa  was born on 4 September 1948 in Nyanga  to a peasant farmer in  a family of  nine children. His father was born in Nyanga to a royal bloodline of the Katerere chieftaincy. He married his wife Annah in 1975 whom he met at Inkomo Barracks in Nyabhira and had four children.
Anna recalls how she knew in the early stages of their marriage that she was always going to share her husband with the nation.
"I knew my husband was going to be a public servant for his entire life, it wasn't easy in the early years, especially in the days of ZUM, when opposition politics was like signing your death certificate, Anna recalls.
His only surviving sibling based in Cape Town, South Africa, Edward described his late brother as always courageous and protective, having a disdain for bullies and standing up to them growing up as a boy in the village.
Mutsekwa grew up and did his early primary education in Gatsi, Honde Valley, Manicaland Province.
His father went and successfully applied for an education scholarship at the United Methodist church in Old Mutare then headed by a Bishop Dodge.
Mutsekwa then went on to study at Nyatsime High School where he did his Form 1-6.
He then went on to study via correspondence with a United Kingdom university for a degree in business administration.
A strict disciplinarian, he raised his children with the belief that education, hard work, honesty, respect and being God fearing was critical in one achieving their God-given purpose in life.
Having grown under devout Christian parents Timothy and Sophia, who were members of the United Methodist Church, Mutsekwa never lost his Christian values, which he instilled in his children.
His eldest son Jeff described his late father as a very loyal, compassionate man who always wanted to support and protect the church from unscrupulous, greedy and corrupt leaders.
This was evident during his time as Home Affairs Co-minister when he opposed the criminal takeover of the Anglican church in Zimbabwe by the then politically connected Bishop Nobert Kunonga.
"Dad was a very loyal person, if he believed in your cause he would support you to the end, something that endeared him to both his political associates and foes.
"He never put self-interest ahead of public service as many politicians nowadays do," Jeff said.
A gentle giant, Mutsekwa was full of humour, with a unique ability to communicate wisdom with such simplicity, even when faced with adversity and complex issues.
He was a stickler for good personal hygiene, grooming and presentability, something his wife aptly complimented him with.
Always an advocate for unity and peace among family members, society and in politics right up to death, Mutsekwa wanted the current Zimbabwean situation resolved by democratic means and without conflict.
He left behind his beloved wife Anna, seven children and 10 grandchildren.
May His Soul Rest in Peace.
Related Topics