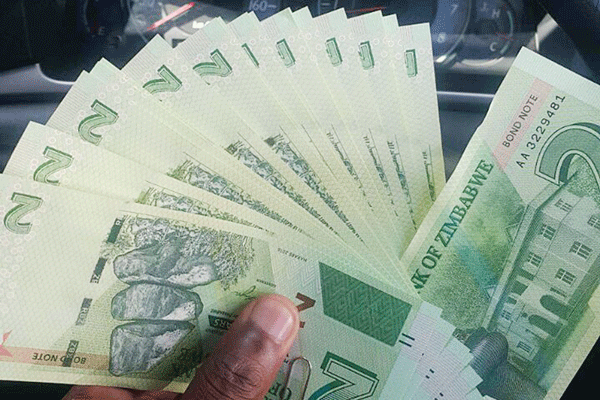 BY KENNETH MUFUKA
When the rulers of any country mismanage their economies to the extent that their citizens can no longer be assured that their life-savings will maintain some value when they retire, these citizens surreptitiously begin to convert whatever savings they have into US dollars.
This is the simple explanation for the rejection of the Zim dollar by the populace. To compound the foolishness, the government itself is demanding payments (Zimra, tolls, etc) in US denominations while paying lip service to the local dollar and to Zimbabwe sovereignty.
There are eight countries which have followed Zimbabwe's path in the past. The reason is the same. The populace had lost trust in the leadership and suspected that that leadership was squirrelling their wealth in US dollars abroad.
Any government, worth its mettle, wishes to return to its native currency. But it cannot do so successfully, unless it starts with some self-cleansing of the habits that led to the problem in the first place. In short, it must restore confidence in its activities.
Plan for failure
In the case of Zimbabwe, the new dispensation leaders came from the gang of leopards that were responsible for the catastrophic decline of the Zim dollar under the tyrant Robert Mugabe. They cleverly hired a seamstress to dress them in zebra tunics and a goofy professor who knew all the words in the financial dictionary to speak new words.
It worked for a while until the citizens realised that looting of resources had multiplied by four times.
Zimbabwe is the richest country in Africa. It has more mineral wealth than Ethiopia (population — 115 million, Zimbabwe has  15 million). Yet Ethiopia has no problems with foreign currency.
The United Nations trade organisation reports that "China imported 55 million kilogrammes of tobacco from Zimbabwe in 2019 at an average price of US$9.06 per kg while South Africa imported 85 million kilogrammes."
Please reader, make sure you are seated in a secure chair.
The Philistines, now dressed up in zebra tunics and pretending to have changed their ways totally, (Zimbabwe English) reported that they had "exported 4.8 million kilogrammes to China at an average price of US$7.46 per kilogramme."
Now you will say, "Mukoma Ken, this is ridiculous!" But I say the zebras have more shenanigans waiting down the road.
Zebra statistics say that "Zimbabwe exported 141 million kilograms to South Africa at an average price of US$5.43 per kg."
Your guess is as good as mine. It is possible that the zebras have shelf companies in South Africa that purport to import Zimbabwean golden leaf at the lower price of US$5.43 per kg. We do not even know whether the leaf lands in South Africa before it is forwarded to China. The difference between US$7.46 and US$5.43 disappears in the Indian ocean somewhere in Mauritius and Singapore. Just this one action can make or break a country.
Zupco scandal
When the Zupco scandal came into light, I thought that the opposition was singing the grapes are sour song. It may be the worst ever deal the government has made so far.
In the first batch, Landela bought 162 buses at US$58 900 each but charged government US$212 962 per unit on arrival in Zimbabwe. If I were to make a list of the errors made in this sweet-heart deal, there would be no end to it.
A bus owner must pay off his bus in the first two years before breakdowns and repairs begin to consume some of his profits in third year. At that price, the bus owner must make US$1 000 per day in order to cover his wage bill, taxes, insurances and service maintenance contracts.
Under the present road conditions, Zupco buses cannot go for a year without serious repairs and overhauls.
The uplift from the ground is too low and considering sleeping policemen (humps) and potholes, European buses are unsuitable for Zimbabwe. Why on earth someone did not inform the authorities that Zambezi Coachworks and Automobile Vehicle Manufacturer (AVM) had designed a special vehicle for Zimbabwe, I have no idea.
As many as 20 000 kombi drivers were put out of work without consultation.
A cursory inspection at Intercity Bus Depot in Bulawayo will reveal that of the 30 buses stationed there (April 2021) 10, were in a lockup for "dead buses." Almost all the buses were operating with cracked windshields, due to loose stones and unrepaired roads between Victoria Falls and Bulawayo.
Government promised ZW750 per day subsidy. My information is that drivers experience a six-month delay in payments as normal. In any case, ZW750 carries a value of US$7.
In their arrogance, rural buses were not separated from urban circuit buses. The guru and mother of Zimbabwe transport, Hornblower Group, was not consulted and according to my sources, there was no plan. A madman dreamed of getting rid of opposition party kombi drivers. That was the alpha and the omega of the Zupco plan.
With 770 buses as we speak, revenues and expenses remain unknown.  The 5 230 workforce is recruited from party stalwarts rather than from mechanically minded Zimbabweans.
We have not touched the subject of illicit gold transfers abroad, avoiding taxes. Home Affairs minister estimates that US$1.2 billion worth of gold was smuggled annually. Finance minister has suggested that 30 to 34 tonnes of gold goes under the radar every year. Chairperson of the Gold Miners' Association was "mistakenly found with 6kg of gold at Harare Airport." (Zim. English). Her destination was Dubai. Just two months later, her driver was "mistakenly" found with another batch of gold nuggets. He had already crossed the border into South Africa.
Please wait for this. The person who is in and out of a jailhouse is Hopewell Chin'ono for reporting it.
Conclusion
There are good reasons for this behaviour. Once out of favour, the Philistines lose everything, and must guard their lives even if abroad. Former commissar, Saviour Kasukurwere, now hiding in South Africa, looks out of his hide-out for men in dark glasses.
The once mighty intellectual prostitute, Professor Jonathan Moyo, lives in a cave in Kenya, moving from one hide-out to another, in fear of night visitors.
Sister Grace, whose tongue was unbridled, guards the grave of her late husband the tyrant Robert Mugabe, lest men in dark glasses come to steal the body of her beloved one.
There is no shortage of foreign exchange in Zimbabwe. There is an oversupply of Philistines.
There are several countries in the world which have adopted the US currency as their official currency, among the largest are Argentina, Vietnam, Ecuador, Panama, Zimbabwe, El Salvador and Guatemala. These countries do so as a temporary measure, in the hope of restoring some sanity in their financial systems.
*Author acknowledges research done by Talent Rusere in Cape Town. Ken Mufuka is a Zimbabwean patriot. His latest book, Life and Tikes of Robert Mugabe: Dream Betrayed can be found at Innov Bookshops in Zimbabwe and at kenmufukabooks.com in the wider world.