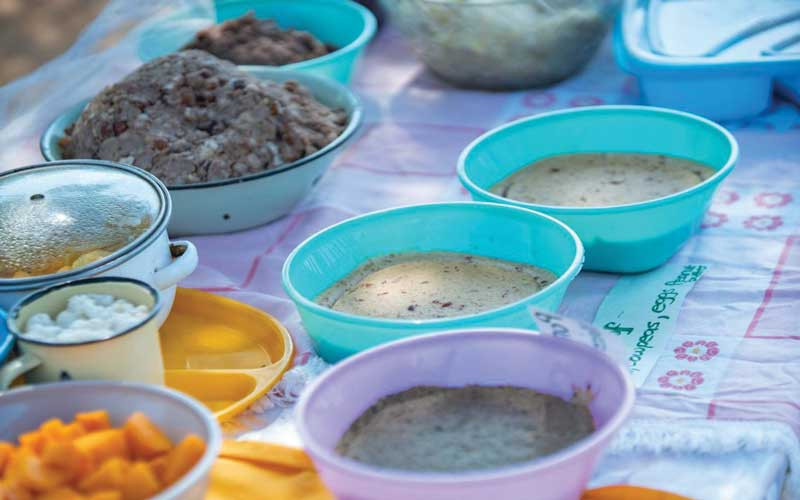 Eight of Maria Ncube's grandchildren made a beeline for a thatched mud round hut after washing their hands.
They gracious ly took platefuls of a meal from home grown crops in Matabeleland South's Mangwe district.
Sitting on rugs in the homestead's sandy yard, they quickly devoured the meal — a sweet mix of boiled maize grains, mashed pumpkin and sugar — before returning for a second serving.
"They only stop when they see that the pot is empty, otherwise keep coming for more," said Ncube, a 62-year-old taking care of the children aged between 14 and two years old.
Their mothers crossed the border into neighbouring countries to seek work, leaving her with the duty of ensuring the wellbeing of the children.
With little income, feeding the children, let alone striking a healthy balanced diet, was an arduous task at first, she said.
"They were not too interested in eating, and some of them were beginning to show signs of malnutrition," said Ncube.
Everything changed in 2021 when she joined a care group in her village.
There, she was taught how to use her home grown crops, such as pumpkins, groundnuts, round nuts, cucumbers, sorghum, beans, and livestock products, to achieve a balanced diet for her grandchildren.
"It's the best thing that happened to me. I used to cook isitshwala (maize meal) and vegetables daily that is why these children resisted eating," said Ncube.
"From sanitation and hygiene to nutrition, this woman taught me everything," she added, gesturing at Elizabeth Chikwane, a Village health worker (VHW) leading care groups in Silima, a village of about 150 households.
The approach to use care groups to deliver essential health messages under the European Union-funded Enhanced Resilience for Vulnerable Households in Zimbabwe (ERVHIZ) project is helping to build healthy communities across Zimbabwe.
Unicef Zimbabwe, the Food and Agriculture Organisation (FAO) and various Zimbabwe government ministries and agencies are implementing the project, which integrates Wash, nutrition and agriculture to build resilience in vulnerable communities.
"The ERVHIZ interventions are in line with government development goals.
"They are pragmatic and impactful," said Matabeleland South permanent secretary for devolution, Lathiso Dlamini-Maseko.
In Matobo, for example, malnutrition cases are beginning to fall, said Chikwane, the VHW.
"Previously, 13 out of 78 children under five years old in this village had malnutrition," she said.
"That number has decreased to three. We want to reach zero within the recent future."
Chikwane said a newly constructed solar-powered piped water scheme used by community members to grow food is helping address chronic malnutrition of by effectively utilising diverse crops to formulate nutrient-dense recipes for complementary feeding.
According to Unicef, nutritional deficiency is a leading cause of the health burden in Zimbabwe. Malnutrition affects one in three children.
Under the care group strategy, VHWs work with groups of between six and ten community volunteers.
VHWs, trained by and under local health authorities' guidance, use regular meetings with care group members to impart information on integrating Wash, agriculture and nutrition.
The groups are designed to promote peer-to-peer messaging to ensure inclusivity.
"We have elderly women, lead mothers, a group for adolescents and a group male for male advocates. It is more effective for an adolescent to talk to their peers," Chikwane said.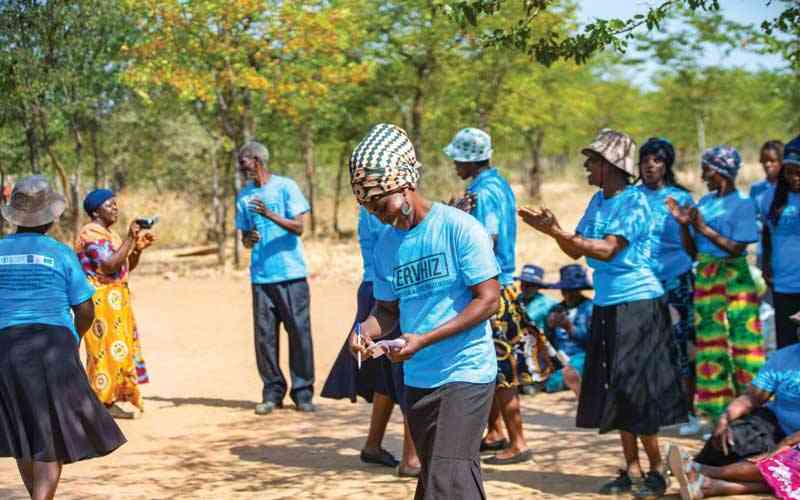 "They understand and influence each other better than when messages come from people outside their circle.
"This is similar to the other groups."
Members of the care groups cascade the teachings to people within their surroundings.
This multiplier effect means a lesser burden for VHWs such as Chikwane, who previously had to travel up to 20 kilometres, sometimes on foot, to reach remote communities.
The care group model has become a low-cost form of lifesaving communication for people living in hard-to-reach areas where internet and cellphone connectively are erratic.
"Integration is also making my work easier," Chikwane said.
"Before, I would work separately with nutrition, sanitation and agriculture groups. ERVHIZ has rolled all that into one."
Care group members often use visually powerful teaching tools such as drama, poetry, song and dance to amplify their messages music.
For Ncube, the older woman taking care of her grandchildren, joining the care group has turned a burden into a vocation to ensure household and community health.
"There was a time I feared for these children, but look at them now; they are fit," she said.
"I am now taking the gospel across the entire village… everyone needs to be equipped." — Unicef
Related Topics