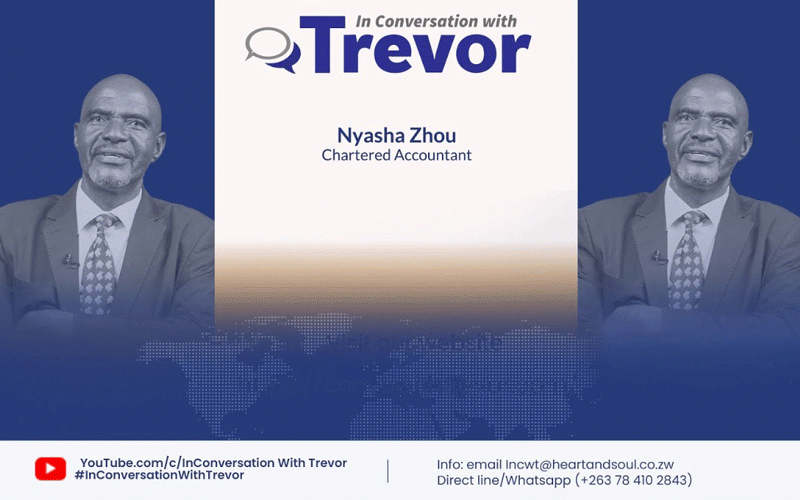 Zimbabwe produces top chartered accountants that are highly sought after by Fortune 500 companies, retired business executive and chartered accountant, Nyasha Zhou has said.
Zhou (NZ), made the revelations when he spoke to Alpha Media Holdings chairman Trevor Ncube (TN) on the platform In Conversation with Trevor.
Fortune 500 is an annual list compiled and published by Fortune magazine, which ranks the largest United States corporations by revenue for their respective fiscal years.
Zhou also spoke about the Institute of Chartered Accountants of Zimbabwe (ICAZ) centenary celebrations. Below are excerpts from the interview.
TN: Nyasha Zhou, welcome to In Conversation With Trevor.
NZ: Thanks Trevor. It is a pleasure to be here this morning.
TN: What a pleasure to have you here.
We had you here for the masterclass when we joined you in celebrating the ICAZ centenary and as you were launching the book.
I think I will start exactly there. You've played this huge role in ICAZ celebrating their 100 years.
Two weeks ago we were at the ICAS headquarters celebrating 105 years.
Talk to us about the inspiration behind: Let us celebrate the ICAS 100 years by producing this amazing book that you put out.
NZ: Trevor a hundred years in existence is a remarkable achievement.
Yeah, for any organisation, be it in sports, be it institutional, be it corporate and other, it is a huge achievement.
Sadly, more often than not, we do not celebrate what we should be celebrating.
Good times come far and wide, bad times are always there, and we tend to miss it.
So, for me this was an opportunity to celebrate a success story passed on from one generation to another, from one cultural group to another and to see an institution that is excelling in the midst of the difficulties that we have in the country and in the region and globally.
It was a wonderful opportunity to serve an institution that I admire and cherish it.
TN: It couldn't have been easy doing this project.
It couldn't have been easy convincing everybody to say let us do this, because as you are saying, times are tough, people have things to do, and celebrating a 100 years when I need to look at the bottom line?
Talk to me about the challenge and the hurdles?
NZ: I need to say Trevor, twice before, the Institute wanted to write a book and it failed, it collapsed.
One: out of funding, two: out of either lack of interest, but I resolved that I was going to make it work.
I had invested so much time in relationships, both in business and in the profession therefore.
We had to equally convince two presidents with great difficulty, to convince them that the project was possible.
Finally, when one president said Mukoma go for it I went for it with all my might and reconnected with the relationships that I built over the years, and the project became doable.
TN: What is it that you were seeing that these other people were not seeing?
NZ: When I was looking at the issue of celebration Trevor, like I indicated often, we do not celebrate each other.
We tend to pull each other down, and for this institute to attain a hundred years, to have 52% of its membership accepted as chartered accountants of high repute globally is a story to tell.
And this institute has turned ordinary boys and girls who came from high school, either with one pair of shoes and only a pair of shorts, to become global executives that are being sought after by the top 500 companies.
Fortune 500 companies are looking for chartered accountants out of Zimbabwe.
This was a story to tell about Zimbabwe in the world and it was a joy.
TN: You have launched activities Nyasha, to celebrate the centenary and basically to create momentum around celebrating and creating and nurturing new young chartered accountants.
Talk to us about that in a nutshell.
NZ: I will tell you, as part of the research, we asked very simple questions Trevor.
Which high school did you go to? Which university? Which accounting firm did you train with? And where are you now?
It came out in that survey no current chartered accountant had gone to a school in Matebeleland North. None.
Although they may have had their parents born there, but no school in Matebeleland North had produced a chartered accountant. For me, it was heartbreaking.
TN: Why?
NZ: I am not sure why, but you know it was heartbreaking.
I said you know what, why don't we as part of the launch take accounting back to the people, to the community.
To go and launch in the 10 provinces, speak about accounting on the back of integrity. Our whole theme was Integrity Is Possible, Integrity Can Be Taught, young men and women can be taught to be men and women of integrity. By so doing, you can change your community.
We took the launch to the 10 provinces, meeting young men and women.
Government calls them pupils. We went to meet pupils and it was an eye-watering experience.
TN: You are an example of I think, one of the best icons of the profession, and I want us to go to your life journey which I find very inspirational.
What have been the deciding moments in your life?
The moments that have shaped the person that you have become. The moments that directed you to where you are right now?
NZ: I think I need Trevor, to give credit to my parents, who had just done five years of school.
By the way, my father opened a school which is still running today after standard three.
But my parents had such a desire for high quality education that I went to a top boarding school.
That boarding school brought together students from Botswana, from Zambia, from Mozambique, for what was called upper primary school.
The moment I was at this boy's boarding school was eye-opening.
You learn to cope as a young man amongst these boys, and to learn to become a man. Secondly, I went into high school...
TN: Which high school did you go to?
NZ: I went to Chegato High School.
Again, run by the church, and did very well in my 'O' Level and wanted to go to 'A' Level and then go to university to study geography because I was good in geography.
But come 1971, a long time ago, there was the Pearce Commission on the yes or no vote.
Douglas Hume was running that if you remember, and having just done my 'O' Levels, we were advocating for the no, but in the process the civil structures of mail systems, bus networks were affected...
TN: Paralysed?
NZ: Paralysed. There was no communication.
So, when the results came I was allocated to go to Goromonzi High School.
I could not go to Goromonzi because the letter never came.
By the time we attained normalcy, the places had been allocated, and I got a place at Mzilikazi (High School).
For the first time I tried to go to a day school for my high school. I tried for a week and I could not, and I resolved to go back home and said...
TN: You found it strenuous?
NZ: Exactly.
TN: Catching a bus? Talk to us about that journey?
NZ: In a boarding school all I did was to walk less than 400 meters every day, from church, dining hall to school and others.
This time I had to walk 10 kilometres to school every day in the morning and end of day, by bus.
TN: That was too much for you?
NZ: It was too much, it was not in my system. I just could not cope.
So, I actually said to my dad, sorry I cannot do it, and thought about studying on my own, but my dad said to me you will not make it.
I had got a place to train as a teacher at a teacher's college, which I did not want but my dad said if I was you I would take the opportunity, you can always improve yourself and he pointed to a few people around who had gone the same route.
He sold two of his mombes (cows), gave me money and bought me a lovely blazer and bought me a watch and said here you are, the choice is yours stay at home or go to teachers college.
As a good son I listened to my dad and I have no regret.
TN: Which teachers college was this?
NZ: Gweru Teachers College, which is now Midlands State University (MSU).
TN: When did you decide you wanted to be a accountant?
NZ: Whilst I was at Gweru Teachers College training to be a maths and science teacher, there was opportunity with societies, clubs and others.
I went into the business club, where we invited business people to come, went into industry, I remember going to ZimAlloys, to Bata, to David Whitehead, just to understand...
TN: Career guidance of some sort isn't it?
NZ: Basically yeah. It was really extracurricular if you wanted it.
I began to like business and accounting, and actually studied bookkeeping on my own, just out of interest, with a South African institute, but it opened my door, my eyes, my mind into accounting so that when I went to teach, I was looking to study 'A' Level on my own.
I decided to study geography— I was good at it — economics and accounting and that is how I became a chartered accountant, because as soon as I got my results and got a place I went to the University Of Zimbabwe.
I knew decisively that I wanted to become a chartered accountant and I registered, and that is how it began.
TN: You did teach though?
NZ: Yes.
TN: Talk to me about your teaching experience and where you taught after finishing with Gweru's Teachers College?
NZ: I taught in Bulawayo at a school called Sobukazi, under the leadership of Mr KP Dube.
I remember that very well. He was a wonderful man, he found us accommodation, I mean a young man getting a two-roomed flat, they were not plastered, but a two-bedroom flat, a lounge, a kitchen and a bath was, I mean really, was entering the market in a different place.
TN: Yeah. As if you were back in boarding again?
NZ: Exactly. It was a wonderful environment which allowed me to mature, to grow, but also afforded me the opportunity to pursue my desire to go to university.
TN: That desire I think, that is something that runs through your life? The discipline?
NZ: Yeah.
TN: And the hunger for education?
NZ: Right.
TN: Coming from a family where your parents had five years in education. Where do you find the grounding for that?
NZ: Let me tell you Trevor, something that I forgot to say.
As early as Standard One, which was the third year in school, I was made a timekeeper by the headmaster.
The headmaster was my teacher, and there was only one big clock in the classroom and every 30 minutes I needed to go out to a high place and ring the bell.
It was a huge honour, I am not sure why I was assigned.
By the way Trevor, I hardly never ever miss an appointment, time management with no watch is ingrained in me.
But also knowing people in our community who had been to university, who were doing great things, some people that we saw were doing great things I aspired.
My parents always said education will open a door for you.
Related Topics