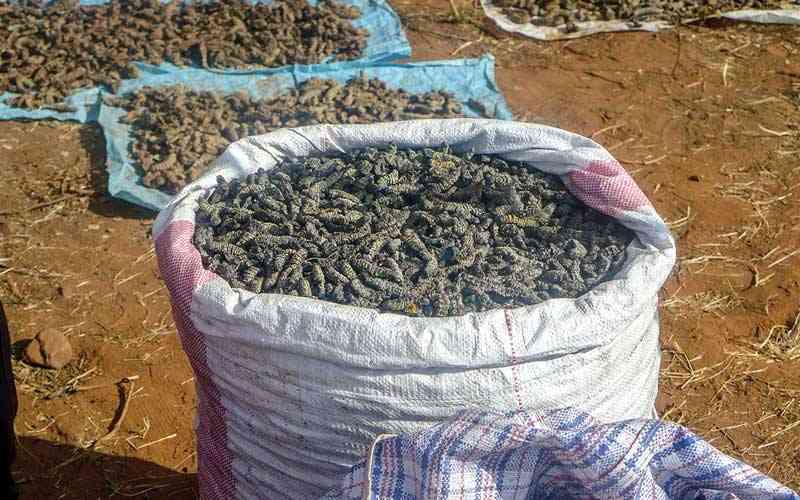 A prominent Matabeleland South traditional leader has lashed out at people from outside the province he accused of employing poor methods of harvesting mopane worms (amacimbi) amid rampant destruction of the environment.
The province has been experiencing a rush for mopane worms since November last year.
Gwanda chief Khulumani Mathema told Sunday Southern Eye that poor and uncontrolled harvesting of mopane worms threatened the economic wellbeing of the region.
"Amacimbi have been one of the economic enablers for people in our districts," Mathema said.
"Now they (outsiders) are chopping down trees, which are the major source of mopane worms breeding.
"So one wonders why the Environmental Management Agency (EMA) is not protecting our people.
"This is not the way to live; you know these people come here and do their business of collecting mopane worms and some do not even have respect because they cut down the trees.
"Another thing is they do not know the process of collecting because they are not supposed to take them when they are still on the tree, but instead they should wait until they are now moving off from the tree on their own."
The traditional leader said mopane worms should only be harvested by locals.
"The locals know how to collect the worms and understand the whole process to harvest amacimbi," Mathema added.
"My question is: Have they ever seen us going to their provinces to collect any of the things that their areas are well-known for?
"These people do not respect us and our culture, which is not fair because we no longer live peacefully.
"They should not come here because they are now ripping us off our environmental rights.
"If they want mopane worms (amacimbi) they should get them from wherever they come from not here."
He said they have tried to engage EMA officials on the issue without any success.
"EMA people do not come here and engage with us the chiefs to mobilise people so that they educate them on their environmental rights," Mathema said.
A Kaufusi villager, Reboni Noko said outsiders were leaving a trail of destruction in the process of harvesting mopane worms.
"They just come here with no knowledge of how the worms should be harvested," Noko said.
"They pollute our environment leaving plastic bags everywhere and some come with their babies leaving pampers lying around everywhere."
Another villager, Relebile Nare said they were losing patience with the "foreigners" that had taken over their area.
Matabeleland South EMA public relations officer Sithembokuhle Moyo said they were aware of the issue, but had not been empowered to intervene.
Related Topics