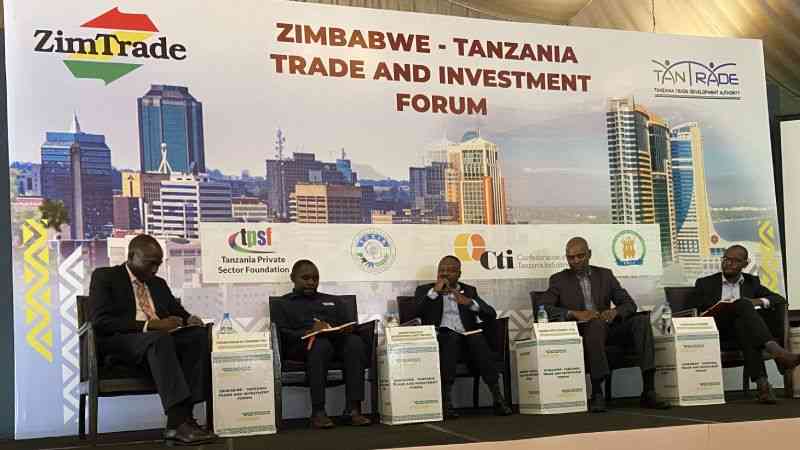 AS part of efforts to grow exports into the region and beyond, ZimTrade has accelerated its engagements with regional markets to explore opportunities for local products and services.
The country's trade promotion organisation has been to countries such as Tanzania, Botswana, Zambia, South Africa, Rwanda, Mozambique and the Democratic Republic of Congo (DRC), among others, doing in-market activities and outward trade missions.
These activities have provided market intelligence for Zimbabwean companies.
Just recently, the organisation hosted the Zimbabwe-Tanzania Trade Mission in the east African country in a bid to grow exports.
The mission was attended by 10 Zimbabwean companies drawn from various sectors of the economy.
During the trade mission, vast opportunities for local exporters to Tanzania, especially small businesses riding on regional and continental trade agreements, were realised.
Both Zimbabwe and Tanzania are signatories to the Southern Africa Development Community Trade Protocol, which stimulates and encourages trade by giving one another preferential treatment in the reduction or elimination of customs duties.
Tanzania's import bill has been growing over the past few years, creating a potential market for Zimbabwean products.
According to the trade map, Tanzania imported products and services worth around US$11,57 billion in 2019, up from US$7,69 billion in 2016.
Top imported products included electrical machinery, pharmaceutical products, animal or vegetable fat, cereals and tobacco.
Trade between Zimbabwe and Tanzania remains "invariably low and worrisome" as official data showed goods and services worth US$26 million have flowed between two countries so far this year.
This figure has caused concern to authorities who feel that the strong diplomatic ties between the two countries must translate into economic gain.
Tanzania played a crucial role in Zimbabwe's fight against colonialism in the 1970s liberation war, and the two countries have been working towards deepening economic ties since Zimbabwe gained independence 42 years ago.
Data produced during the recent Zimbabwe-Tanzania Trade Mission showed that Harare has exported goods and services valued at US$12 million to the east African nation this year.
Tanzania has exported goods valued at US$14 million to Zimbabwe during the same period.
Speaking during the trade mission, Zimbabwe's ambassador to Tanzania Anselem Sanyatwe said: "In the interim, trade between our two countries remains invariably low and worrisome. Figures show that Zimbabwe has exported goods and services valued at US$12 million to Tanzania.
"Similarly, Tanzania exported goods valued at US$14 million to Zimbabwe. With that at hand, we believe that this is very low and there is still room for vast improvement. It may interest Tanzanian businesses to note that Zimbabwe harbours numerous investment opportunities, particularly, in the mining, agriculture, manufacturing and tourism sectors."
Sanyatwe said government's main thrust was hinged on investment and trade attraction under the mantra "Zimbabwe is open for business".
He said government was making frantic efforts to liberalise investment laws and the business operating environment.
"For instance, the government has scrapped the traditional bureaucratic business or company registration procedure to shorten the unpopular red tape in company registration," he said.
Sanyatwe said company registration took approximately one week in Zimbabwe.
"A response will be sent back to the applicant via email. Relatedly, the government has embarked on a robust road and rail network refurbishment as well as upgrading of airports and border entry points. It is our conviction that modernised super infrastructure will go a long way in reducing the cost of doing business in the country and appetising would-be investor," he said.
Sanyatwe urged Tanzanian companies and businesses to consider Zimbabwe as an alternative investment destination.
"I also urge you to grab business opportunities in our country and make money as we also grow our economy," he said.
He added that Zimbabwe and Tanzania were fighting the flight of skills, poverty, high unemployment rate, drug abuse among the youths and stunted economic growth, among other economic vices.
To win this war, Sanyatwe said there was need for collaboration between the business fraternity in both countries with focus on sharing ideas and the formation of joint venture companies.
Head of delegation, Tatenda Marume, who is also ZimTrade export development manager, told our sister online publication Weekly Digest that the main aim was to grow exports to Tanzania.
"As ZimTrade, we are prioritising the African regional market in line with the African Free Continental Free Trade Area and one of the countries that we have targeted is Tanzania," he said.
"The reason why we have come to this mission is to grow Zimbabwe's exports to this particular market. Currently, we have a negative trade balance with Tanzania," Marume added.
Local companies that attended a trade mission in Tanzania said they would start exporting to the east African nation after clinching deals.
The firms told Weekly Digest that the mission had helped them unlock opportunities in Tanzania.
"I came here to look for opportunities for my business and I want to start exporting my products to Tanzania," Onekai Bespoke Furniture director Ornnessi Mphande, said.
"I have met with a number of people including logistics companies and some hoteliers who are looking forward to getting exports of my products. In terms of deals clinched so far, we are still in negotiations, it's a process but it's looking good, positive and the future is definitely bright."
Mphande said ZimTrade offered them training on branding and company registration under its NextShe Exporter programme, an export development programme targeted at identifying women in business and developing them to meet the demands of trade in export products and services.
Caroline Godzongere, of Picmost Collection, said the mission was beneficial to the brand because the firm managed to meet with several potential customers interested in their products.
"We have also managed to liaise with different fashion designers and we have plans to synergise our work. We are also looking forward to having our products in the Tanzanian museum, Arusha, where most of the tourists in Tanzania are found," she said.
Irene Mugwagwa of Sucille Handcrafts said: "I have managed to get associated with a couple of people teaching me how to make the beads. We are also here to source materials. I am going to be using these materials on my products."
Petralee Investments director Linda Uswahwengayi Mututu said the mission had widened her view about trade.
"From this mission, I have managed to do some deals and I am expecting to export some of my products to Tanzania. We will seal the deals in a few weeks. Definitely I am going to be doing business in Tanzania," she said.
Jaswait Holdings director Justice Kuwanje said Tanzania was full of business opportunities.
He said as a company they were looking forward to exporting to the eastern African country.
Regional markets, according to ZimTrade, provide a soft landing for Zimbabwean products as they are easy to access and do not have strict requirements.
Given Zimbabwe's proximity to Tanzania, the organisation said small businesses should consider the country as a springboard to international markets. There are also vast opportunities for Tanzania in Zimbabwe.
For instance, according to the Zimbabwe Investment and Development Agency (Zida), there are opportunities in infrastructural development, as well as commercial and industrial sectors.
Zimbabwe is blessed with a very diverse agricultural environment which allows the country to grow multiple crops all year-round.
The country, Zida notes, boasts a mostly warm and wet climate as well. Major areas of opportunity include maize, cotton, wheat, soya, sugar, livestock, dairy and fisheries. Agro-processing is an area that is very exciting as it opens up new markets for processed agricultural products.
Zimbabwe has over 60 commercially viable minerals. The Great Dyke (where the majority of minerals are found) is a linear geological feature that trends nearly north-south through the centre of Zimbabwe passing just to the west of the capital, Harare.
The Dyke has been commercially viable in mostly the platinum group of metals. Other minerals in abundance in Zimbabwe include gold, nickel, coal, copper, chrome, iron ore, diamonds and lithium, all these providing opportunities for extraction and value addition thereafter.
Zimbabwe is the only country to be named after a world heritage site and is home to the Great Zimbabwe ruins. It also hosts one of the Seven Wonders of the World, the mighty Victoria Falls.
Other destinations of note include the Kariba Dam, Hwange Safari, the Eastern Highlands mountains, Mana Pools and Matopos to name a few. There are opportunities to develop facilities in these areas and develop new facilities, with particular reference to the Binga-Kanyemba corridor which has not been significantly developed covering another beautiful area in our country.
More opportunities are also in the manufacturing sector that was destroyed during the early hyperinflationary days. Zimbabwe could not get adequate funding to replace obsolete machinery due to lack of funding because of sanctions and a rapidly devaluing currency.
The tide, according to Zida, has since changed and "we have seen large companies (especially exporters) being able to retool and some partnering external companies to bring in new machinery and equipment."
Zimbabwe has joined the world in driving green energy and hosts one of the region's major hydro power stations in Kariba. The country is working on a major upgrade to the plant and is planning to include other hydro stations in the multiple gorges along the Zambezi River. There are multiple solar projects being commissioned, but given the level of growth we envisage as a country there is still need for additional expansion.
Related Topics