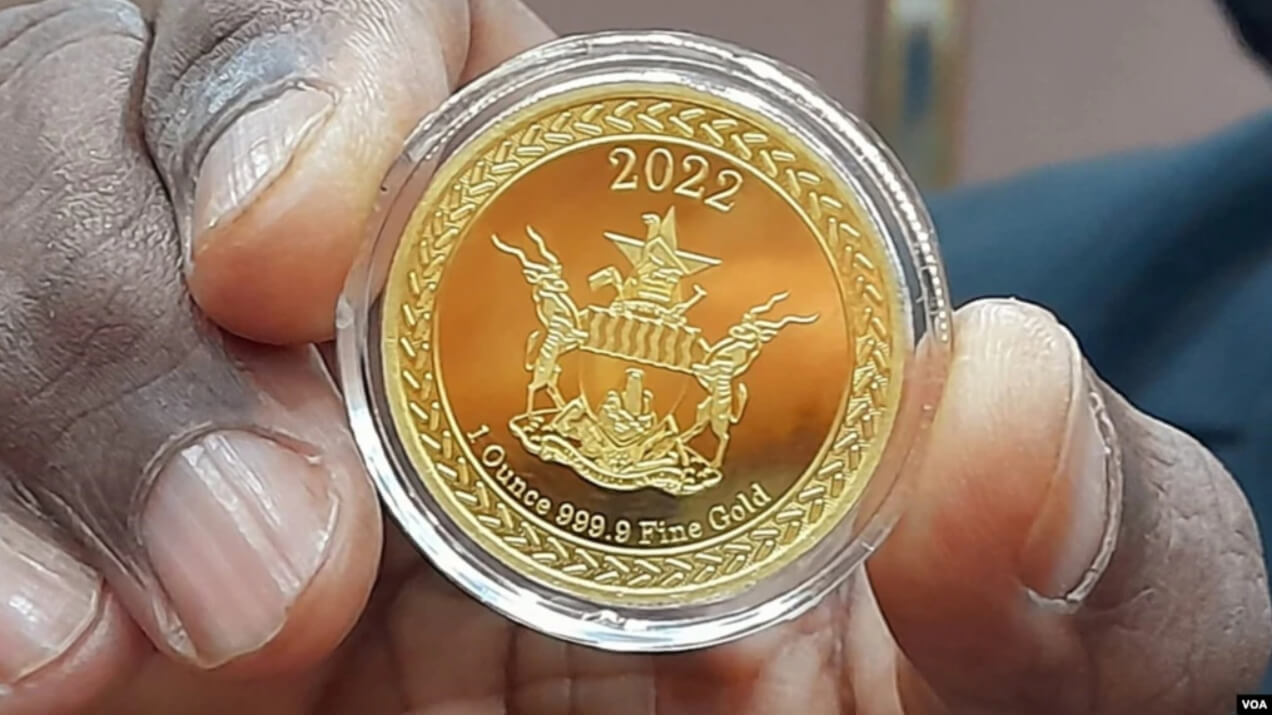 BY KUDZAI KUWAZA THE Reserve Bank of Zimbabwe (RBZ)'s plan to introduce smaller denomination gold coins has elicited mixed responses from business.
In the 2022 mid- term monetary policy statement unveiled Thursday, RBZ governor John Mangudya said smaller denomination gold coins would be introduced in November as part of a strategy to mop up excess liquidity and tame an inflation rage.
Gold coins were introduced late last month, kicking off at an initial price of US$1 823, 80 per coin.
But there was a backlash from consumers who complained that at such high prices, the coins were another scheme for the elite.
"Following the successful launch of the gold coins on 25 July 2022 and in response to public demand, the bank shall introduce and release into the market gold coins in smaller units of a tenth ounce, quarter ounce and half ounce for sale with effect from mid-November 2022," Mangudya said.
In an interview with standardbusiness, Zimbabwe Nation Chamber of Commerce president Mike Kamungeremu said this was a welcome development.
"Others have complained that this batch of coins in the market is for the elite and out of reach," Kamungeremu said.
"The introduction of the smaller denominations is a welcome development.
"The smaller denominations of gold coins will cater for several layers of society."
The ZNCC president said there was likely to be a huge uptake of the gold coins when they are introduced in November, similar to the current one in which 1 500 pieces were sold in the first week.
The RBZ had released 2 000 gold coins.
A chief economist at the Labour and Economic Development Research Institute of Zimbabwe Prosper Chitambara said although the introduction of smaller gold coins would ensure wider inclusivity of owners of the mineral unit, it would do very little in ensuring market stability.
"The move is aimed at addressing equity issues to ensure that gold coins are accessible to the generality of the country's citizens," said Chitambara.
"But in terms of the impact on stability, it will have some positive impact but I do not think it will be very significant."
Chitambara said the issuance of gold coins will not do much in terms of tackling high inflation and exchange rate volatilities as the major drivers of inflation were government's payments to contractors for infrastructure projects and agricultural sector interventions.
These, he said, were the largest contributors of excess liquidity in the market.
CEO Africa Roundtable chairman Oswell Binha said the introduction of gold coins was a "denial mechanism" of the current economic instability.
Binha said generating trust and confidence in the market was the solution that the country required.
"If we want stability, we need to build trust from the transacting public and the business sector," he said.
"This trust is earned and not bought. There is also a need for confidence in public institutions and that is also earned and not bought.
"The decisions made on surrender requirements for exporters, bond notes, RTGS and gold coins are denial mechanisms around the actual impact of the macro-economic environment.
Binha also warned that political interference in fiscal and monetary institutions will continue to have an adverse impact on economic recovery efforts.
"Trust and confidence are the major drivers of economic recovery. If we do not address this it will have a bad effect on the economy," he added.
"If political decisions continue to interfere with the running of the economy then we are in a fix," Binha cautioned.