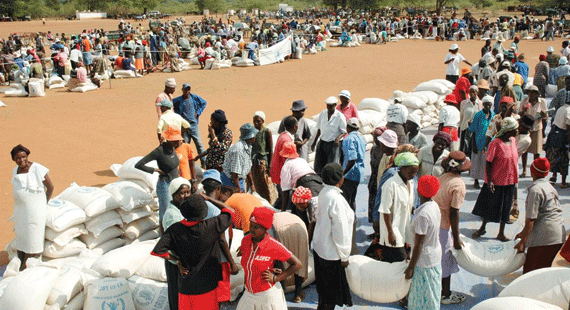 THE Meteorological Services Department (MSD) has announced that some areas in southern Zimbabwe will receive below normal rainfall in the 2023-24 farming season, but did not rule out sporadic violent storms and flash floods.
Matabeleland region and some parts of Masvingo and the Midlands provinces are expected to be most affected by the low rains during the October 2023 to March 2024 rainfall season.
In a statement early this week, MSD indicated that other regions across Zimbabwe are expected to receive normal to below-normal rainfall for most of the sub-seasons.
"During the 2023/24 summer rainfall season the three zones (Region 1, Region 2, Region 3) have a higher probability of receiving normal to below-normal rainfall for most of the sub-seasons that make up the period October 2023 to March 2024.
"The bulk of Matabeleland North, parts of Midlands covering Gokwe North and South districts, and parts of Matabeleland South province covering Bulilima district are expected to receive below-normal-to-normal rainfall, while normal rainfall with a bias towards below normal rainfall is highly likely for the remaining provinces for the sub-season October-November-December 2023," the Met Department said.
"Violent storms, prolonged dry spells, flash floods and tropical cyclones cannot be ruled out as the season progresses. There is need to intensify water harvesting and conservation programmes. Dam construction and borehole drilling/deepening, conservation and protection of wetlands should continue."
The sub-season running between January, February and March has a high chance of receiving normal rainfall with a bias towards below normal rainfall.
The report said the 2023-24 rainfall pattern would be sporadic in space and time while advising authorities to initiate an early cloud seeding programme to counter the erratic rainfall pattern.
"The forecast is for the total seasonal rainfall amount. However, the rainfall is expected to be erratic in space and time.
"It would be prudent to put in place measures for an early cloud seeding programme in light of the expected erratic rainfall season throughout the country," MSD said.
"Those with irrigation facilities should not wait for the main rains to fall. They can plant at any suitable time from now, taking into account the temperature thresholds needed for germination as may be guided by Agritex.
"Agricultural activities such as planting and fertiliser application should be guided by the 10-day weather forecasts as well as advice from agricultural authorities," MSD added.
Meanwhile, a research conducted by the Famine Early Warning Systems Network showed that food stocks from last year's harvest are gradually depleting, fuelling starvation and a high cost of living.
"In some extreme deficit-production areas in the south and other areas, household food stocks from the 2023 harvest are gradually depleting, and households are likely to begin engaging in coping strategies indicative of a crisis in August and September, earlier than normal.
"In urban areas, the high cost of living and limited access to income is making it difficult for poor households to meet their non-food needs, driving stressed (IPC phase 2) outcomes," the report read.
"In rural areas, most poor households continue to engage in seasonal off-farm activities such as petty trade, the production, collection, and sale ofvegetables and wild products (fruits, grass, firewood, fishing), brick-making, construction activities, and artisanal mining to earn income."
Related Topics