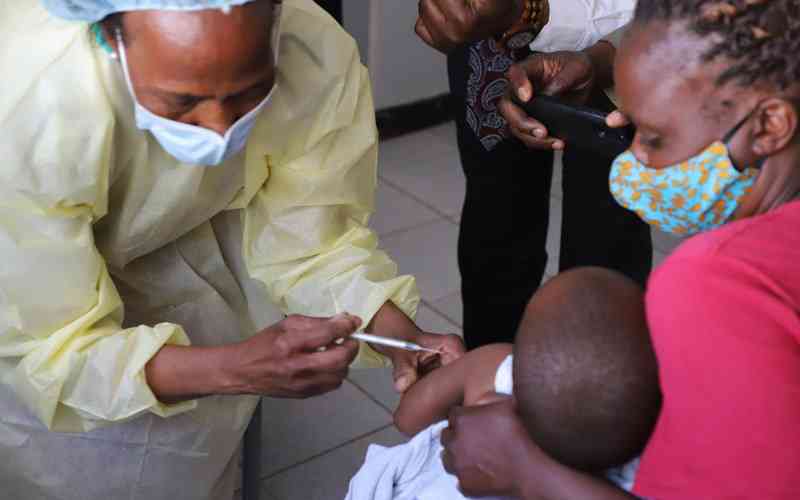 Mothers and their children gather in large numbers at a health services delivery point at Manhenga Primary School in Masvingo's Chiredzi district.
One of them is Virginia Mahombe*, who gets rousing ululations and expressions of excitement for her newborn baby as she approaches the outreach point.
"I am grateful that I did not have to travel the long distance for my newborn baby to get his BCG shot,' Mahombe said as she enthusiastically waited for her child to be immunised for the first time
"I can also receive family planning services, which is something I need. Had it not been for this outreach point, I don't know when I would have been fit enough to travel to Chiredzi," she added
The BCG vaccine protects against tuberculosis, which is also known as TB.
For hard-to-reach Manhenga village in the heart of the Save Valley Conservancy, known for its vast wildlife in the south eastern lowveld, the outreach health delivery point is not just a service centre, but a health facility coming to the people.
The outreach point is a one-stop shop, delivering integrated primary health care health services, including health education, routine immunisation, Covid-19 vaccination, family health services, psychosocial support, treatment for non-communicable diseases and minor ailments as well as rehabilitation and nutrition support, among other essential services.
Mahombe is one of many who know the importance of access to health services.
Villagers sometimes travel more than 120 kilometres to the nearest hospital or clinic.
Manhenga village is part of ward 24 in Chiredzi district and is home to over 26 000 people.
The new settlement has no health facilities and has only begun to see significant development in the last seven years of its 20-year existence. Villagers must walk 52km to the closest bus station before taking another 72km bus ride to Chiredzi District Hospital, the nearest health facility.
The journey to access health facilities is risky and this prevents many from seeking primary health care services.
The health delivery point, initially an Expanded Programme for Immunisation centre serving children under five with vaccinations, has evolved into provision of a wide range of health services to all population groups.
This profound milestone has paved the way to easy access to health care for everyone, especially vulnerable members of society.
Pregnant women, people with disabilities, the elderly, and the chronically ill can now readily interact with a healthcare facility and with a reduced financial burden of travelling long distances.
Maidei Tarumberekera, a Mahanega village health worker who is integral in mobilising community members at outreach points, acknowledged the effectiveness and positive impact of outreach healthcare services in their village.
"Most of the villagers cannot afford to travel the long distance to the health facility, making the outreach point critical for delivering a wide range of treatment," Maidei said.
"The outreach centres are as good as any clinic and ideal for mothers, children, chronically ill and the elderly, who cannot travel long distances to receive healthcare."
The outreach points have been highly influential in working collaboratively through the existing community networks.
Village health workers and traditional leaders are at the forefront of community networks, facilitating community dialogues, raising awareness on health-related issues, disease surveillance, and mobilising people to visit outreach points.
The Manhenga outreach point has administered over 100 routine immunisation vaccinations and over 350 family planning services every month, making them the two most popular healthcare services at this outreach point.
The integrated approach is helping to promote early health-seeking behavior, which was very difficult in the past given the barriers to travelling in hard-to-reach areas.
As part of the 2020-2025 National Health Strategy, Zimbabwe has committed to revitalising an integrated primary healthcare service delivery approach.
It highlights the centrality of primary health care and a whole-of-society approach to health to ensure the highest possible level of health and well-being.
The focus is on people's needs as early as possible along the continuum of health promotion and disease prevention to treatment, rehabilitation, and palliative care, and as close as feasible to people's everyday environment.
With US$2.5million funding from the French government, Unicef Zimbabwe is working closely with the Ministry of Health and Child Care in Zimbabwe and partners to support the operationalisation of integrated primary health care, ensuring a comprehensive delivery of integrated health services in communities and particularly in hard-to-reach areas like Manhenga village.
Unicef and partners have provided funding to the government of Zimbabwe to strengthen integrated service delivery with models responsive to various population groups, coordination, and governance, procurement of supplies including non-communicable disease medication, and tri-cycles to strengthen transportation of primary health care facility teams to deliver services at the household level.
The support aims to reach 1.5 million people in 11 districts namely Harare, Chitungwiza, Bulawayo, Sanyati, Kwekwe, Gokwe South, Mutare, Umguza, Chiredzi, Gutu, Mwenezi.
With a beaming smile, Mahombe shares her hope of having a health facility in her community.
"Our biggest plea is to one day have a health facility of our own, in Manhenga; if given the building supplies, we are ready to build the clinic from the ground up," she said as tried to calm down her baby, who was still restless after his first vaccination.
The Ministry of Health and Child Care, Unicef and partners work in close partnership to enhance health service coverage and strengthen the health system delivery.
Related Topics