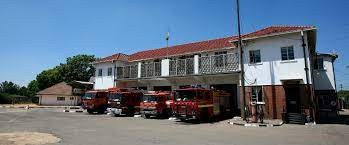 TREGER Products — Monarch Steel has refurbished parts of the Bulawayo Famona Fire Station's buildings as a gesture of appreciation after the city's fire fighters risked life and limb to douse a huge fire that broke out at the firm in 2021.
The company said the fire brigade's timely response averted a potential explosion that could have ripped the factory apart as there were 10 000 litres of diesel stored in the warehouse.
"I would like to take this opportunity to thank the fire brigade team in Famona who actually saved millions of dollars of our investment at Monarch," company representative Sithokozile Ndlovu said during the handover of the refurbished staff canteen and administration block to the fire brigade.
"When they came to assist us we were not sure whether we were going to be able to save our equipment in our factory along Khami Road and to our surprise in a short space of time, they were able to save our diesel tank and our machinery."
Treger Products fitted kitchens, tiled and painted the fire fighters' kitchens, office kitchens, the administration office, and the gut house kitchen.
Speaking at the same event, deputy mayor Mlandu Ncube said: "The City of Bulawayo is making a call to all members of the public to help curb the unnecessary loss of life and damage to property during emergencies."
Related Topics