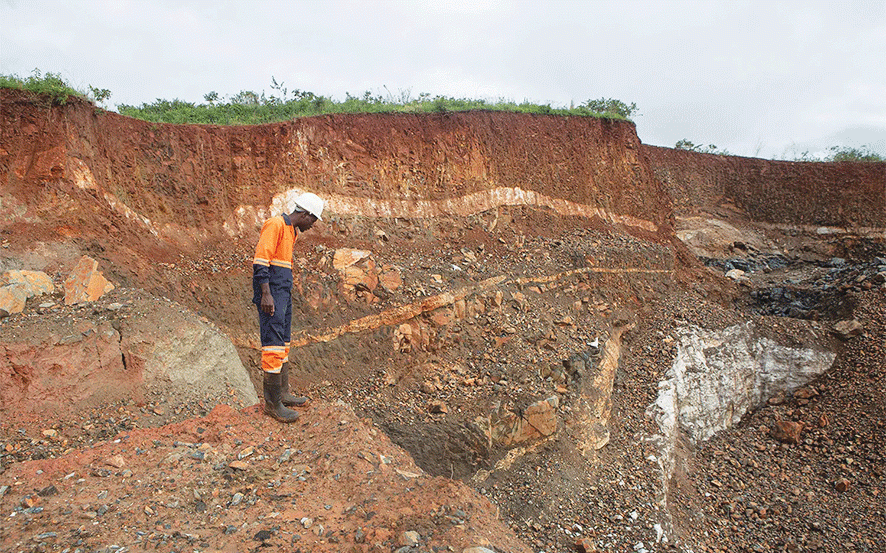 MOREBLESSING Mubaiwa (31) wonders about Majuru business centre, Goromonzi North constituency, plotting his next move.
Some of his colleagues have returned to their homes after their hunt for lithium in the Mwanza area had been foiled by environmental law enforcement agencies.
Mubaiwa, from Mutoko, 150km away, however is buying time anticipating to go back to the site where he has made a fortune before.
"Things were going on well as we were realising some money from selling lithium ore. We are artisanal miners, (Environmental Management Agency) Ema has shut the area, but we will sneak back," he said.
Goromonzi district has become the latest lithium hunting area attracting a number of illegal miners, which has, however, negatively affected the environment.
Mwanza, Jongwe and Almersfield farming areas now resemble an air-bombarded countryside with open pits and gulleys, while some of the streams and rivers have since been choked by silt from the illegal lithium mining forays.
Largely a farming area, most farm owners have dumped the hoe to hunt for the precious mineral and are inviting some Chinese nationals to assist them in extracting the white gold, which has triggered an Eldorado as global electric car makers and other consumers increase demand.
Heavy mining equipment has been dispatched to some of the illegal mining areas as the "free-for-all" Eldorado ensues.
A cat and mouse game between the illegal miners and Ema agents is underway with the latter struggling to stop mining to protect nature.
"From artisanal miners to farm owners who are contracting Chinese nationals, it is all about extracting lithium. If (Ema) bars us today, tomorrow we will be at a new site, there is money everywhere here," said Mubaiwa.
Most of the areas where lithium has been found are located near the recently commissioned Prospect Lithium Zimbabwe (PLZ), a multi-million-dollar mining investment in the area.
In Mwanza, Ema has cordoned off the area, but the damage on the environment had already been done.
The artisanal miners revealed that they are selling a wheelbarrow of lithium stones for US$10.
In February, Ema shut down two lithium mines in Goromonzi district for allegedly operating without Environmental Impact Assessment (EIA) certificates.
The companies are TN Gold and Shengxiang Mining Investments with the illegal miners TN Gold fined ZWL$500 000 and Shengxiang ZWL$ $100 000 for lack of EIAs.
Ema Mashonaland East provincial spokesperson Astas Mabwe yesterday confirmed that illegal miners have invaded some farms in search of lithium in Goromonzi.
"As Ema we have continued to monitor the environment in and around areas susceptible to illegal lithium through regular inspections, in this case in Goromonzi. We have engaged illegal miners and potential miners to educate them on the dangers of illegal mining and how they can comply with EIA regulations.
"We have issued tickets and issued cessation illegal mining for those doing illegal lithium mining. We continue to appeal to those who want to do mining to first acquire the requisite papers before starting mining," he said.
According to an Ema report seen by NewsDay, environmental authorities are currently seized with illegal mining at Almersfield and Jongwe farms where Mapfeni River has been seriously affected.
The report revealed that illegal mining is being done at four different sites in a linear pattern along a Mapfeni River tributary.
"Operations are in a linear pattern along a stream, these are farmers who have teamed up with the Chinese (nationals) to mine illegally. The stream is head waters for Mapfeni River, hence siltation and disturbance of the ecosystem (land) degradation and loss of aquatic life," the report read.
Some farmers have hired heavy mining equipment and machinery such as excavators and trucks to ferry ore to Ruwa, about 45km away where it is reportedly being sold for an average US$400 per tonne.
Progressive and Organic Communities for Action community organiser Tadiwanashe Gwena said despite negative impacts on the environment, food security is also under threat as farms are now being turned into mines.
"Illegal mining of lithium has undisputably left a great trail of damage to the environment. Large tracts of land have been cleared or destroyed by lithium-seeking individuals. These are people without knowledge on what it means to the environment and to them the surroundings do not matter.
"With illegal lithium mining being done on land that was reserved for farming, this threatens food security, and renders the farms infertile for crop production in the future. With soils left loose, it is quite obvious that river siltation is going to be on the rise. The miners are using explosives and the remaining waste from those explosives is not being properly disposed of. We pray that Ema and government take these issues seriously and ensure that those who want to be involved in mining stick to legal standards of mining and save the environment," he said.
With Zimbabwe experiencing an economic meltdown, for Mubaiwa illegal lithium hunting is his only escape route. To him, the environmental effects are secondary.
Related Topics