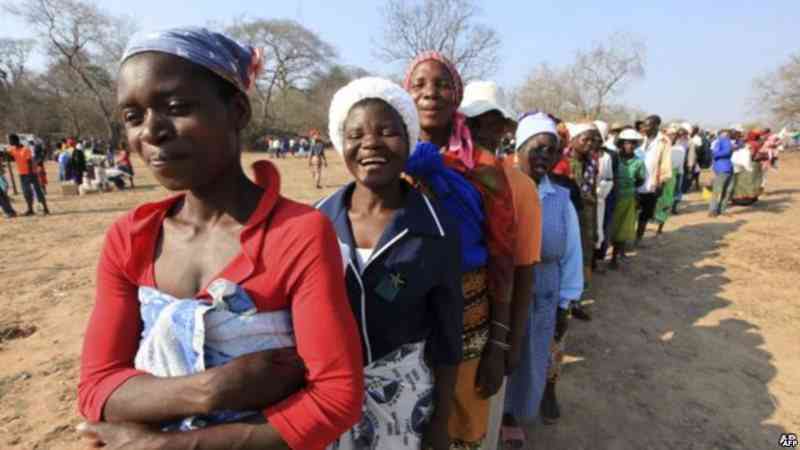 THE push for equal participation of men and women in politics has been building up, with benefits already filtering through in countries where this shift has been embraced.
Observance of human rights and democratic governance principles are other issues that have taken centre stage in the past few decades.
However, research has revealed that despite governments' efforts to push through equal representation, women's participation in politics remains low.
Yet in most countries, they make up the bigger part of population.
The African Portal says women constitute over half of the world's population.
Information from the portal shows a growing concern that women's participation in electoral and governance processes, where crucial decisions regarding their lives are made, remains low in countries including Zimbabwe.
Solomon Bobosibunu, an election expert and programmes officer at ERC, told the Zimbabwe Independent that participation of women in politics has been affected by episodes of violence.
Violence against women has frustrated them from participating in politics, he noted.
He said apart from violence, name calling has been rampant, and many women feel that participating exposes them and their families to dangers.
"Support structures and male dominated decision-making structures within political parties have immensely contributed (to women's low participation in politics)," he said.
"There is no one to bargain for women on the table. It is extremely difficult to see women climb the ladder in politics," Bobosibunu told the Independent.
Melody Chingarande, a Kwekwe based aspiring politician for Mbizo Ward 5 defied the odds to stand for next month's elections.
But she told the Independent it was no easy feat, given the fact that the political atmosphere remained harsh for female candidates.
She rallied women to be brave if they have ambitions to take up leadership roles in politics.
"Our political atmosphere is not conducive for women," Chingarande said.
"Women must be brave. We still have this patriarchal society. Most women don't believe in themselves. They believe in the patriarchal society, which they grew up in. This is limiting most women from occupying leadership roles, or taking political positions," said Chingarande.
Her views were shared by Portia Ndabala, a young woman from Gokwe in the Midlands province, who said many families were also letting their female members down by not standing with them.
Ndabala said in the absence of family support, many aspirants had failed.
Charity Mungwani, deputy mayor for Gokwe, said tremendous effort must be devoted to teaching women that they also have the right to seek election and lead – politics is not the preserve for men alone, she added.
This view was also supported by Bobosibunu.
He said women must be educated to understand that they should also be vital players in key decision-making roles.
Bobosibunu said Zimbabwean law allowed freedom of choice and association.
"Women must be educated that politics is for them as well, not men alone. Women should rise and stand for their rights as enshrined in the Constitution. The provision for anyone to participate without fear or favour should be taken seriously from early childhood," he told this publication.
"With politics being a game for the strong minded, women should also be strong when they really want to take part and avoid being push overs," said Bobosibunu.
Polite Ndhlovu, an expert in the subject, said financial factors were major contributors to women's low participation in politics, especially in high-ranking leadership positions.
As a result, they have been relegated to supporting roles, where they rally behind their male counterparts.
Ndhlovu said engagements with aspiring female politicians had revealed that some didn't make it to participate as political candidates because they were not financially stable. He said experts had discovered that patriarch was still affecting women because most men restricted them from participating in politics.
Tawanda Munikwa who is an aspiring councilor for Kwekwe's Ward 14, said politics required a lot of time out of home.
Yet most women were required to do household chores and take care of children.
Munikwa said another drawback was the failure by women to support each other.
They would rather vote for men, he said.
Bobosibunu called for the enforcement of legislative measures, such as Section 17 of the Constitution of Zimbabwe, in order to level the playing field.
Munikwa said Zimbabwe was a signatory to many declarations aimed at increasing the participation of women in leadership and decision-making roles.
The Constitution, which came into effect in 2013, provides a quota of 60 seats for women for proportional representation in Parliament.
Mudzani is a 2023 Womentorship fellow. This article was published with support from Friedrich Naumann Foundation through its Womentorship Fellowship Programme targeting young and up- coming female journalists. The programme was designed in 2021 after a realisation that female journalists occupy a few leadership positions. Its objective is to capacitate female journalists to ensure gender balance in the newsrooms, while creating a safe space for them.
Related Topics