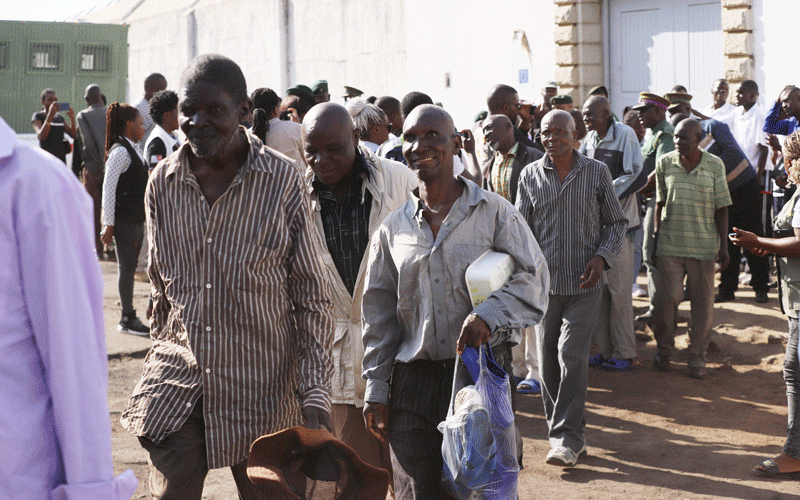 LATE last month, Zimbabwe released more than 4 200 prisoners, a move that was hailed as good for decongesting its prisons that housed more than 22 000 inmates, well over their capacity of 17 000.
Most of the released prisoners are older people, children, women imprisoned for non-violent offences and the terminally ill and disabled. But a portion of those who benefited from the presidential amnesty are people who were convicted for violent offences but had served at least 75% of their sentences.
In the country and its diaspora, the release of the latter group triggered speculation that the ruling Zanu PF will use the released prisoners to commit election-related violence.
Haruzivishe Makomborero, an opposition activist who lives in exile, fears the government is "taking notes from its ally, Russia".
"Just like the Russian Wagner group is recruiting prisoners to fight in the invasion of Ukraine, Zanu PF will use some of these prisoners for political violence in the coming elections," Makomborero speculates, referring to the general elections slated for 23 August.
According to Shepherd Mpofu, the acting head of the Zimbabwe Prisons and Correctional Services, only 3% of people who benefited from previous amnesties became involved in crime again.
The concerns of those who share Makomborero's fears are perhaps best understood by remembering another episode in Zimbabwe's halting democratic experiment: the "Green Bombers".
The Green Bombers were a youth brigade which played a pivotal role in ensuring that Zanu PF won elections in the mid to late 2000s.
The youth were trained to be militant by Zimbabwe's National Youth Service, which was introduced shortly after the formation of the opposition Movement for Democratic Change (MDC), led by Morgan Tsvangirai, shocked Zanu PF by winning 57 out of 120 parliamentary seats in the elections of 2000.
Graduates of the new National Youth Service went on a rampage, attacking opposition supporters, burning down their homes and even killing some people.
Munashe Manzanga, a 34-year-old who fled to the United States, was among the brigade's victims. He says in June 2008 a band of Green Bombers, led by a youth officer and a war veteran he recognised, held him hostage for not carrying a Zanu PF membership card.
"They force-marched me to a night vigil, beat me and other opposition activists in what they called a re-education exercise and forced me to sing Zanu PF songs," he recalls.
Manzanga fled from his rural home Mberengwa in Zimbabwe's south and hid for weeks in Zvishavane in the Midlands province before managing to escape abroad.
Attacks on opposition supporters like Manzanga by Green Bombers, named after the military-style fatigues they wore and because the term is generally used to refer to the green bottlefly, were widely reported by human rights groups and the media throughout the 2000s. Officially, the National Youth Service was disbanded in 2007 but its ghosts have haunted Zimbabwe since.
"In 2019 I was attacked by well-known Zanu PF members of the National Youth Service.
They ambushed me as I was returning home from town and kidnapped and tortured me asking about the whereabouts of [social and economic justice activist and unionist] Tatenda Mombeyarara," says Adkins Mtetwa, a Zimbabwean human rights activist now living in the United Kingdom.
He concurs with those who see the prison amnesty as a ruse to recruit new "Green Bombers" for the ruling party.
"The latest release of criminals just before elections by President Emmerson Mnangagwa is for people like me and more in my community, a sign that there will be more violence in the coming election," says Mtetwa.
Related Topics