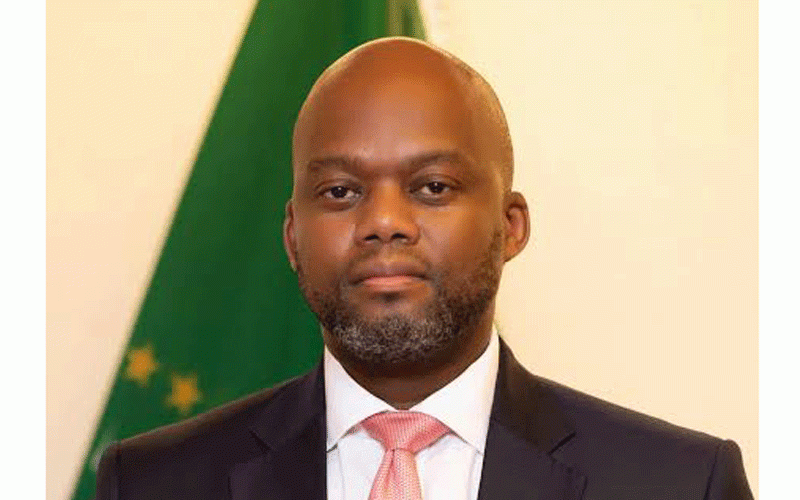 WAMKELE Mene, the man who heads a new trade bloc that is working to build seamless trade networks for Africa's economies, said last week the region's contribution to global trade and gross domestic product (GDP) was too low.
Mene, secretary general of African Continental Free Trade Africa (AfCFTA), told delegates attending last week's 63th edition of the Zimbabwe International Trade Fair (ZITF) that the bloc, which began operations in 2021, would address hurdles confronting African trade to eliminate poverty.
"In nominal terms, Africa contributes 2% to global trade and 2,84% of the world's gross domestic product (GDP)," Mene said, while delivering a key note address to a special symposium called ConnectAfrica, which ran alongside ZITF.
According to Mene, African economies lack competitiveness to trade alongside other regions.
In Zimbabwe, there have been concerns that goods emanating from the country are more expensive than those of competitors. Across Africa, it has been generally agreed that trade barriers and protectionist policies were working against the continent's growth. The AfCFTA chief emphasised that the bloc will build and enhance value chains, leading to higher investment, productivity and competitiveness on the continent, which is endowed by vast natural resources that are in high demand worldwide, but remains one of the world's poorest regions.
Mene said the work will create jobs and relieve poverty across the region's markets.
It was not all gloomy, however.
Platforms like the ZITF presented hope that despite the setbacks, opportunities for growth were many in Zimbabwe and Africa.
Trade experts say, platforms like ZITF were a good starting point in driving Africa's trade agenda.
Interest in ZITF grew this year, according to organisers, who compare it to the Canton Fair, which draws attention to Guangzhou, China, just like ZITF does for Bulawayo.
Experts said ZITF provided exposure and immense networking opportunities to domestic businesses, along with an army of foreign enterprises that participated.
The exhibition helped Zimbabwean companies with opportunities to examine market trends and study what competitors were doing. Many advanced technologies were on display, and companies with plans to improve efficiencies got insights into the evolution taking place on that front.
To improve brand recognition, numerous companies had attractive booths to persuade customers and companies to visit their stands. Exhibitions improve chances for companies to penetrate new markets, and the size of participants at this year's ZITF gave hope across markets that in the midst of a dire crisis, prospects to save bleeding firms abound.
It began on April 25 and closed on April 29 2023, with 533 exhibitors, a 30% increase over last year's figures, indicating growing interest in the major business expo.
Twenty-five exhibitors from 21 countries showcased their products, according to ZITF Company board chairperson Busisa Moyo.
This is an increase over last year's figures, which included 16 direct exhibitors from 13 nations. According to Moyo, the organisers had to use space not normally reserved for exhibition to accommodate high numbers of attendees.
Due to its appeal, the premier expo has gotten better and better every year.
Constantino Chiwenga, Vice-President and Minister of Health and Child Care, officially opened the International Business Conference (IBC) with a call to local enterprises to take the lead in innovation to meet global competitiveness.
The IBC serves as a bridge for the interface of the private sector, international business entities and the government. It provides a forum for parties to exchange ideas on how to develop synergies and a favourable business environment.
The premier trade expo was showcased under the theme "Transformative Innovation, Global Competitiveness".
In his keynote presentation, Chiwenga said Zimbabwe was on an accelerated economic development trajectory, which was being driven by the private sector. He stated that businesses had to prioritise transformation and innovation and think outside the box.
"Captains of industry, you are the backbone of the nation's unique economy," Chiwenga said.
"The private sector drives the nation's economy, which places a premium on investing into innovation to compete on the global stage. Our economy is expected to expand by 3,8% this year, and nearly 38% of our businesses have made investments totalling more than US$101 million to advance their technological capabilities," he said.
Chiwenga urged industry and business leaders to invest in human resources.
"As the private sector partners with our innovative hubs and institutions, we must invest in our students so that we can generate high-quality graduates who are grounded in practice rather than theory."
Sekai Nzenza, Minister of Industry and Commerce, stated at the ConnectAfrica Symposium that Zimbabwe had not been left behind in cooperating with other African countries.
"The key messaging has been leveraging our history as Africa, interconnectedness, and interrelationship in order to compete with other trade blocs in the world," she said.
Increased production, according to Nzenza, is a crucial trade enabler. She pointed out private sector-led growth was an imperative that is being realised in the country.
Related Topics