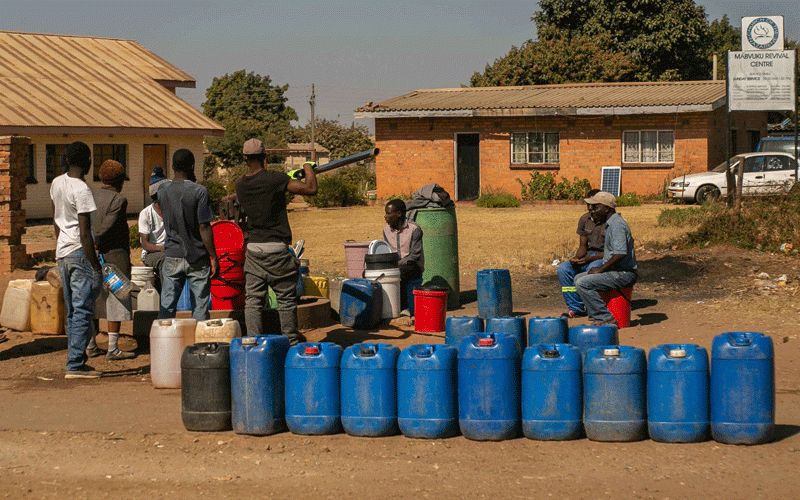 RESIDENTS of some Bulawayo suburbs have resorted to unclean sources of water and face the threat of waterborne diseases like cholera.
Zimbabwe recorded 31 new suspected cholera cases last week, bringing the total to 98 cases.
Some suburbs in Bulawayo such as Pumula, Entumbane, Mzilikazi, Barbourfields, Makokoba and others have gone for two weeks without potable water.
This has forced them to use water from unsafe sources. Pumula South residents told Southern Eye that they fetch water from open sources at a nearby bushy area.
Simangele Nsingo said they were drinking water which is unsafe.
"We don't have a choice but to drink the smelly and dirty water. We do not have a single drop of water in our homes. It's better than dying of thirst," Nsingo said.
Bradley Mahlangu added: "We wake up as early as 4am to go and fetch water, while it is still clean and fresh from underground. If you go there late, the water is usually full of mud."
At the weekend, Bulawayo South legislator Rahj Mhodi (Zanu PF) donated water to the residents in Makokoba after realising that the crisis was getting worse.
The city has been experiencing a severe water crisis, which council blamed on electricity outages.
In a notice, Bulawayo town clerk Christopher Dube said: "Due to ongoing power outages at Ncema and Fernhill, we are only receiving 8-10 hours of pumping per day instead of the normal 24 hours of pumping. This has resulted in minimised volumes of water pumped, which is not enough to meet the current water demand. As a result, our six distribution reservoirs are struggling to maintain adequate water levels, causing significant distress and inconvenience to the residents."
He said council was working with Zesa to deal with the power outages.
"We want to assure you that we are actively engaged with Zesa to address the power disruptions that have impacted our water supply system. We can assure you that council and Zesa are working together to find a solution to this critical issue," Dube said.
Meanwhile, Gweru's main water supplier Gwenhoro Dam is experiencing continuous power outages causing erratic water distribution to most parts of the city, a senior council official has said.
Meanwhile in a statement acting Gweru town clerk Livingston Churu urged residents to use water sparingly.
"We have been experiencing severe load shedding at Gwenhoro pump station and at the Range Booster. This has resulted in a suppressed pumping regime leading to erratic water supply across the entire city. The problem is likely to persist until the power situation at our water mains improves," Churu said.
Since loadshedding has been affecting pumping of water, Gweru residents have been resorting to other water sources like boreholes and wells.
Gweru Progressive Residents and Ratepayers Development Association executive director David Chikore said council should resort to alternative energy sources at its water pumping stations.
"We have always reiterated that it is high time council use solar energy at Gwenhoro and other pumping stations. Besides the current massive load shedding, there have always been power cuts at Gwenhoro which has affected the city's pumping capacity," Chikore said.
Related Topics