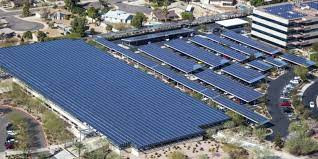 AFRICA Data Centres, a subsidiary of Cassava Technologies group, has signed a 20-year Power Purchase Agreement with Distributed Power Africa (DPA) for the supply 12MW of renewable solar energy.
Under the agreement DPA SA will supply 12MW of renewable solar energy to the South African facilities of Africa Data Centres, a company that hosts the largest network of data centres in Africa.
Energy will be delivered to Africa Data Centres' facilities partly from the solar farm DPA is developing near Bloemfontein to deliver the first 12MW required for the ADC data centres.
Africa Data Centres CEO Tesh Durvasula said the agreement will enable their customers to benefit from a sustainable data centre as the demand for data continues to soar.
"While data centres are the foundation of the digital transformation process in Africa, they require reliable, cost-effective and preferably green power to operate. Our partnership with DPA will also help in reducing our reliance on the strained South African national grid, enabling us to play our part in alleviating the current energy challenges facing the country," he said.
Also commenting on the partnership Norman Moyo, CEO of DPA highlighted that this demonstration of their innovation in deploying renewable energy solutions.
"Our customers are looking for cost-effective and efficient ways of meeting their green targets and reduce energy costs for their businesses in a climate of increased power shortages.
Research shows that the global data centre market was valued at $187.35 billion in 2020 and is projected to reach $517.17 billion by 2030, registering a CAGR of 10.5% from 2021 to 2030.
In addition, most estimates claim data centres are responsible for as much as 2% of the world's energy consumption, which is approximately the same as the aviation industry.
DPA is a pan-African renewable energy company with key operations in South Africa, Kenya and Zimbabwe whose vision is to power Africa to a brighter future.
Related Topics