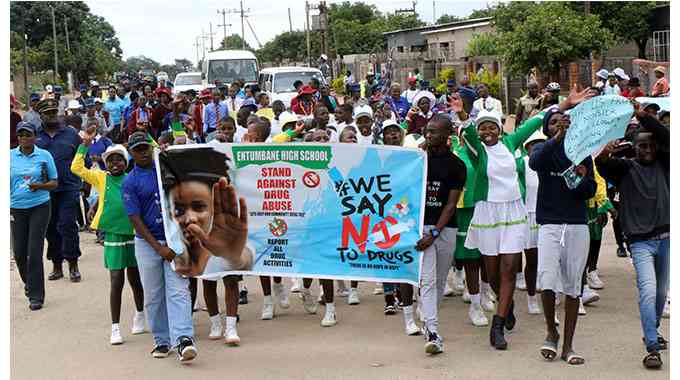 Bulawayo's Entumbane community in partnership with the police, local schools and other stakeholders, have decided to take the drug abuse scourge that has become rampant in the area head-on.
After the high-density suburb became notorious for drug and substance abuse, the community embarked on spirited awareness campaigns teaching community members about the dangers of drugs.
Provincial police spokesperson Inspector Abednico Ncube lauded the Entumbane community for taking a strong stance against drug and alcohol abuse.
"It is wonderful to see that today the Entumbane community, the police and schools came together to fight against this menace of drug abuse. The campaign covered most parts of the Entumbane area where members of the public were being addressed and taught about the bad effects of drug and substance abuse. We are also calling on members of the public to shun drugs and report drug abusers and drug peddlers," Ncube said.
"We want to roll out this campaign to all other areas and police stations in order to ensure that our city becomes free of drugs," he said.
CID drugs and narcotics division detective and constable for the southern region, Doreen Mudzimu said the most abused drug in Bulawayo was Ntjengu because it was affordable and readily available at every street corner.
"This drug has detrimental effects on a human being as it causes one to lose weight, while their head becomes swollen due to internal organs such as kidneys becoming compromised by this drug. It renders users unable to function in the normal manner they are supposed to," Mudzimu said.
Councillor Thulani Mpofu castigated drug peddlers who live within the Entumbane community and spreading the scourge.
"They must cease these illicit practices of selling drugs in the community. These drugs are not only affecting our children; even the old are not spared and this shows that we have a problem in the community. Let us work together to expose these people who are selling drugs in the community," Mpofu said.
He added that even though Entumbane police have been working hard to arrest drug peddlers, it was saddening that the law does not effectively take its course because the same criminals were released on bail and then sent back to the community where they continue selling drugs.
The campaign came in the wake of the police recently impounding truckloads of imported illicit drugs in the city.
Several drug peddlers were arrested during raids following the seizure of the contraband.
Related Topics