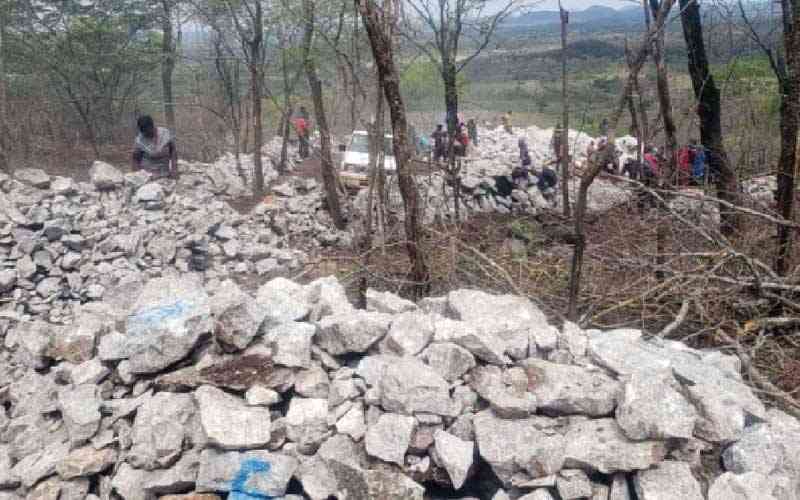 EMBATTLED state arms manufacturer, the Zimbabwe Defence Industries (ZDI) has been controversially granted a special permit to export raw lithium by the government, a decision expected to inject life into the firm's struggling operations, emerging details reveal.
ZDI, which has a vast investment portfolio in mining and is reeling under a Western-imposed embargo that crippled the firm's operations for over two decades, got approval to export lithium in October last year.
The latest development comes at a time when Zimbabwe is experiencing a lithium rush following the random discovery of the lucrative and strategic mineral in some parts of the country, particularly at Sandawana Mine in the Midlands province.
Following the discovery of lithium at Sandawana Mine last year in December, an estimated 5 000 artisanal miners and fortune seekers descended onto the area searching for the lucrative mineral required in energy transition and the manufacturing of cleaner technologies such as electric vehicle batteries.
As first reported by this publication on November 4 2022, the discovery of the metal at Sandawana Mine and other areas around the country positions Zimbabwe to play a dominant role in the production of lithium. Zimbabwe, which produced 1 200 metric tonnes of the mineral in 2021 is the world's fifth largest producer.
In a bid to restore order in the areas where the globally sought-after mineral is being informally mined, the government swiftly banned the exportation of unprocessed lithium.
A running investigation by the Zimbabwe Independent points to that ZDI under unclear circumstances was given the greenlight to ship an estimated 100 00 tonnes of lithium monthly, reportedly to China, which is a major global consumer of the mineral alongside the United States (US).
Sources with intimate details of the export permit granted to ZDI told the Independent that Mines ministry chief director Mercy Manyuchi signed off the deal after the arms manufacturer's application indicated that it: "was well positioned to obtain lithium ore from a mine in Chikwanda Communal lands in Masvingo."
"ZDI applied for permission to export lithium ore. The company declared that they would obtain the lithium ore from a mine under the registration number: 17079BM, in Chikwanda Communal Lands in Masvingo Province.
"ZDI was granted an exemption letter to export lithium ore in October 2022," said a source who spoke on condition of anonymity.
After being approved, the source however added that the Mines and Mining Development ministry had indicated that it had no "traceable record of ZDI's involvement in exporting nor mining of one of the most important minerals in high demand globally today."
"However, the ministry has no record of any lithium ore export by ZDI to date," a source close to the developments said.
Questions posed to Manyuchi and Mines and Mining Development minister Winston Chitando drew blanks.
The Independent, among other questions, wanted to understand how ZDI was granted the greenlight to export raw lithium and whether the military-controlled entity has short-term plans to beneficiate the mineral. This publication also sought to verify whether this was going to be a once-off shipment or a running deal.
Defence minister Oppah Muchinguri said she was not aware of the permit and only Commander of the Zimbabwe Defence Forces (ZDF) Phillip Valerio Sibanda was in the right position to comment.
"I am not aware of what happens at ZDI. As you are aware ZDI is a company that has its board and management and its operations are independent. Therefore, as the minister, I am not aware. I suggest you get in touch with the CDF for a comment," she said.
At the time of going to print questions sent to the Zimbabwe Defence Forces (ZDF) were not addressed.
Sources who spoke to this publication this week said: "ZDI leveraging on its recently granted permit would primarily be exporting raw lithium to China which is the world's largest consumer of the metal."
In a document titled, "2021 White Paper on China Lithium Battery Industry Development Index," the China Centre for Information Industry Development (CCID) indicates that the scale of the Asian country's "lithium battery industry reached 324GWh, four times that of 2017." Housed under China's Ministry of Industry and Information Technology,(CCID) further highlights that the Asian economic powerhouse for the past five consecutive years since 2017 has been the world's top consumer of lithium.
In 2004, ZDI, then under Colonel Tshinga Dube was nearly involved in the controversial sale of arms to South African mercenaries commanded by Simon Mann, a British Sandhurst-trained former Special Air Services (SAS) officer later jailed for plotting to topple Equatorial Guinea leader Teodoro Obiang in a coup.
In his intriguing biography titled "Cry Havoc", Mann recounts how he was arrested alongside his hired mercenaries by Zimbabwean authorities at Manyame airbase near the Robert Mugabe International Airport then Harare International Airport for attempting to buy arms from ZDI without a license.
Over the years, ZDI has furthered its commercial interests in the mining sector crystallising in the formation of platinum mining firm Great Dyke which is a joint venture with a Russian consortium comprising VI Holdings, Rostec and Vnesheconombank.
ZDI's stake in Great Dyke is held by an investment vehicle called Pen East Private Limited set up by ZDI and the Zimbabwe Mining Development Corporation (ZMDC).
ZDI also held shareholding in Chinese companies Anjin Investments and Jinan Mining that mined diamonds in Marange.
ZDI was slapped with sanctions by the US and other Western countries in 2002 over allegations of propping up the late president Robert Mugabe's oppressive government.
The impact of Western penalties on ZDI which used to manufacture small arms ammunition, mortars, artillery shells, rocket launchers and hand grenades blocked the state-run company from accessing its key markets in Europe and the US.
In 2015, as the weight of sanctions became unbearable coupled with a liquidity crunch gripping the country, ZDI temporarily ceased operations.
Formed in 1984, ZDI is a state-owned Zimbabwean arms manufacturing and procurement company headquartered in Harare, with a primary focus on sporting and military ammunition.
When the export markets were sealed as a result of the sanctions, ZDI resorted to supplying the Zimbabwe National Army (ZNA) and the Police with its implements.
However, as a result of the worsening economic condition, climaxing in an acute shortage of foreign currency, local consumers of ZDI-produced armaments were struggling to settle payments on time.
Related Topics