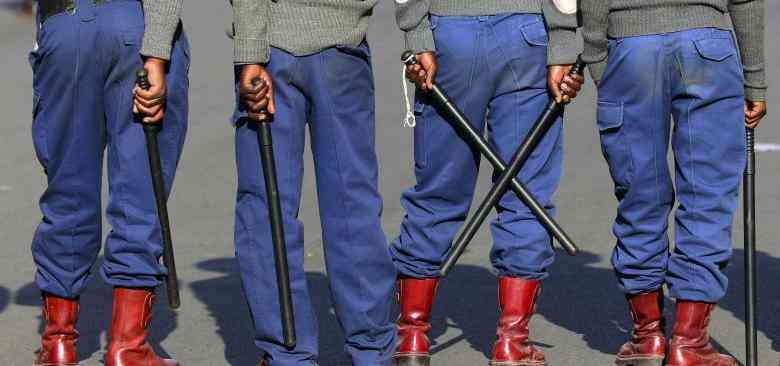 THE country's security officers have reportedly been commandeered to attend Zanu PF's Herbert Chitepo School of Ideology.
NewsDay understands that about two weeks ago, district police commanding officers cascaded the message to their subordinates, opting to tell them verbally, instead of sending out radio messages "for fear of the information being leaked".
A source in the security sector told NewsDay that police, military, prison and Central Intelligence Organisation (CIO) officers from Harare will attend the school of ideology at Morris Depot.
"We were told that our attendance of the lectures is our vote. It means we are being commanded to vote for Zanu PF," the source said.
President Emmerson Mnangagwa, who came to power on the back of a November 2017 coup, is reportedly pulling all stops to make sure he gets another five-year term by bagging as many votes as possible, especially from the civil service.
Harare province has seven policing districts, which are Harare Central, Harare Suburban, Mbare, Harare East, Harare North, Harare South and Chitungwiza.
There are more than 40 000 police officers in Zimbabwe, with about 6 900 of them stationed in Harare.
There are also an estimated 8 000 CIO officers in Zimbabwe, with a huge chunk working from the capital.
"All districts will second their personnel to attend the two-day lectures, expected to commence on November 28, 2022, and will run for a month," the source added.
National police spokesperson Assistant Commissioner Paul Nyathi denied the allegations, saying police officers often attend refresher courses.
"As far as I am concerned, I'm not aware of those allegations. As a police or members of the uniformed forces, police officers conduct refresher courses. They conduct lectures on various courses, but those topics have nothing to do with politics," he said.
"So, I'm not aware of the allegations you are raising, but maybe your source can provide details. I'll find out if those allegations hold any water at all."
Zimbabwe Prisons and Correctional Services spokesperson Mayor Kanyezi did not respond to messages sent on her WhatsApp, although she blue-ticked them.
She also did not pick calls on her mobile phone.
Asked if the military was seconding its personnel to the Chitepo lectures and how many would attend, army spokesperson Colonel Alphios Makotore said: "We acknowledge the receipt of your media enquiry on November 14, 2022. However, we do not discuss military programmes in the public media."
No comment could be obtained from the CIO.
Asked on what basis members of the security forces were attending Zanu PF's lectures, the ruling party's director for information Tafadzwa Mugwadi expressed ignorance over the matter.
"I don't have any knowledge about what you are talking about. You are aware I don't belong to any unit of our armed forces. As such, I am not aware. You are good to get the details from the participant you purport to have informed you," Mugwadi said.
In the past, there have been concerns about security officers being forced to vote under the watchful eye of their bosses, particularly those casting their ballots through postal voting.
Under the Constitution, all uniformed and non-uniformed forces that include police, military, prison, air force and CIO personnel, as well as civil servants are supposed to be apolitical, with analysts fearing that the latest development will dent the credibility of next year's elections.
Political analyst Blessing Vava said the move "is illegal and unconstitutional".
"It raises our fears of Zanu PF's continued conflation of the State and the party. Zanu PF is seeking to make sure that it inculcates its ideologies in the security forces. The role of the security forces is to safeguard the territorial integrity of the country and the people as well as to maintain peace and order," he said.
"This shows Zanu PF's appetite for abusing power. Zanu PF should stop using security forces as appendages of the party. The move should be challenged in court as it is in breach of the Constitution and the laws of the country."
Another political analyst Rashweat Mukundu added that the latest move was consistent with the ruling party.
"It's consistent with Zanu PF's historical and persisting capture of State institutions. The party makes no distinction between itself and the State, hence a desire to indoctrinate and control civil servants, which is detrimental to accountable governance. The indoctrination of State security is in preparation to abuse the same institutions for political ends," Mukundu said.
The latest development comes as the opposition has been claiming that Zanu PF is abusing the State security apparatus to prop up and maintain its stranglehold on power.
National Housing and Social Amenities minister Daniel Garwe was recently quoted saying: "Courts, military and police belong to Zanu PF, even health workers belong to Zanu PF. We own almost everything."
Related Topics