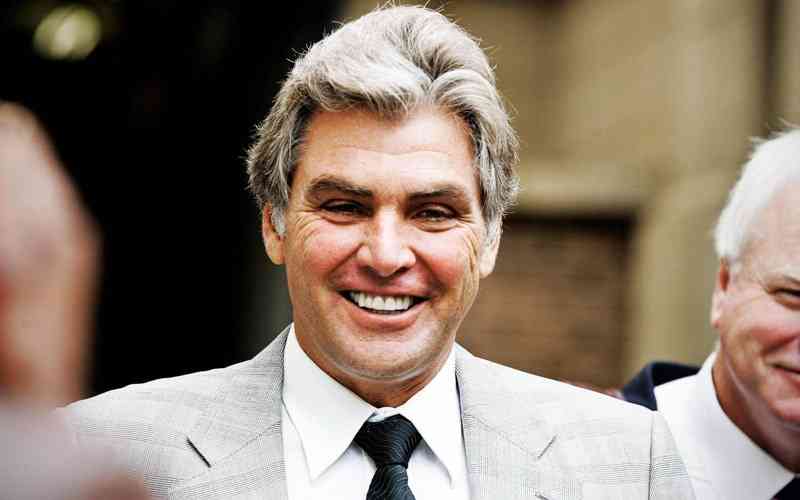 LOKALIZE Investments, a company reportedly linked to businessman Billy Rautenbach, was allocated coal reserves by the government in the western areas of resource-rich Hwange through a transaction tantamount to "selling a national treasure for a song".
Acquisition of the mineral rights clinched by Lokalize Investments was concluded in April during an event where the then Mines and Mining Development secretary Onesimo Mazai Moyo signed the 25-year exploration license to the firm.
As reported by the Independent in its investigative series on Hwange Colliery Company Limited (HCCL) which is under reconstruction, the firm's second-largest shareholder Nicholas Van Hoogstraten has attributed the collapse of the company to the "irregular" allocation of its lucrative reserves to "so-called investors".
Van Hoogstraten holds just over 30% shareholding in HCCL through Messina Investments.
Relating to the mineral rights swooped by Lokalize Investments, sources close to the transaction said the Rautenbach-linked firm "only paid US$100 000," to be granted the 25- year special exploration and a mining licence.
The "western areas" are the largest and most valuable Hwange reserve concession.
"This main reserve in question known as "the western areas" was "given" to a third party for the impossible sum of US$100 000. This third party has turned out to be Lokalize Investments.
unclear whether this deal was done by HCCL, government or the administrator," a source close to the transaction told the Independent this week.
Africa Intelligence, a French-based publication which prides itself on pinpointing "those involved in major contracts, whether prominent figures or more discrete actors and delves into their networks," reported on April 24 that finalisation of the deal between the government and Lokalize Investments during the same month would bolster Rautenbach's growing influence in the lucrative coal mining sector.
"Billy Rautenbach is increasing his hold on coal in the west of the country. This is a major coup at a time when national demand is set to rise sharply following the planned increase in capacity at the Hwange power station.
"On April 15, 2022, Onesimo Moyo, the Mines ministry's then permanent secretary, signed the granting of a 25-year special mining exploration licence to Lokalize Investments for its coal operations in Matabeleland North province. This obscure company is one of the mining investment vehicles controlled by magnate Muller Conrad "Billy" Rautenbach, who was sanctioned by Washington and Brussels from 2008 to 2014 for his financial support to former president Robert Mugabe," Africa Intelligence wrote.
Moyo who has since left his position did not respond to questions this week.
He referred questions to the Mines and Mining Development ministry.
Rautenbach did not respond to questions although he received the message as proved by WhatsApp double blue ticks.
Similarly, questions put to HCCL auditors Grant Thornton drew blanks.
"I am not on the HCCL engagement. I will send you the engagement partner's email so you can send your questions.
"I am not in the office today so let me see how I can expedite the enquiry," Grant Thornton's Bulisa Mbano told the Independent.
Before going to press, he had not furnished this publication with the responsible partner's email address.
Mines and Mining Development minister Polite Kambamura referred questions to Justice, Legal and Parliamentary Affairs minister Ziyambi Ziyambi, who placed HCCL under reconstruction in August.
"HCCL is under an administration which falls under the ministry of Justice. Can you check with them," Kambamura said.
Mines and Mining Development minister Winston Chitando did not respond to the questions.
Ziyambi referred questions to HCCL administrators.
"Operational questions direct them to management," Ziyambi said, curtly.
The Independent sent questions to HCCL assistant administrator Munashe Shava who also did not respond.
Efforts to gain an understanding of Lokalize Investments' shareholding structure at the Company Registry had not yielded results at the time of going to print.
Africa Intelligence, in their report published this year, indicated that the reserves allocated to Lokalize Investments were previously held by the same company before its license was revoked by the government in 2015. The reserves were then transferred to HCCL, in which government holds a 37% stake.
However, following President Emmerson Mnangagwa's rise to power in 2017, the same reserves in the western areas were returned to Lokalize Investments.
Van Hoogstraten, representing Messina Investments has in interviews published by the Independent on October 7 and October 21, 2022, claimed that vast coal assets belonging to HCC were sold at low prices to investors over the past four years at a time the firm has been under reconstruction.
On October 21, 2022, Van Hoogstraten said: "I only discovered recently that some of the more valuable reserves have been 'sold' to outsiders for utterly impossible peanut amounts."
"Our resources are still being plundered by several 'contract miners', and other parties, none of whom have made any investment, whatsoever. Also, there is no proper control or monitoring, on the ground, of what is happening."
HCCL's vast reserves stretch over a land area of 22 000 hectares.
The "western areas" where Lokalize Investments was granted exploration and mining rights are close to the 920 megawatts (MW) thermal plant run by the Zimbabwe Power Company (ZPC).
A Chinese-based firm Beifa Investments was granted lucrative mining rights in the resource-rich Hwange area by the government.
Related Topics