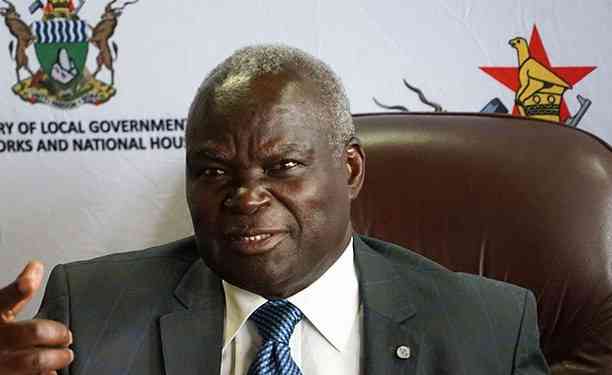 LOCAL Government and Public Works minister July Moyo has instituted an investigation into corruption allegations that led to the suspension of Victoria Falls Town Clerk Ronnie Dube, to ascertain the veracity of the claims.
The six-member probe team, which is being led by Harare Metropolitan province Local Governance director Cathrine Kampila has cast light on tribal dynamics rocking Victoria Falls as Dube claims that he was victimised because he is neither "Tonga nor Nambya".
Moyo's initiated probe seeks to test the veracity of allegations levelled against Dube, which include the sale of a stand at a cost of US$4,3 million although it was tendered for US$5,8 million by the highest bidder. This could have potentially prejudiced the resort city of US$1,5 million.
Dube was suspended on September 8 by Victoria Falls Mayor Somveli Dhlamini, after which he was served with the charge sheet that shows the allocation of a brewery stand to Jackleberry Investments without council authority and expropriating US$84 000 from the local authority's account.
Dhlamini was also arrested by the Zimbabwe Anti-Corruption Commission (Zacc) on October 6, 2022, for allegedly acquiring a residential stand illegally.
In a letter dated September 29, 2022, and seen by the Independent, Moyo appointed Kampila to lead the investigating team, assigning her to "validate all issues and allegations raised in the letter of the Town Clerk's suspension and other related matters.
"I refer to the attached letter from the Mayor of Victoria Falls, suspending the Town Clerk and copied to me. Subsequent to the request therein to cause an investigation into the matter and the provisions of the Urban Councils Act, I appoint you as the chairperson of the investigations committee. Note that this is a serious matter…I trust you shall execute your task diligently," Moyo wrote to Kampila.
Moyo's letter to Kampila was also furnished to a number of government bureaucrats including Matebeleland North Provincial Affairs minister Richard Moyo and Local Government and Public Works secretary Zvinechimwe Churu.
The Kampila-led committee will review the charges levelled against Dube, which resulted in his suspension.
The investigating team, as learnt by the Independent, flew to the resort destination last week to commence its work.
In a letter outlining the charges and seen by the Independent, Dube is accused of abuse of office.
The Town Clerk is also accused of unprocedurally allocating the resort area's dumpsite to Green Life Africa in partnership with Mosia Tunya Waste and Landfill Private Limited.
"On February 25, 2021, you unilaterally allocated the council dumpsite to Green Life Africa in partnership with Mosia Tunya Waste and Landfill Pvt Limited without a council resolution. In your letter dated 25 February 2021, you stated that management had no authority to lease the said dump site/landfill or sewerage pond area.
You acted outside the scope of your mandate by usurping council powers," Dhlamini wrote to Dube.
Dube, as the charge sheet shows, is also accused of "theft of trust property" with allegations stating that he illegally transferred US$84 000 from the Victoria Falls City bank account.
The embattled Town Clerk is also accused of "incompetence, dereliction of duty and failure to supervise staff".
Dube was also accused of "misleading" council to sell stand number 8300 in a transaction that potentially prejudiced the local authority.
Responding to the allegations, Dube denied any wrongdoing to the Independent, suggesting that he was being victimised by top officials because of his ethnic background.
"My only sin is that I am neither Nambya nor Tonga and this has compromised my effectiveness as some political heavyweights are fronting a tribal agenda," he said.
After receiving the charge sheet, Dube, sought counsel from his lawyers, who wrote to Dhlamini indicating that the Mayor's actions were meant to settle personal scores against their client.
"On a separate note, our client is rather concerned at what appears to be a continued unwarranted attack on his person by yourself. He may be forgiven to think that you have a personal vendetta against him.
"For instance, it is common knowledge that you previously caused his suspension from work. Again, he was cleared of any wrongdoing by the court of law which found him not guilty and acquitted him, Ncube and Partners Legal Practitioners wrote to Dhlamini, in a letter that was also copied to Moyo.
Dhlamini had not responded to questions posed by this publication. The investigation by the Local Government and Public Works ministry comes three months after the Independent reported that Victoria Falls, Zimbabwe's top tourism drawcard and world spectacle, was at the centre of a legal dispute pitting environmentalists and two firms planning to build on restricted zones marked by Unesco as a world heritage site.
Related Topics