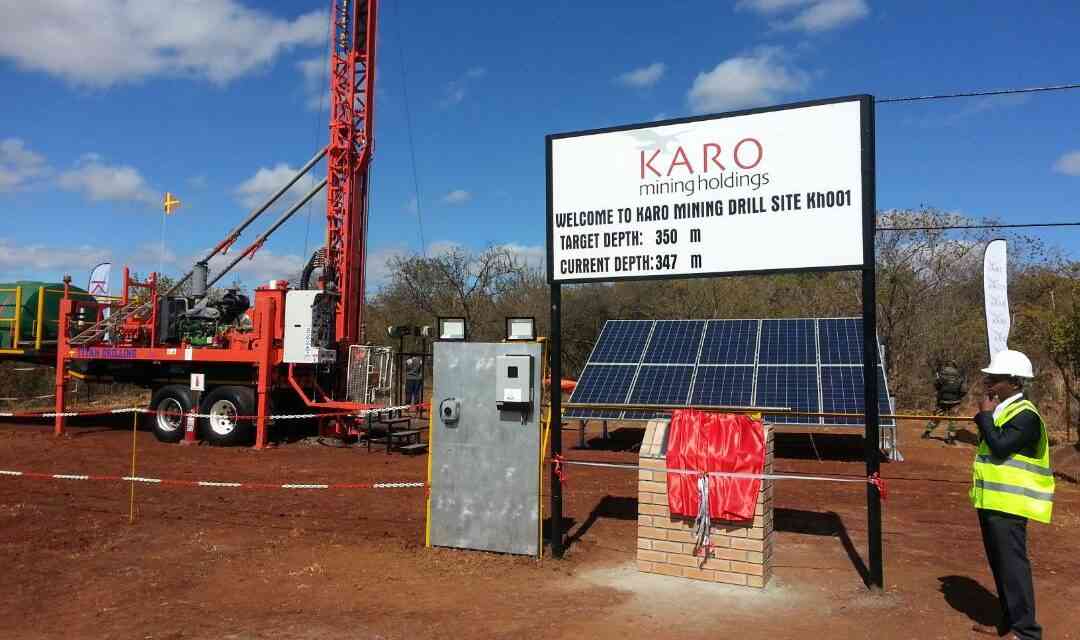 MYSTERY has shrouded the proposed development of Ngezi-based US$250 million platinum project after the much-touted investment has failed to take off four years since the entity was allocated vast claims straddling on 23 000 hectares along the resource rich Great Dyke, the Zimbabwe Independent can reveal.
Secrecy shrouding factors militating against the multi-million-dollar project, coupled with the track record of Cypriot businessman Lucas Pourolis who holds a significant stake in Tharisa Plc, have triggered fears that government could have been sold a dummy when it inked the deal in 2018.
Earlier in the year, Tharisa Plc, in which Pouroulis held a 42% stake, announced that it had increased its shareholding in Karo Holdings to 66,3% after acquiring 13,69 million new shares at a transaction value of US$27 million.
Tharisa incorporated in Cyprus - registered under number HE223412, and is listed in London and Johannesburg.
The 33,7% remaining stake in Karo Holdings is held by Leto Settlement, a private company with key interests in mining.
Deputy mines and mining development minister Polite Kambamura told this publication that an "impasse" had stalled progress but that has since been resolved.
Despite projecting optimism that the project was back on track, Kambamura declined to explain the nature of the gridlock.
"They (Karo Mining Holdings) had some challenges and they have now managed to resolve those challenges. As government, we intervened. At this stage I cannot divulge the nature of challenges they were facing. That's internal information.
"They are back on track; they are going to start mine construction this year. At this stage what is important is to see what they are doing; have they started mine development, have they started construction works since we have resolved the impasse? So, we are following up on that," Kambamura said.
Sources close to details linked to the investment deal consummated in 2018 hinted that there were key questions raised around the suitability of the Pourolis controlled company in light of the accusations once levelled against the businessman in South Africa. At that time sources told this publication, there was also concern, that the government has been parcelling out mineral claims to questionable investors, "which they were holding on for speculative purposes".
"It was a question of finding the suitable partner who had the financial capacity and the commitment to set up a platinum refinery as the country moves towards beneficiating its minerals," a source told the Independent.
Kambamura, who spoke to the Independent after he had been given an update on the project by Karo Holdings officials could not disclose the amount of capital the firm has injected into the venture so far.
"I do not have those figures. At this stage what is important is to see what they are doing. We are following up on that. I spoke to Karo just now and they said they are on track in regards to the last update they gave," Kambamura added.
Karo Holdings, Kambamura further explained, has since engaged families set to be relocated once implementation of the project commences.
"They will now start on mine development. For that they need to engage with different contractors according to their specialty. They have agreed on the recruitment of employees. In the coming two weeks, they are going to flight an advert for the recruitment of locals.
"They have also managed to liaise with families sitting on the land they are going to develop. They have started doing evaluations of their properties. That shows there is some work being done," he said.
In an investigation now running for four years, the Independent has keenly followed up on the project with findings indicating that Karo Holdings was only employing 11 people in April while the entity long dismissed claims that it was going to sink in US$4,2 billion.
In April Tharisa head of investor relations and communications Ilja Graulich said when the project swings into action, it could absorb 400 employees.
Karo Holdings, whose application for its business venture to be granted the National Project Status (NPS) is being assessed, already enjoys a range of tax breaks as government gears to transform the mining sector into a US$12 billion-dollar industry by 2023. National Project Status is granted to investments that require huge capital spending, allowing concessions such as free import duty for equipment and a range of other tax exemptions.
This is meant to speed up implementation.
As part of the Independent's investigation to shed light on the project's status, a range of questions were posed to Tharisa seeking to understand reasons that have slowed progress, the amount of capital invested and how much the affected families will receive as compensation.
This publication also sought to understand the number of households that will be affected and the quantum of taxes Karo Holdings has so far paid since establishing its presence in Zimbabwe.
"We have invested over US$50 million in the development of both the Karo project and Salene chrome. We employ some 100 people between Karo and Salene," Graulich said in email responses sent to the Independent.
Karo Holdings, Graulich added, has not yet disclosed the number of families yet to be relocated but would "stick rigidly" on the terms of the deal as stipulated by government.
"We have not disclosed this number. We will stick rigidly to the guidelines and regulations as per the government rules on all aspects of the project development," Graulich said.
The Great Dyke area, upon which the vast claims allocated to Karo lie, contains the world's largest known platinum group of metals and chrome deposits outside South Africa. And the claims allocated to Karo Holdings were previously held by Zimplats.
Related Topics