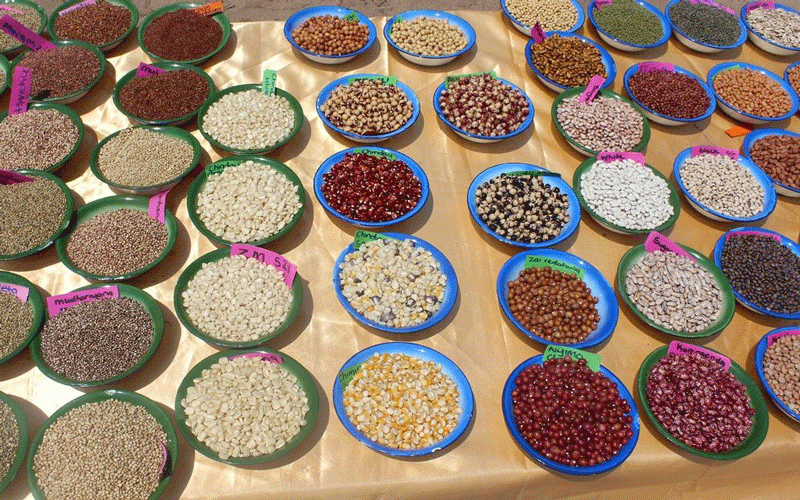 VILLAGERS in ward 16, Tsholotsho, have decided to create a community seed bank to ensure their indigenous seeds are safeguarded against extinction due to the effects of climate change.
Community seed banks can ensure improved access to, and availability of diverse, locally-adapted crop seed varieties, while enhancing indigenous knowledge systems and skills in plant management, including seed selection, treatment, storage, multiplication and distribution.
District Agritex officer Rachel Sibanda told Southern Eye that the creation of seed banks was in line with adaption to good nutritional standards, as the seed bank would store and preserve their genetic diversity for the future.
The seed banks are usually flood, bomb and radiation proof vaults and holding jars of seeds from different plant species.
Sibanda said the seed bank structure would be launched on Friday through the support of the Multi-sectoral Approach towards Nutrition adaptation concept (Mana) and the Community Technology Development Organisation and the Bubude community of ward 16.
"This is an idea meant to safeguard germplasm from erosion or extinction due to climate change,'' Sibanda said. "Due to seed banks they would store their seeds, take them back and multiply them on a small piece of land like a garden. They store open-pollinated varieties such as millet, sorghum and others in 500g bottles. This will be the second seed bank launch after the first one launched in Tsholotsho under the Mana project."
Bubude community seed bank chairperson Christopher Moyo said the project was funded by a donor called Mana, who provided cement and building materials and provided a builder.
"We have managed to build a hall and an office for our Agritex officer. We also built the seed bank where we will be banking our traditional seeds. We have started our own model, which is different from models used by modern seed houses. We will be withdrawing part of our seeds from the seed bank during the rainy season in order to begin planting.
"We have realised that some people in the community end up consuming their seeds if hunger strikes at their homes. This is what inspired us to come up with this idea so that when the rainy season is upon us, everyone will at least have something to fall on," Moyo said.
Related Topics