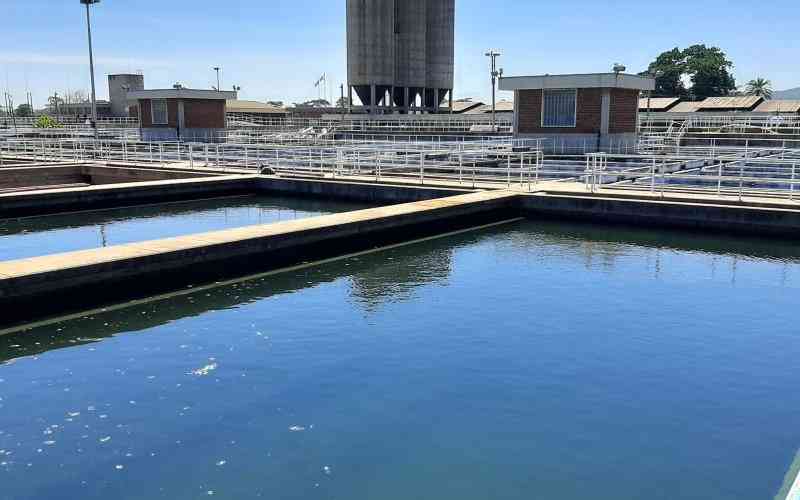 ACTING local government and public works secretary Shingi Mushamba has directed all local authorities to procure water treatment chemicals from the Zimbabwe Phosphate Industries (ZimPhos), but questions continue to arise on whether the state-run entity has capacity to produce the vital substances.
Over the past two decades, Zimphos has been on a systematic decline which saw the suspension of operations in 2007 owing to a chronic shortage of raw materials and erratic power supplies that crippled the country during that period.
A fortnight ago, President Emmerson Mnangagwa commissioned a US$3 million fertiliser blending plant as ZimPhos retraces its foot steps to optimal operations since its formation in 1930.
Relating to Mushamba's directive, contained in a correspondence furnished to Harare City Council (HCC) acting town clerk Phakamile Mabhena Moyo, the government official noted that local authorities should adhere to a 2019 instruction to procure chemicals locally.
The correspondence, seen by the Independent this week, was written after Moyo and Mushamba had held a meeting on September 7 2022.
"I refer to our meeting this morning (September 7 2022) in the…boardroom regarding the matter above.
"The engagement reminded Council to comply with the 2019 directive to procure all water treatment chemicals locally and that this directive was reiterated to Councils in March 2022," the letter reads.
Specifically citing aluminium sulphate as one of the scarce chemicals, Mushamba highlighted that ZimPhos had capacity to supply, but did not specify whether the entity would be manufacturing the substance.
"You are aware that Harare City Council has the capacity to produce 450 megalitres of water a day but is currently supplying its citizenry with about 200-230 megalitres a day due to constraints in securing treatment chemicals, specifically aluminium sulphate.
"As discussed in the meeting, the annual requirements of aluminium sulphate can be fully met by ZimPhos and their representatives agreed and confirmed that, upon Council complying with all its obligations the required chemicals would be supplied," the correspondence further reads.
Mabhena this week confirmed to the Independent that City officials, as directed by the government, had engaged with ZimPhos representatives to discuss the matter.
"We are having meetings. We are waiting for their proposal," Mabhena told this publication.
Quizzed on whether ZimPhos would be manufacturing aluminium sulphate, Moyo said: "I do not know yet."
Mushamba's letter indicated that he had directed Council to engage with ZimPhos officials, after which the local authority was expected to submit a report on the outcome of the meeting.
"As discussed and agreed, your council should meet with ZimPhos on Monday, September 12 2022 to come up with an implementation plan for the procurement, supply and payment of water treatment chemicals and submit a report to my office on Wednesday September 14 2022."
However, sources close to the inside operations of ZimPhos expressed doubt that the entity, which is yet to find its feet on the recovery path, would be in a position to produce and satisfy demand.
The company, the sources added, could only be in a position to supply local authorities by sourcing the same substances from local agents who import.
"They (ZimPhos) do not have production capacity. They do have ancient equipment which needs complete overhaul in terms of retooling.
"Asking ZimPhos to manufacture chemicals and meet demand is akin to asking Air Zimbabwe to fly to all European destinations or better still asking NRZ to carry freight to all regional destinations, it's impossible," a source told the Zimbabwe Independent.
ZimPhos has been in a rapid decline, occasioned by unfruitful and lengthy spells of scouting for an investment partner.
Its parent company, Chemplex Corporation, was seeking approval from the Reserve Bank of Zimbabwe to dispose of some of its key assets to raise US$10 million to complete installation of a sulphuric acid plant at ZimPhos.
As reported by the Independent over the past month in its running series on the debilitating water shortages gripping Harare, the Harare City Council's stock of treatment chemicals is exhausted and its pumping capacity has sharply dropped.
As at August 19 2022 a situation report (sitrep) by HCC showed that Harare with a monthly requirement of 60 tonnes sulphuric acid (bulk) had nothing in its stocks while the same applies to ammonia. Harare requires 1,3 tonnes of ammonia per month.
The same report showed that while Harare requires at least 10,8 tonnes of chlorine gas per month, it currently has 3,9 tonnes, enough to last two days.
Due to the critical shortages of treatment chemicals, the report reveals, Harare is pumping 312 megalitres per day against a requirement of 800 megalitres.
Related Topics