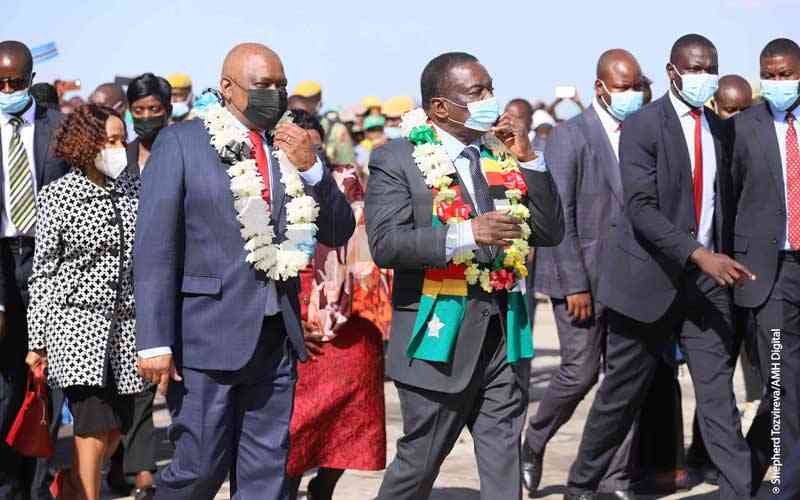 OPPOSITION Botswana Congress Party (BCP) has torn into Botswana President Mogkweetsi Masisi for being cosy with President Emmerson Mnangagwa and his ruling Zanu PF party.
Masisi was accused of showering all manner of praises to Mnangagwa's government during his three-day State visit to Zimbabwe last week at a time when Zimbabweans are enduring political intolerance and human rights abuses.
Masisi officially opened the Zimbabwe Agricultural Show where he described Zimbabwe's agricultural sector as a typical success story and called for the removal of sanctions against Harare.
In a strongly-worded statement and in apparent show of the BCP's attitude towards Harare and Zanu PF, BCP spokesperson Mpho Pheko described Masisi's comments as insidious and irresponsible.
"The following are his words, captured verbatim: 'Botswana continues to call for the removal of sanctions against Zimbabwe... We just came from our elective congress, and Zanu PF was represented very well... The two ruling parties have relations, we are friends.' President Masisi's visit to Zimbabwe was a State visit, the BCP is, therefore, surprised at the partisan nature of his welcome, which is a foreign practice in the conduct of international relations, especially those of a sovereign nation," said Pheko.
"Having noticed the decline of democracy and the disregard of the rule of law in Botswana under the Botswana Democratic Party (BDP) government, the BCP hopes that the budding friendship between BDP and Zanu PF will not further undermine democracy in the two countries."
Pheko described Masisi's attempt to absolve Zanu PF and Mnangagwa of blame for the Zimbabwean crisis as not only an affront and insult to the suffering people of Zimbabwe, but an attempt to revise history in the most deceptive way.
"It is similar to convincing us that Idi Amin was an honourable man. The fact is, the sanctions are only targeted at designated people in Zimbabwe, who are key members of the (late former Zimbabwean President Robert) Mugabe regime, including Mnangagwa. How this affects the economy of Zimbabwe is yet to be explained."
"President Masisi must confide in Batswana before he tells the world that he speaks on their behalf. We call upon the Government of Zimbabwe to introduce the necessary reforms that will allow for true democracy to thrive. Repression of political opponents and intimidation of those that challenge the Zanu PF regime should be condemned in the strongest possible terms."
Zimbabwe has topped the list of bad investment destinations due to corruption, abuse of law, disrespect for property rights and policy inconsistency, among a host of misdemeanours.
The country also has a bad human rights record, scoring poorly on democracy, with opposition politicians being brutally assaulted while their rallies are banned.
The BCP fears the same could be replicated in Botswana given the "cosy relationship" between Zanu PF and Masisi's ruling BDP.
Pheko added: "Deliberate on democratic reforms that among others, would allow Zimbabweans in the diaspora to participate in their country's electoral processes, without having to cross borders.
"The BCP believes that Zimbabwe can be better, and while the economic situation in Zimbabwe has a trickle-down effect down south, blaming targeted sanctions, without resolving the above points, is not in the interest of an ordinary Zimbabwean."
Follow us on Twitter @NewsDayZimbabwe
Related Topics