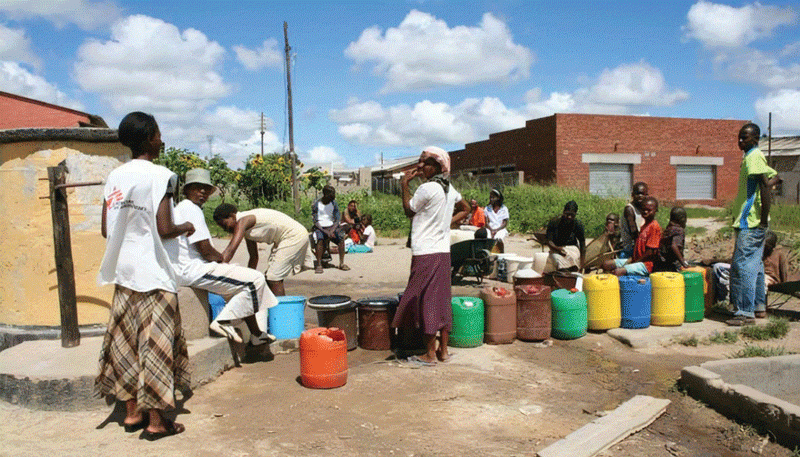 A KEY supplier of water treatment chemicals contracted by the Harare City Council (HCC), Kithra Enterprises, is now procuring treatment chemicals from China due to shortages being experienced in South Africa, the Zimbabwe Independent can reveal.
Regular water supplies in Harare, Chitungwiza, Epworth and Ruwa, which draw water from Morton Jaffray water works, have been erratic in recent weeks due to production challenges hogging manufactures in South Africa where Zimbabwe imports treatment chemicals from.
The water supplies to the capital, with a resident base of about three million people, has in part, also been caused by the late disbursement of funds by the Treasury to finance key capital projects such as sanitation and health. Kithra Enterprises, in a letter addressed to Harare City Council Town Clerk Phakamile Mabhena Moyo dated August 29 2022, highlighted that a consignment of powdered activated carbon, which local authorities have already paid for, would not arrive on time "due to the effects of Covid-19".
Kithra Enterprises was, according to documents seen by the Independent, awarded a tender by Harare City Council to supply treatment chemicals to the capital in 2020, under tender number: COH/HW/S, 4, 2020.
At the time of going to print, this publication had not established the amount of water treatment chemicals the city ordered from the supplying firm.
But sources suggest the money ran into millions of United States dollars.
In its (Kithra Enterprises') letter, written by its managing director, Snicks Mahlamvana, after failing to deliver paid up supplies for powdered activated carbon, noted that the delays were caused by Covid-19.
Mahlamvana noted that pre-paid orders for powdered activated carbon by Harare City Council would only arrive in Mozambique, Beira on September 22 2022.
"We are writing this letter to inform your office that we are facing challenges regarding the movement of powdered activated carbon from China to Zimbabwe, please note that the logistical challenges have continued to escalate due to the effects of Covid-19.
"We have consignments that are enroute to Zimbabwe and are taking long because of unavailability of connecting vessels, the consignments are currently in Mundra, India, and are expected to depart on September 5 2022 for Beira ," Mahlamvana said.
According to Yongsuida, a Chinese water treatment supplier, the chemical has been a popular solution that is a reliable and economical water treatment option for the removal of a broad range of organic contaminants from potable, waste and process waters.
In its strict usage, the chemical is used to douse the odour in untreated water.
If the Harare City Council cannot find an alternative supplier of the chemical, sources told the Independent that, "authorities would continue to pump smelly water" to residents.
The Independent, in its ongoing investigation on the water situation in Harare, has reported that authorities, when they are able to pump the precious liquid, deliver a product that can potentially cause diseases such as Alzheimer, cholera, dysentery and typhoid. This has been proven in scientific trials carried out by the Harare City Council in 2019, to test its water quality.
At the beginning of this month local authorities informed residents that the capital would experience erratic water supplies due to a shortage of treatment chemicals.
As part of this publication's running investigation to ascertain the cause of running water disruptions gripping the capital, questions posed to Mabhena Moyo were referred to the director of works Zvenyika Musikavanhu.
Musikavanhu directed this publication to City of Harare spokesperson Innocent Ruwende.
At the time of going to print, Ruwende promised to "revert" but he failed to do so.
Questions sent to a Kithra WhatsApp platform were not responded to. Mobile phone calls to the same number were received by a person who said he had left the organisation, and would forward the questions to the relevant people.
As reported last week by the Independent, the city, according to a leaked situation report on treatment stocks, shows that it has exhausted its reserves, and is frantically struggling to source the chemicals.
Related Topics