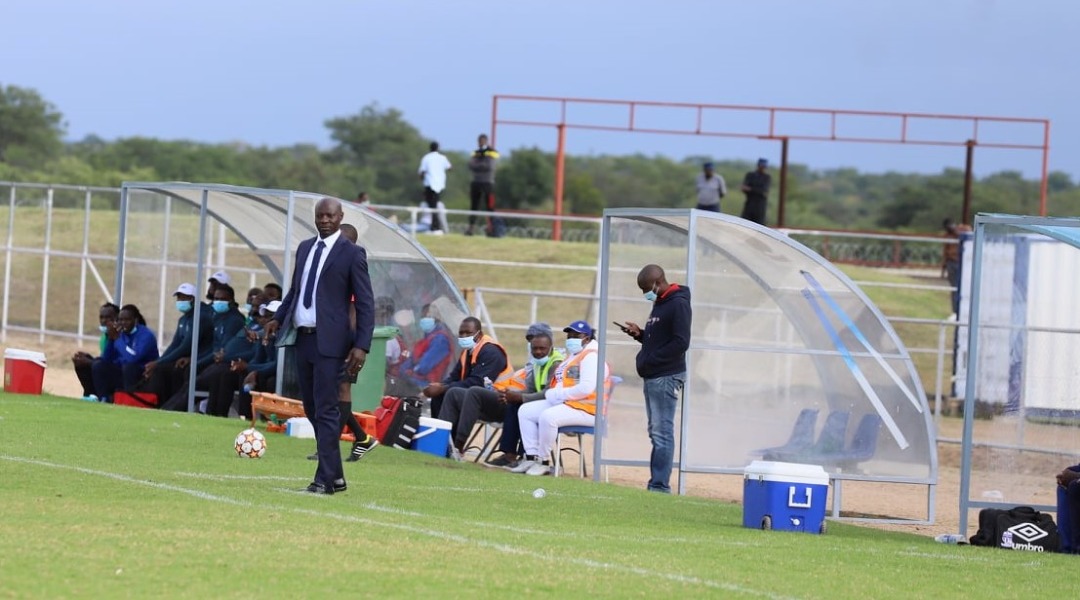 BY HENRY MHARA IN MHONDORO NGEZI
NGEZI PLATINUM STARS . . . . . . . . . 0
HARARE CITY . . . . . . . . . . . . . . . . . . (0) 1
NGEZI Platinum Stars coach Benjani Mwaruwari suffered the first defeat of his reign as Harare City bagged all three points for their first-ever victory at Baobab Stadium in a league match.
Midfielder Emmanuel Mandiranga's tap in midway through the second half ensured Mwaruwari's run of three games unbeaten since replacing Rodwell Dhlakama have come to a disappointing halt.
Before yesterday's setback, the Warriors legend who has been tasked to win the league title had managed one win and two draws.
But the script could have been different had his players converted the numerous chances that they created in a dominant first half.
The home side surprisingly took the foot off the pedal in the second half and Harare City made the most of it as they wrestled control and could have won by a wide margin had they put away the numerous chances that they fashioned.
Victory took Harare City to 11th position on the table with 15 points while Ngezi Platinum Stars keep 5th spot with 20 points, nine behind leaders Dynamos after 13 rounds of matches.
When asked if he was disappointed to suffer his first defeat, Mwaruwari responded, "Not at all. In football when you lose you have to go back and polish and try to improve. I need to improve as a coach, the players need to improve every day so this as much as it is painful is the nature of football.
He rued the chances that his team missed in particular Delic Murimba's one versus one chance with the keeper that he fluffed.
"We expected him to score, that was an easy chance. Let's hope in the next game he will polish that and score.
"If you dominate the first half like we did you need to kill the opponent and we didn't do that so we will have to go back and try to rectify those mistakes in the next game and hopefully we will come out winners."
Harare City coach Tawurayi Mangwiro was thrilled to lead City to their first-ever win at Baobab, and at the same time stretch the team's unbeaten run to three games.
"It was a very competitive game in which we came up against a well-drilled Ngezi team. It required us to dig deep to get something out of it but on the balance of it all, we deserved it. We had the more clear-cut chances. We greatly improved in the second half and once we got the lead we managed the game very well.
Mangwiro had two tweak his team at halftime and it worked magic.
"We needed to come up with a few corrective measures. The guy who was giving us problems in the first half was Denver (Mukamba) and once we diffused him it worked well for us, and it was a brilliant show from Pio and Mudadi… and Emmanuel also complimented them. It's good work from the team as we are coming from a difficult period. The progress is there and we will look forward to the future with a bright mind."
The home side had three chances in the opening 15 minutes which fell to their three forwards Mukamba, Murimba and Tinotenda Musariranwa, but they contrived to waste the good opportunities.
Murimba would waste another chance on 35th minute, perhaps the best of the match, when he was sent through to run clear on goal but the deadlocked striker shot tamely into the grateful hands of goalkeeper Kelvin Shangiwa.
City had chances of their own in the first half, with Mandiranga' s header and Clive Rupiya shot going straight into the arms of goalkeeper Nelson Chadya.
Ngezi started the second half the same way they had finished the first half, creating decent chances. Three minutes into the second half they had wasted three good chances with Mukamba, Amini and Musariranwa the guilty party.
City's best passage of play arrived in the 50th minute as Pio Tellmore located Mandiranga with a crossfield pass on the right. The winger squeezed a square pass for Wisdom Semure to shoot but Chadya blocked the effort and Clive Rupiya failed to bundle the ball over the line.
Thereafter, it was all about City as they literally set camp in the Ngezi half. They created a chance after another and eventually made it count when Mandiranga ghosted on the blind side to tap in a rebound after Chadya had failed to gather a Donald Mudadi shot.
It could have been better for City moments later but Hastings Chapusha's header was cleared off the line.
City finished strongly and Mandiranga had the ball in the net in injury time but the effort was debatably ruled out for an offside
Teams:
Ngezi Platinum Stars: N Chadya, C Mavhurume, K Chigwida, P Moyo, Q Amini, L Kashitigu (T Benhura, 82′), T Musariranwa, M Mukumba, V Kadonzvo (B Mtigo, 82′), D Mukamba (M Mlilo, 67′), D Murimba
Harare City: K Shangiwa, H Chapusha, S Masunda, D Dzvinyai, I Zambezi, C Mujuru, W Semure (W Muvirimi, 63′), T Pio, D Mudadi, C Rupiya (E Ziocha, 89′), E Mandiranga
Related Topics