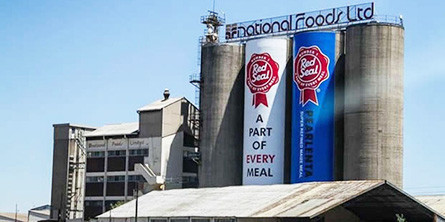 NATIONAL Foods (NatFoods) Holdings Limited shareholders have approved the delisting of the company from the Zimbabwe Stock Exchange (ZSE) and listing on the Victoria Falls Stock Exchange, joining the exodus from the main exchange to the US dollar-denominated waterfall bourse.
NatFoods will join Padenga Holdings Limited, SeedCO International Limited, Caledonia Mining Corporation and Bindura Nickel Corporation on the forex-indexed bourse.
Simbisa Brands has also delisted from ZSE and will shortly list on VFEX.
"The directors of National Foods Holdings Limited wish to advise all shareholders and the investing public that the board has approved the delisting of the company from the Zimbabwe Stock Exchange, immediately followed by its listing on the Victoria Falls Stock Exchange," the group's legal counsel and company secretary Leigh Howes, said in a statement yesterday. "Further details of the transaction will be provided to shareholders once all regulatory processes have been finalised."
In financial statements for the year to June 30 this year released on Friday last week, the group said the volumes for the period increased by 8% to 569 000 tonnes compared to prior year.
"Revenue for the year increased by 33% to $128,4 billion, driven by both volume growth and inflation driven price increases," Todd Moyo, the chairperson said.
"Gross profit grew by 84% in absolute terms, mainly due to inflationary gains on raw material positions."
The group's operational expenditure grew by 37% year-on-year with correction of some major cost lines occurring in real terms during the year.
Operating profit increased by 301% to $14,74 billion while profit before tax (PBT) increased by 1 390% to $20,4 billion.
The economic environment for the period was challenging for NatFoods largely on account of high inflation.
"Consumer demand slowed in the second half of the financial year as inflation accelerated, particularly in respect of high value products," Moyo said.
He said there was a need for the government to strike a balance between increasing consumer demand and curbing inflation.
"While the interventions, particularly in respect of monetary growth and ZW$ interest rates, have achieved their desired objective they have also brought about reductions in consumer demand post-year end. The migration out of this necessary readjustment period will require a gradual easing of these policies in order to recover consumer demand without reigniting inflation," Moyo said.
"The group has embarked on an exciting growth phase with entry into a number of new categories as well as significant investments into existing categories."
NatFoods is investing around US$30 million into major projects which include a new flour mill in Bulawayo, a second breakfast cereal plant for Harare, new biscuit and pasta plants as well as substantial reinvestment into the Harare stockfeeds plant.
It declared a final dividend of US5,95 cents per share, which will be paid on or around November 25 this year.
Stockbroking firm FBC Securities said the group's alignment to key sectors of the economy would help it to withstand the turbulent economic environment.
"Despite a generally challenging economic environment, we believe the group's alignment to key sectors of the local economy, such as agriculture, positions it well to weather the economic turbulence," FBC Securities said.
"The group's thrust to value add its portfolio of basic products will also bode well for future performance."
Follow us on Twitter @NewsDayZimbabwe
Related Topics