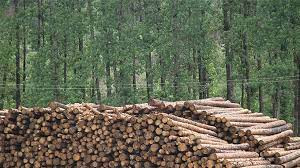 STATE-RUN Allied Timbers Zimbabwe has this year invested about US$7 million into its business operations.
Chief executive officer Remigio Nenzou said this figure did not include a US$13,3 million investment in a new plant in Mutare.
Nenzou told NewsDay Business that the firm had bounced back to profitability and paid out a dividend to the shareholder — government.
"Allied Timbers has grown in leaps and bounds," Nenzou said.
"This year we have spent about US$7 million, excluding the sawmill, and we expect more. Our budget is US$10 million in terms of our capital expenditure. The sawmill is US$13,3 million, but we have invested over the past two years on that sawmill.
"We are performing to expected targets. We believe that by year-end, we will have achieved our budget for 2022. There are certain things that have happened. Our biggest achievement this year is that we have set to plant 6 000 hectares and we have planted 4 300 hectares to date. We are only left with 1 700. That is a massive achievement that has not happened over the past 10 years. The highest that the company did was 2 800 hectares."
Allied Timbers CEO said the firm had commissioned a 40 000-cubic metre per year sawmill in Mutare, which would double the firm's revenue from US$600 000 to US$1,2 million per month.
"This timber that we are now able to harvest is good quality and this will then allow us to expand our sales into the region. We are targeting South Africa, Botswana, Zambia, Mozambique and Malawi," he said.
The company has been to Zambia talking to customers and the response there was reportedly massive and it intends to start supplying poles to Kenya and Nigeria very soon.
"We also have plans to install a pallet-making machine. This allows us to recover 100% of our fibre. So our margins are very healthy and I think we have what it takes for us to be able to supply emerging markets that are coming through.
"We are now a US$40 million business in terms of revenue per annum and we are likely to have very good margins at the end of the year. Our business is now solid, hence our coming in here to consolidate the gains that we have had," he said.
The company's top management took part in the Institute of Directors Zimbabwe's masterclass board audit committee workshop held in Kariba a few weeks ago.
"There is no other State-owned institution that is recapitalising the way we are doing. We are really capitalising with brand new equipment that we are bringing in. We want to automate and modernise our equipment," Nenzou added. In its financials for the year 2020, the group recorded — in local currency terms, an operating profit of $7,731 billion, representing a 302% increase from the $1,924 billion in the previous year. Inflation adjusted revenue for the period increased 144% to $1,677 billion in 2020 compared to $688 million achieved in 2019. The company's total sawmills production volume for the year increased 121% to 99 421 square metres up from prior year production of 44 928 square metres.
Related Topics