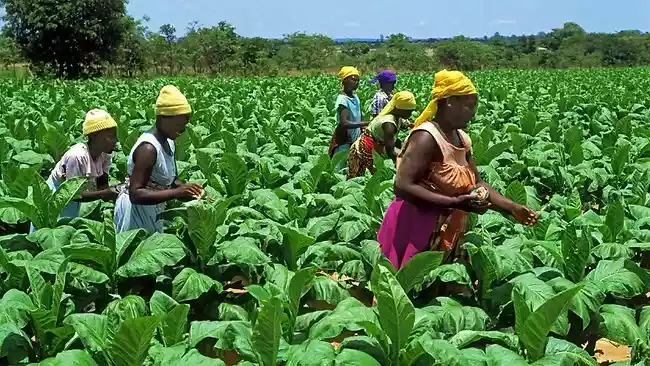 Some small scale farmers fear that they will miss this year's tobacco planting deadlines because they are struggling to get compensation from Econet Insurance after losing their crop to a hailstorm last year.
The farmers claim that Econet Insurance has not paid their claims despite the fact that they were up to date with their premiums when disaster struck and now they are unable to buy inputs for the 2022/23 tobacco season.
They claimed that Econet Insurance suspended payment of claims in order to carry out investigations on some farmers that had allegedly made fraudulent claims over the hail storm that hit tobacco farmers in January this year.
One of the farmers, Zivanai Macharaga from Murehwa, has since lodged a complaint with the Insurance Pensions Commission (Ipec) against Econet Insurance over an unpaid claim totalling US$61 000 after he lost his tobacco crop.
Macharaga said failure by Econet Insurance to honour his claim had disrupted his plans for the upcoming tobacco season and put the jobs of over 50 workers at risk.
In the complaint directed to Ipec director Sibongile Siwela on September 9, Macharaga said he planted 25 hectares of tobacco for the 2021/2022 farming season under a contract from Voedsel.
"He told me that my claim is not one of those being investigated and was sorry that I was now being affected because of fraud on the part of other people not related to me or my farming."
He said his crop was covered by Econet Insurance for US$19 760.
Macharaga had paid US$10,712.48 in premiums before he was ordered to pay the balance in order to access his US$61 000 claim after the crop was destroyed by the hailstorm on January 25 this year.
"Having cleared my premium, I then followed up with Econet on my claim," he wrote in the letter to Ipec.
"I did some follow ups through their broker (one Tirivashe) and I was given a loss agreement which I completed and sent back to Econet, marked Annexure F.
"I was then referred by the broker to Gilbert and Pardington Mudyiwa.
"When I called, I was shocked when Pardington advised me that Econet had suspended all tobacco claims payments as they want to investigate some claims they think were fraudulent."
Tirivashe confirmed that his clients had not been paid for their losses.
"I represent some of these farmers, and I was working day and night to make sure that resumption of payments to my clients who among them had no fraudulent claims done," he said.
"However, we have been reliably informed that the payments will be resumed by the start of the following week."
Macharaga said he approached Ipec as a last resort.
"I have tried engaging the insurer and it's now been more than a month since my claim has not been paid and now I have been told Econet has suspended all tobacco claim payments," he said.
"I am already past my targeted planting date of 1 September and I am losing revenue every day.
"Now I am left with nothing and my hope of going back into the field was this claim, but I am shattered.
"I employ around 50 workers at my farm and all of them are facing loss of employment and even their salaries won't be paid.
"Their families look up to me for survival."
"Unless IPEC intervenes, tobacco farming will be destroyed in this country.
"An insurer without justifiable reason simply override IPEC and refuse to pay claims citing issues which has nothing to do with the person insured"
Ipec noted receipt of questions sent by The Standard on the matter, but had not responded at the time of going to print.
Econet Insurance: "We have been honouring all legitimate claims made to us by tobacco farmers, and we will continue to do so
"We have already paid out close to 60 percent of the total claims received for the 2022 tobacco season.
"However, a few weeks ago we notified our regulator of some irregularities we picked up with respect to some specific claims and immediately started investigations.
"We have been working hard to close on the investigations after which payments will resume in a matter of days from now.
"We have been in constant touch with the regulator during the course of the investigations."
Related Topics