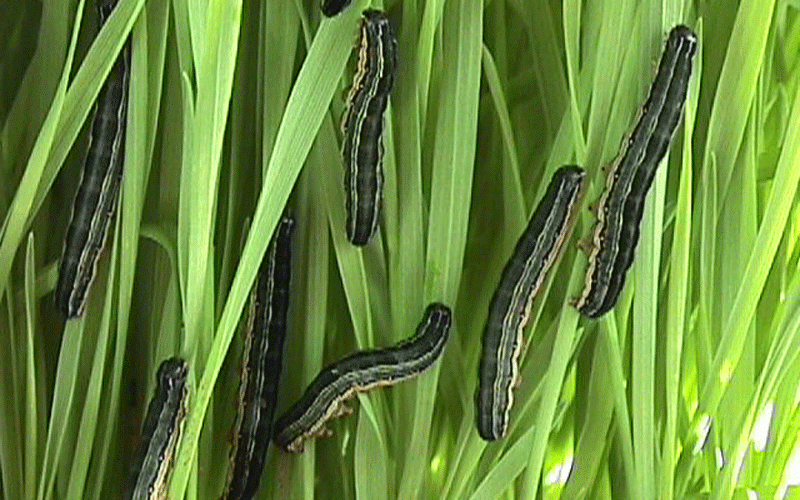 ZIMBABWE has deployed chemicals to fight an African armyworm outbreak in Mashonaland Central. They are trying to limit the damage caused by the aggressive pest before it spreads.
African armyworm has unsettled authorities since it was detected in Mbire a week ago.
Once it invades a field, it devours everything in its path, attacking young plants and leaving a trail of destruction.
In an interview with NewsDay Farming, Agritex head for Mbire district in Mashonaland Central Vivian Ngwezuka said 110 hectares of maize, 15 hectares of sorghum and 5 hectares of pasture had been destroyed by the caterpillar in the district due to its proximity to Mozambique.
"The area affected by the pest is a communal setup, so, we received chemicals from the control unit to contain the spread of the armyworm and stop it from affecting neighbouring areas," Ngwezuka told NewsDay Farming.
"As for pastures they were not sprayed with the chemicals because of the negative effect on cattle, which feed on grass. We will have to wait for the rains to regulate the population — by drowning the young caterpillars."
Acting director in the migratory pests and biosecurity control department Shingirayi Nyamutukwa, said large-scale invasion by nearly full-grown caterpillars from adjacent infected grasslands will not be good for the affected areas.
He said the focus was on securing chemicals to contain the outbreak.
"Ministry has put in stock Carbaryl 85% WP amounting to 429kg ready for distribution to affected farmers in the event of an outbreak. So far 80kg have been distributed to Mashonaland Central to contain outbreaks reported in Mbire district. There is also an avenue to utilise stocks of chemicals at various Grain Marketing Board depots — should there be need in the event of increased outbreaks," Nyamutukwa said.
"Trainings have been going on to assist our farmers with programmes such as the community based African armyworm forecasting — which aid farmers on African armyworm identification, its biology and ecology as well as forecasting and management."
"The trainings also involve how to communicate early when an outbreaks occurs within other neighbouring communities to prevent the spread of the pest — besides reporting to government officers for assistance. Early alerts from moth trap recordings, timeous scouting, identification and distribution of chemicals play a pivotal role in reducing the impact on crop loss."
Over the years climate change has altered temperature, moisture, relative humidity and carbon dioxide concentration in the ecosystem making it favourable for the proliferation of pests such as armyworm in some parts of the Africa continent.
Follow Donald on Twitter @DonNyandoro
Related Topics